BC Place: A Community Building That Builds Community
December 13th, 2019
Every year, BC Place supports hundreds of local organizations and not-for-profit societies to help make a meaningful difference in the lives of others - from our local neighbourhoods to our global communities.
Here is a look at some of the ways we supported the community in 2019:
JANUARY
Bell Let's Talk Day
BC Place was proud to support Bell Let's Talk Day by lighting up with a special animated show for the mental health initiative on January 30th.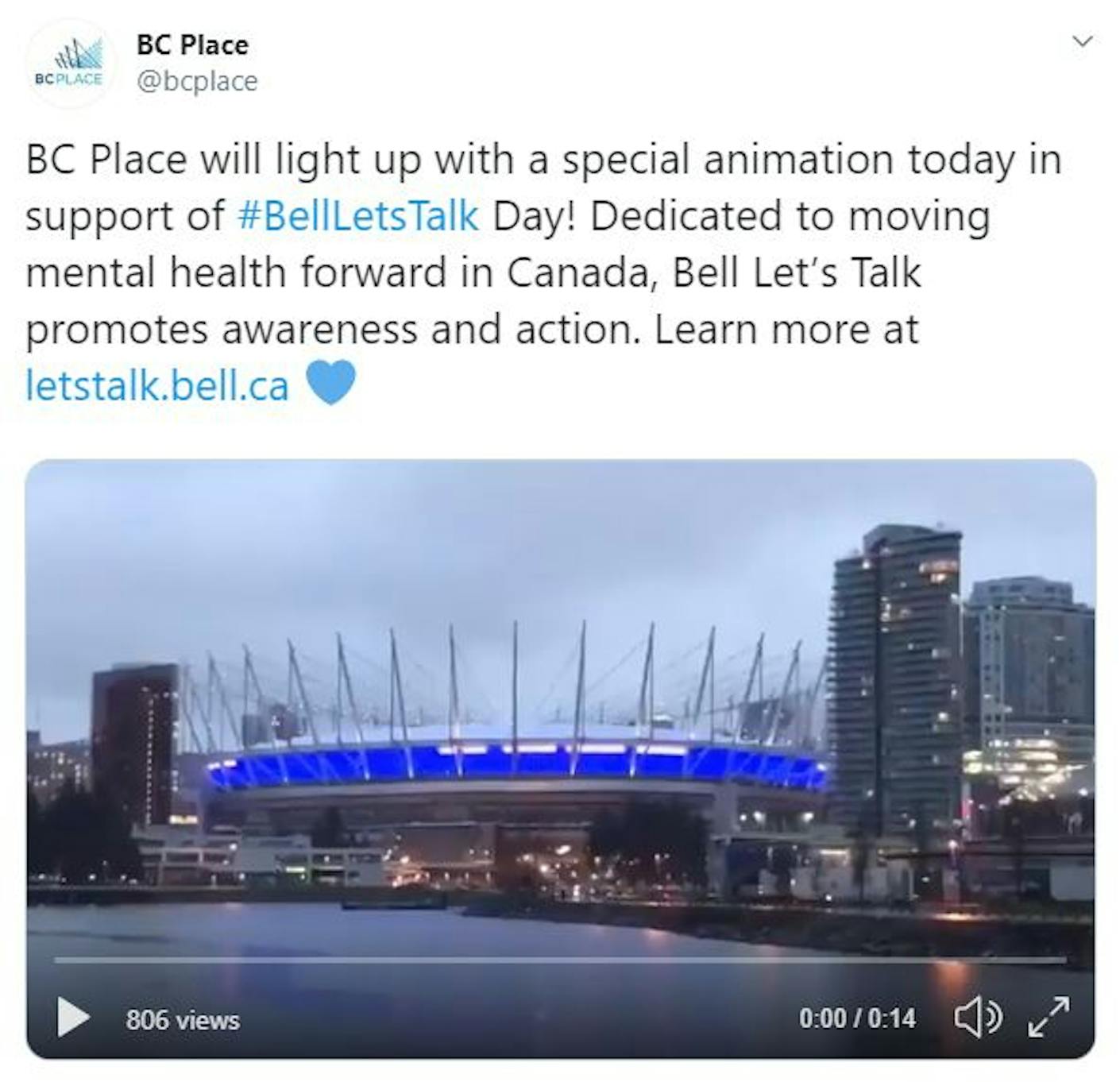 One in five Canadians will suffer from mental illness at some point in their lifetime. One of the biggest hurdles for anyone suffering from mental illness is overcoming the stigma. It is the number one reason why two-thirds of those living with a mental illness do not seek help. Bell Let's Talk is dedicated to moving mental health forward in Canada by promoting awareness and action.
FEBRUARY
Vancouver International Boat Show Province-Wide Economic Impact
BC Place hosted the 57th Vancouver International Boat Show from February 6th to 10th, which featured hundreds of exhibitors and products, as well as educational seminars and workshops.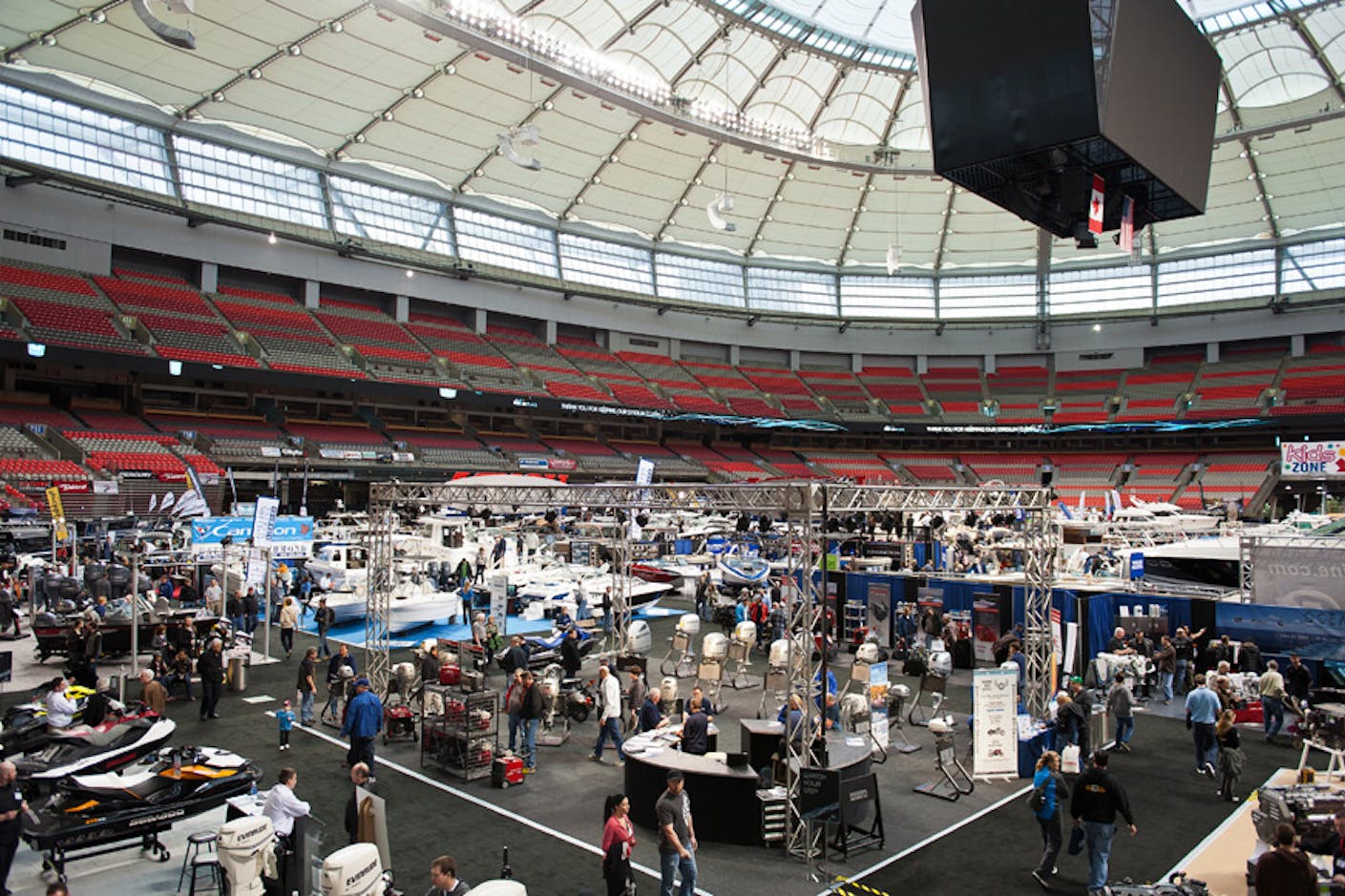 The recreational boating industry in British Columbia has grown by nearly 30 percent in the past five years. A National Marine Manufacturers Association (NMMA) Canada study found that recreational boating injected $1.3 billion into the province's economy in 2016 on revenues of $2.2 billion. The industry also employed almost 17,000 British Columbians, including boat dealers and service stores, marinas, and boat manufacturers.
MARCH
Employee Spotlight Series
BC Place launched the "Employee Spotlight" feature in March 2019. Each month, our the series showcases the dedicated British Columbians working behind-the-scenes at Canada's premier stadium. The first Employee Spotlight focused on Joseph Richard, Senior Manager of Event Services at BC Place, who has been with the B.C. Pavilion Corporation, which operates both BC Place and the Vancouver Convention Centre, for 35 years.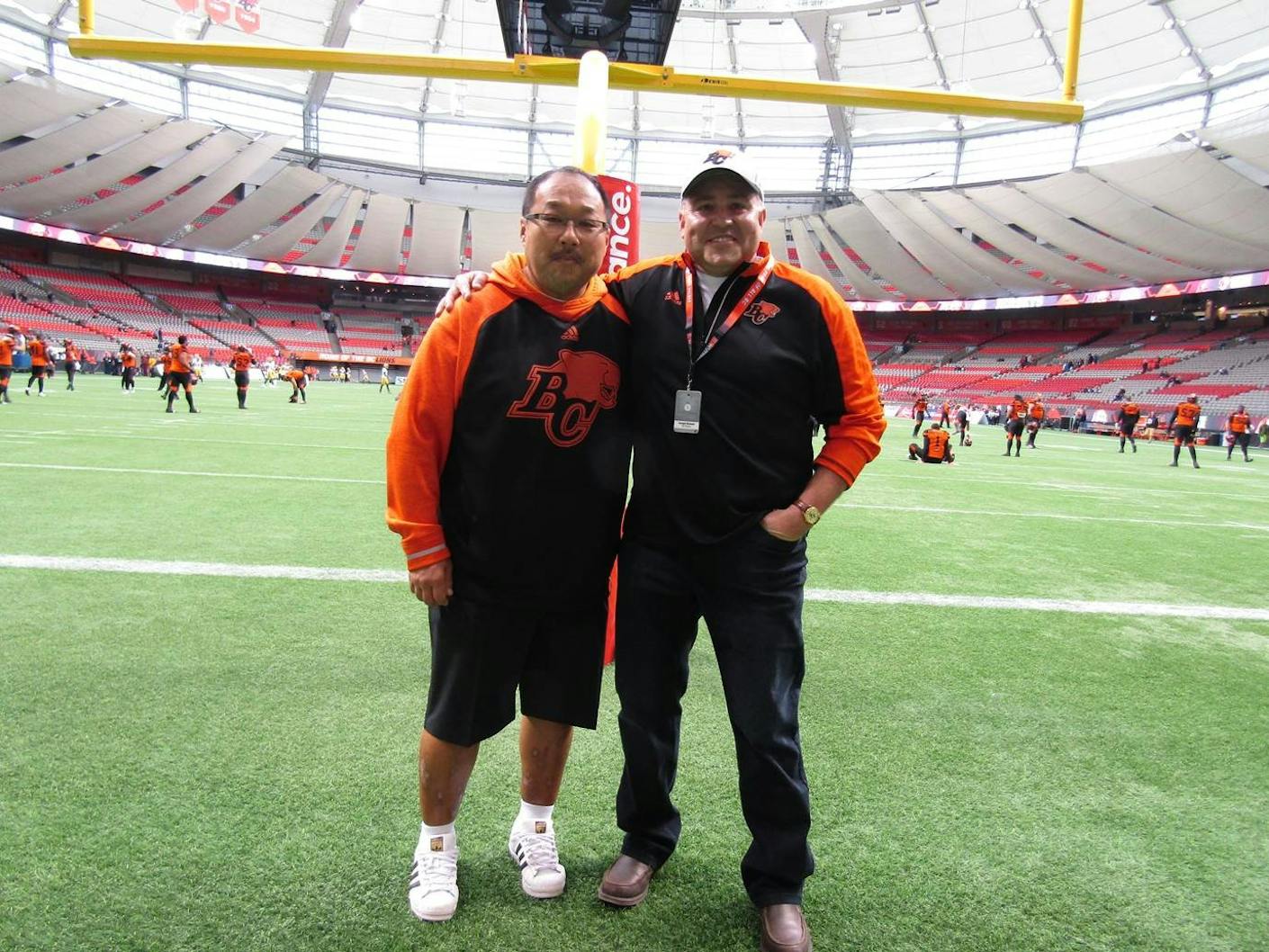 HSBC Canada Sevens Community Visit Program
As one of the top destinations on the World Rugby Sevens Series circuit, Canada Sevens' legacy is focused on growing the game of rugby in Canada. BC Place is proud to support the organization and its partners' focus for legacy planning includes engaging with local youth throughout the year to introduce them or re-engage them with the sport of rugby.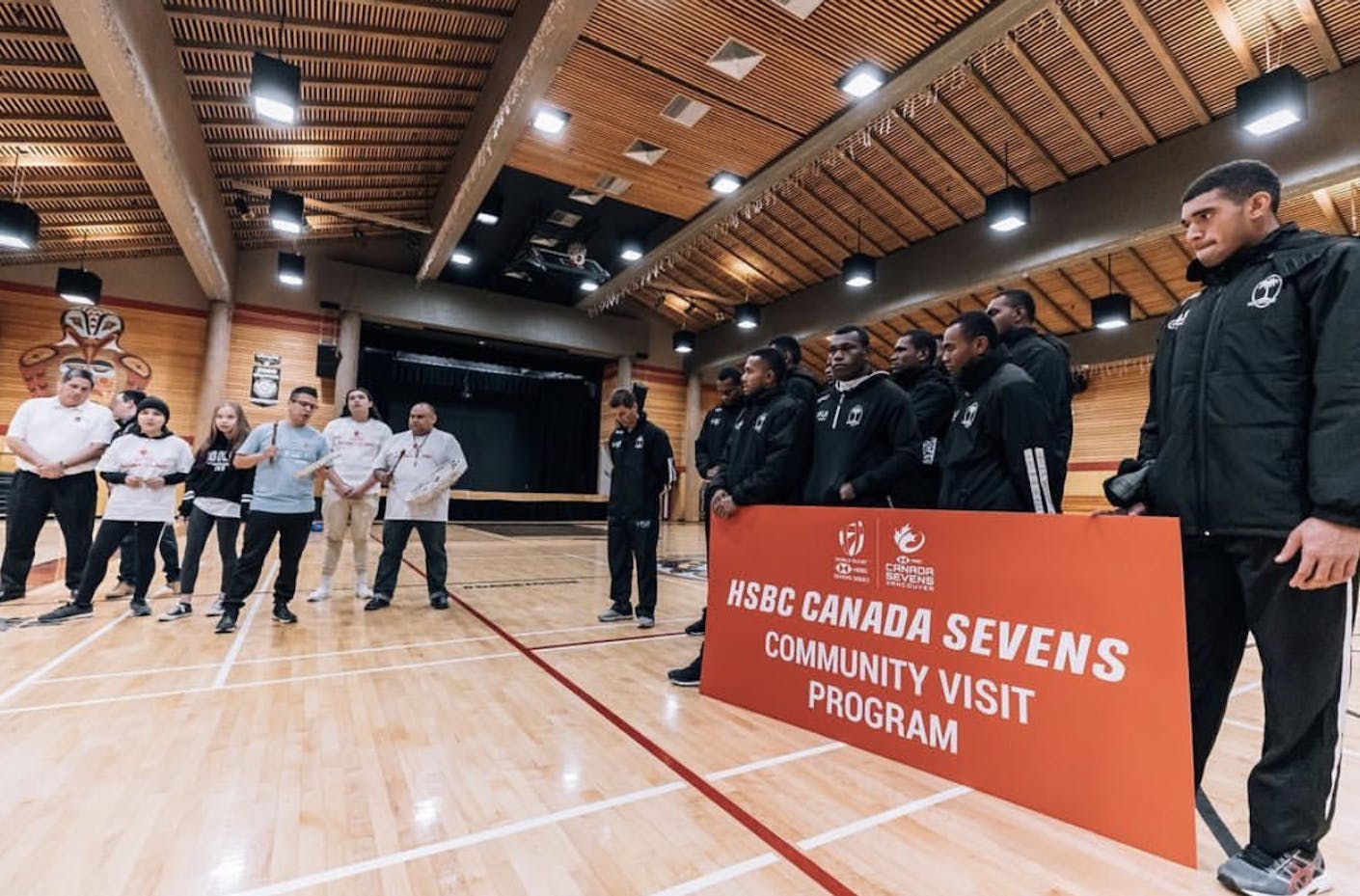 The Community Visit Program connects local schools and First Nations groups with one of the visiting teams during their stay in Vancouver. Each group receives a visit from the team where youth are able to experience skill-sessions, rugby Q&A and for some youth, pick up a rugby ball for the first time. The program is vital to the legacy of the Canada Sevens, enabling the game of rugby to grow and leave a lasting impression here in Vancouver.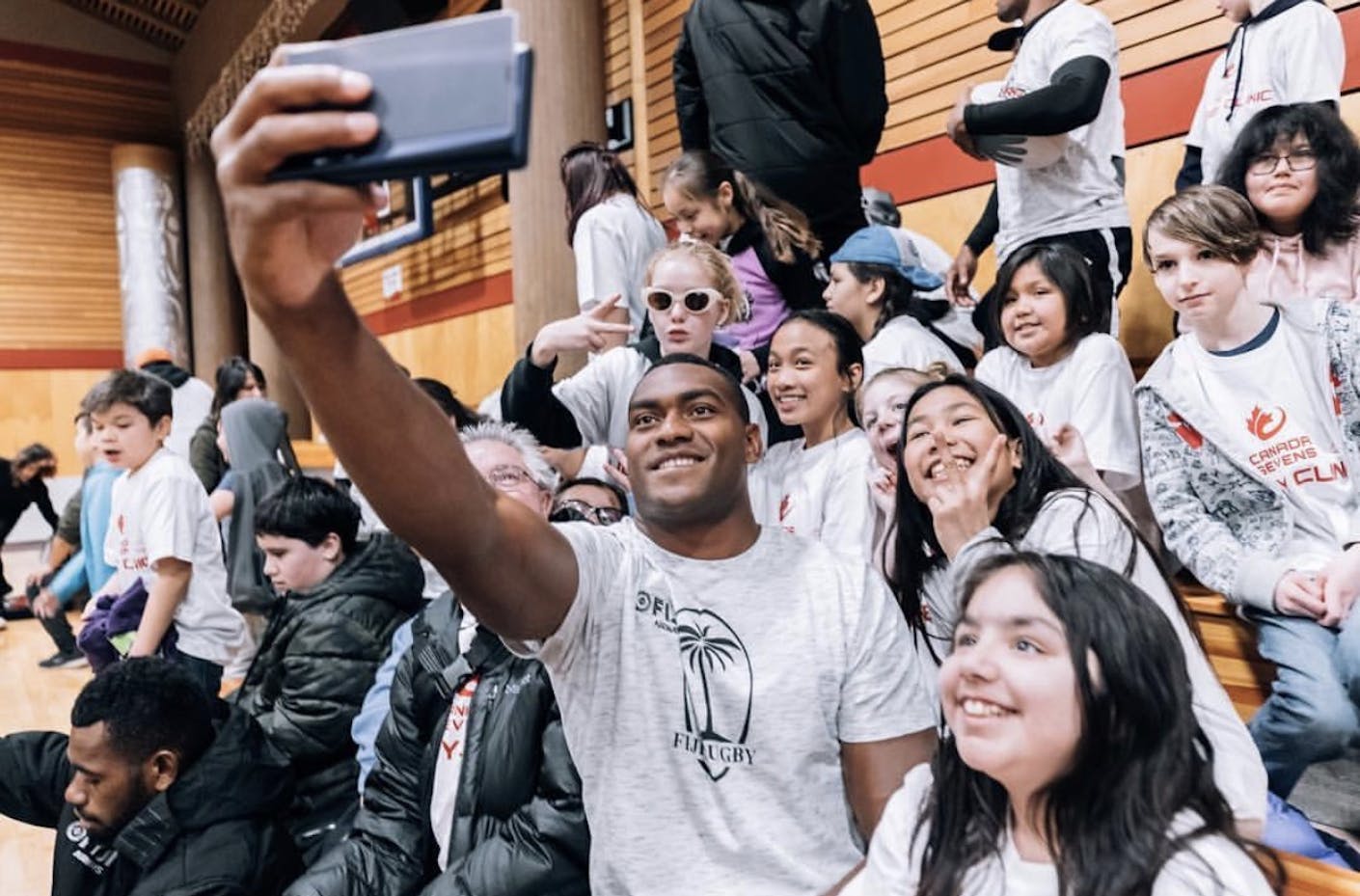 "The award-winning HSBC Canada Sevens continues to be an incredible success story for British Columbia, providing a boost to B.C. businesses and creating lasting legacies for our local communities," said Ken Cretney, President & CEO, PavCo. "We are thrilled to have the opportunity to showcase this signature event at Canada's home stadium for another four years."
APRIL
Vancouver Sun Run
The Vancouver Sun Run, Canada's largest 10K road race, celebrated its 35th anniversary on Sunday, April 14th. Since beginning in 1985, over 1.1 million people have taken part in the event, with 43,370 runners taking part in 2019. BC Place was proud to serve as the host venue for the event's wrap party which is a celebration of health, fitness and community spirit.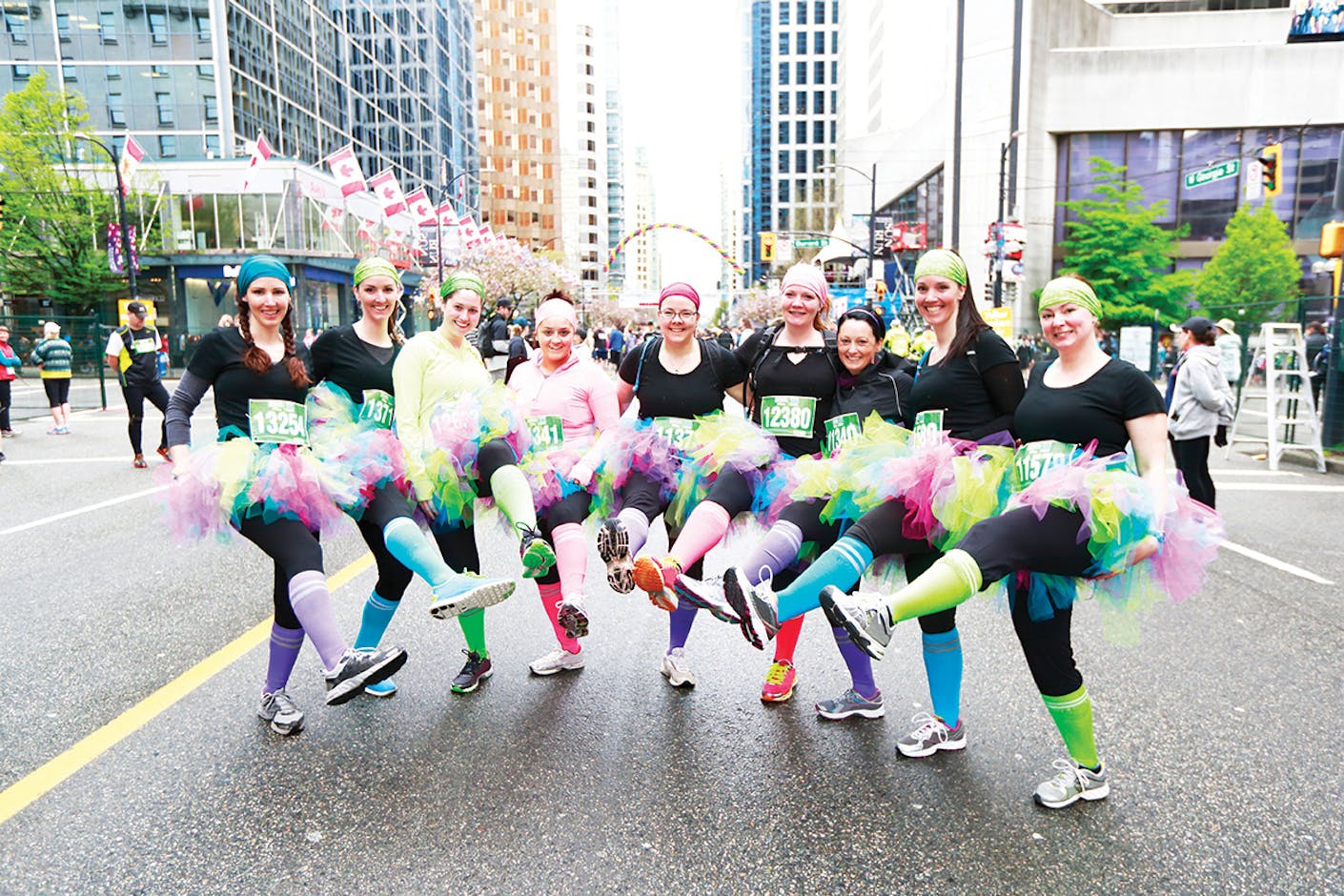 MAY
CAN Sports Day
BC Place was proud to host the annual Canucks Autism Network Sports Day on Sunday, May 12th. Each year, BC Place welcomes hundreds of families registered with the Canucks Autism Network to experience a one-of-a-kind day with friends from Vancouver's top sports teams, including Vancouver Whitecaps FC, BC Lions Football Club, Vancouver Canadians and Vancouver Canucks.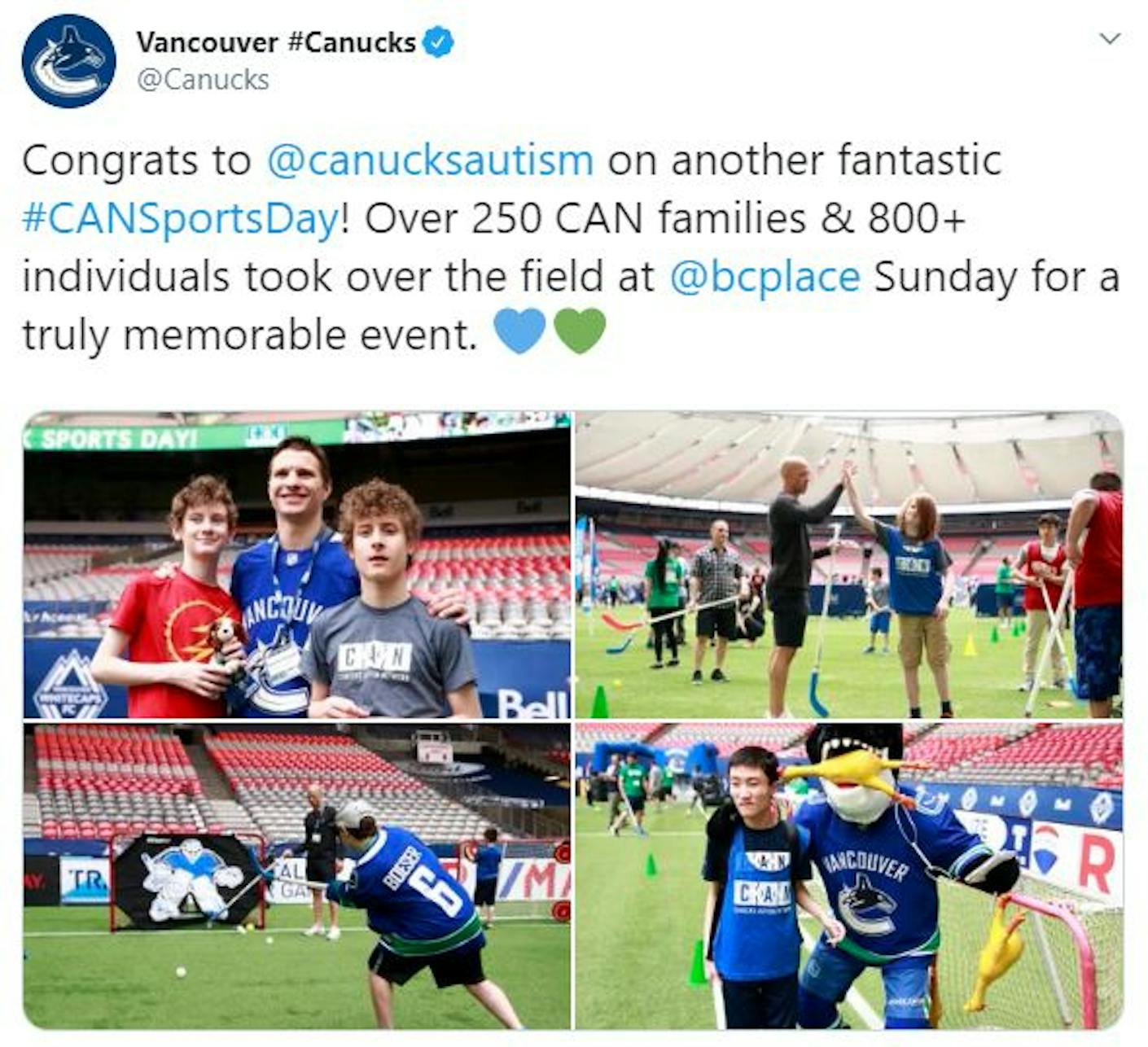 The Canucks Autism Network provides year-round, innovative, high quality sports, recreational, arts, and social programs for individuals and families living with autism, while building awareness and capacity through community networks across British Columbia.
KidsPlay Foundation Super Soccer Tournament
BC Place was proud to host hundreds of children for the 7th annual KidsPlay Foundation Super Soccer Tournament on Monday, May 27th. The event provides youth an opportunity to play on the same field as their favourite players from the Vancouver Whitecaps and BC Lions.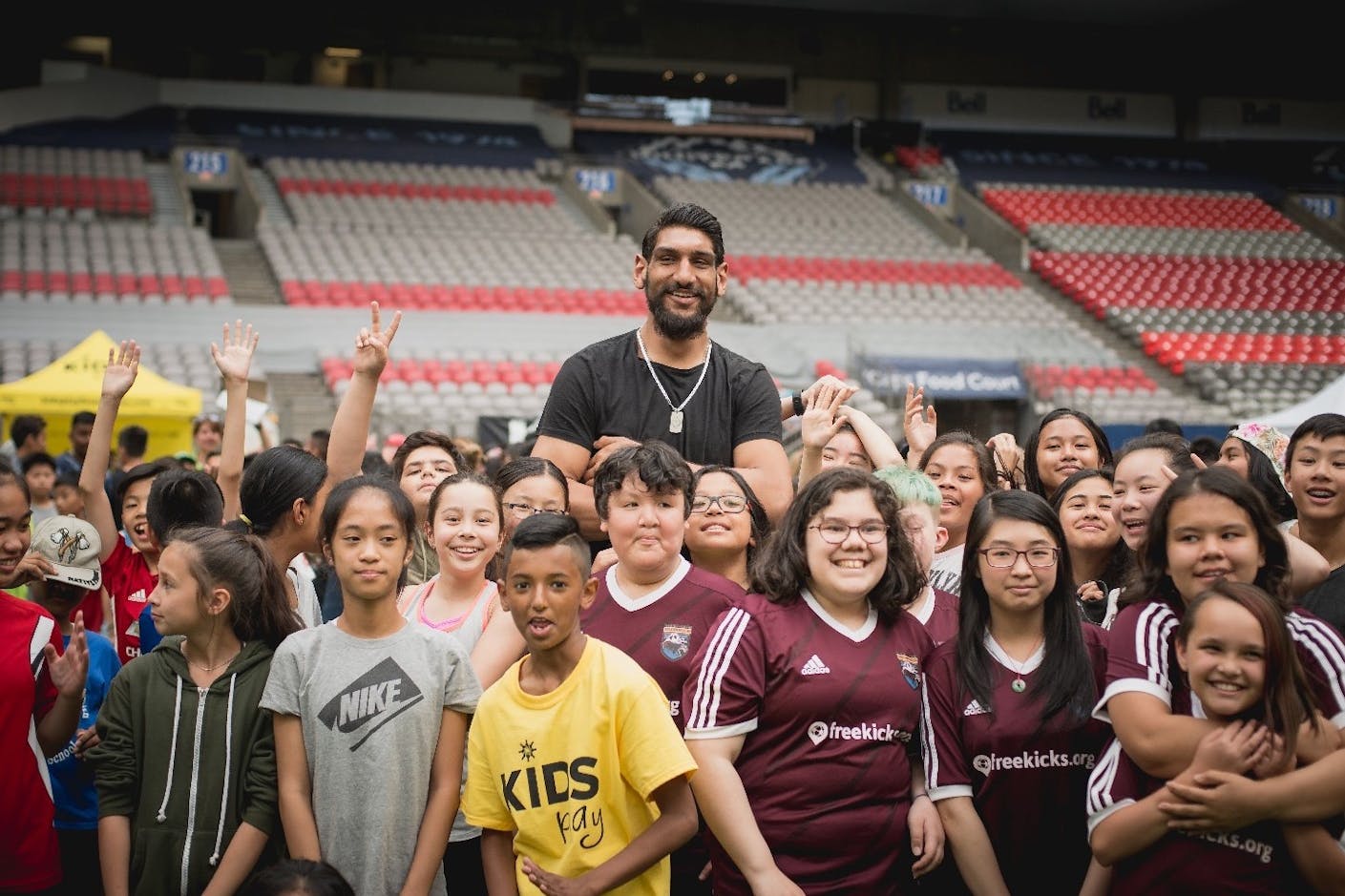 KidsPlay Foundation is a non-profit organization that organizes sports tournaments, conferences and other projects to keep youth away from the lifestyle of drugs, gangs, and violence.
JUNE
The Great Canadian Shoreline Cleanup
BC Place team members were proud to take part in a Shoreline Cleanup around the stadium on Thursday, June 27th. June was Workplace Cleanup Month and taking part in a shoreline cleanup was a great way to build team skills, have fun and give back to the community. Last year, over 60,000 Canadians took part in cleanups covering over 3,300 km of shoreline.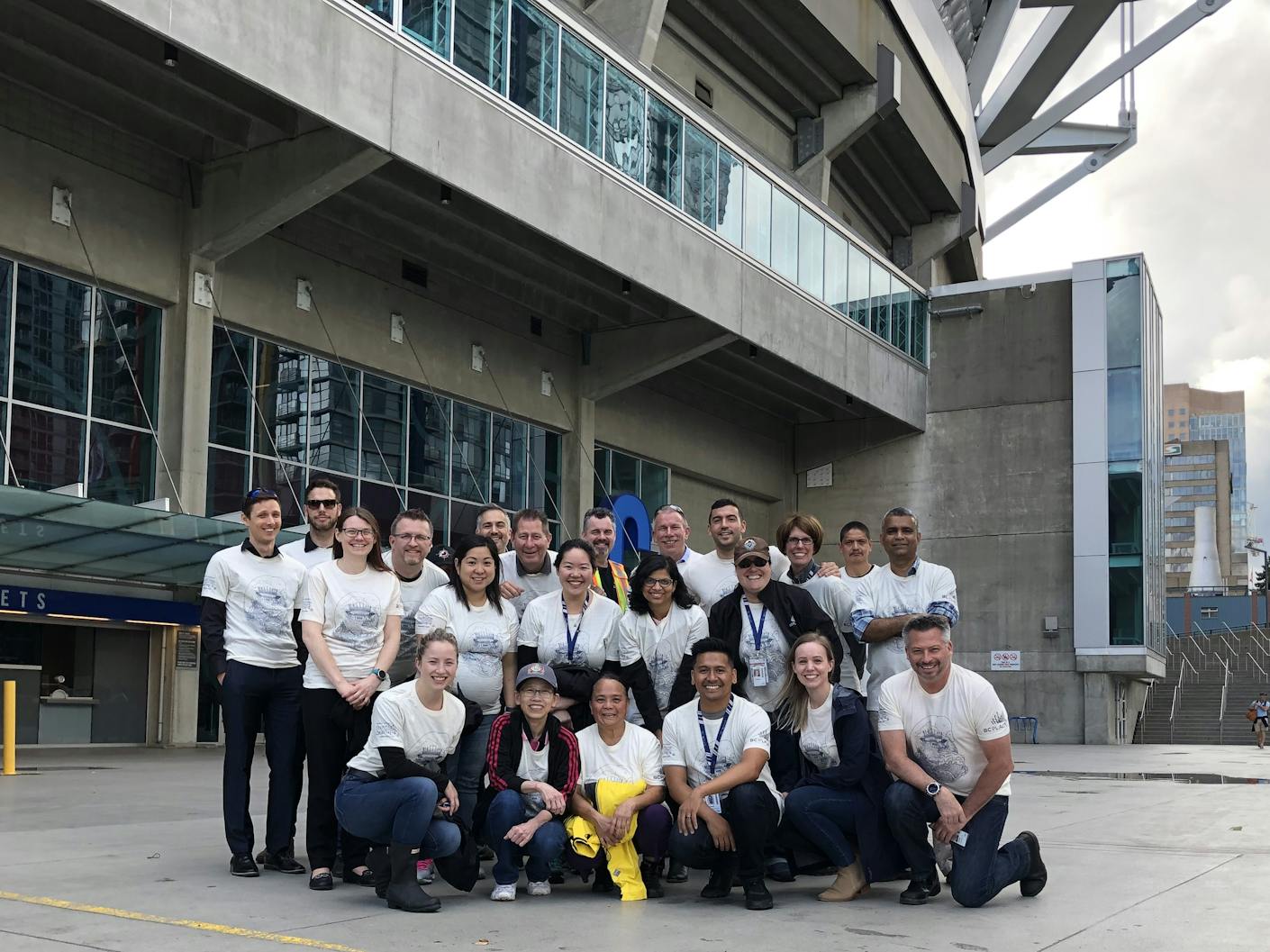 JULY
November Project Vancouver
BC Place welcomed over 35 members of November Project Vancouver who challenged themselves by running the stadium stairs during the early hours of Friday, July 12th. The group spent just under an hour running over 54 sections of steep stairs on the 400 level. One participant claimed the workout was harder than the Grouse Grind!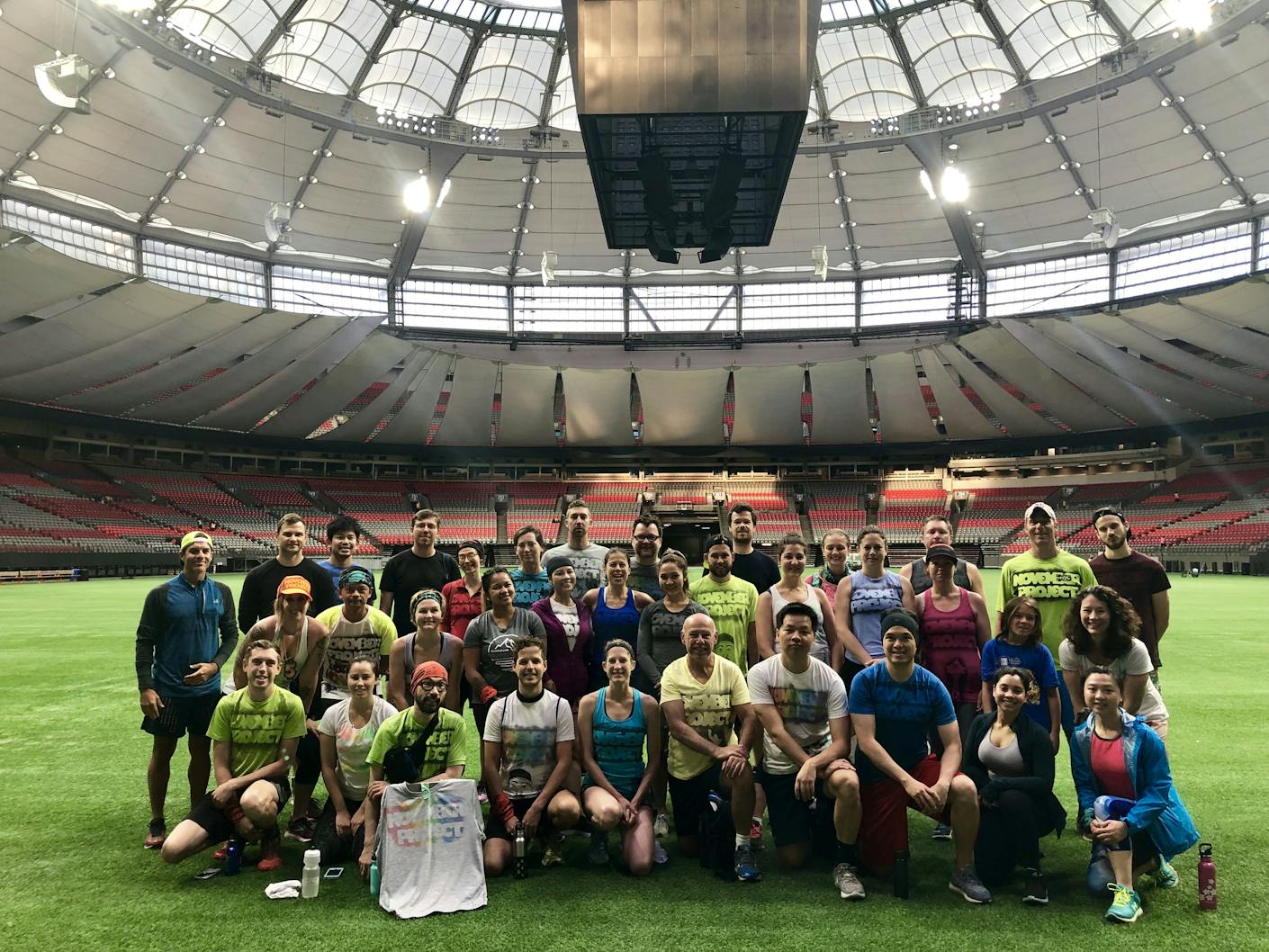 AUGUST
Vancouver Fire Rescue Services Technical Rescue Team Training
Local first responders with the Vancouver Fire Rescue Services Technical Rescue Team were on site at BC Place Stadium for several training sessions during the month of August. The training scenarios are designed to ensure first responders are familiarized with BC Place in the event of emergency or disaster, and are trained with the unique skills, techniques and protocols required to respond to a wide range of challenging situations in Vancouver and across British Columbia. As the largest stadium in Western Canada, BC Place is pleased to facilitate this important training exercise.
"BC Place has been an instrumental partner in providing our team an ongoing opportunity to refine and develop the technical skills that we rely on when responding to any emergency in the City we serve," said Clint Clarke, Acting Training Officer/Technical Rescue/Special Operations with Vancouver Fire and Rescue Services.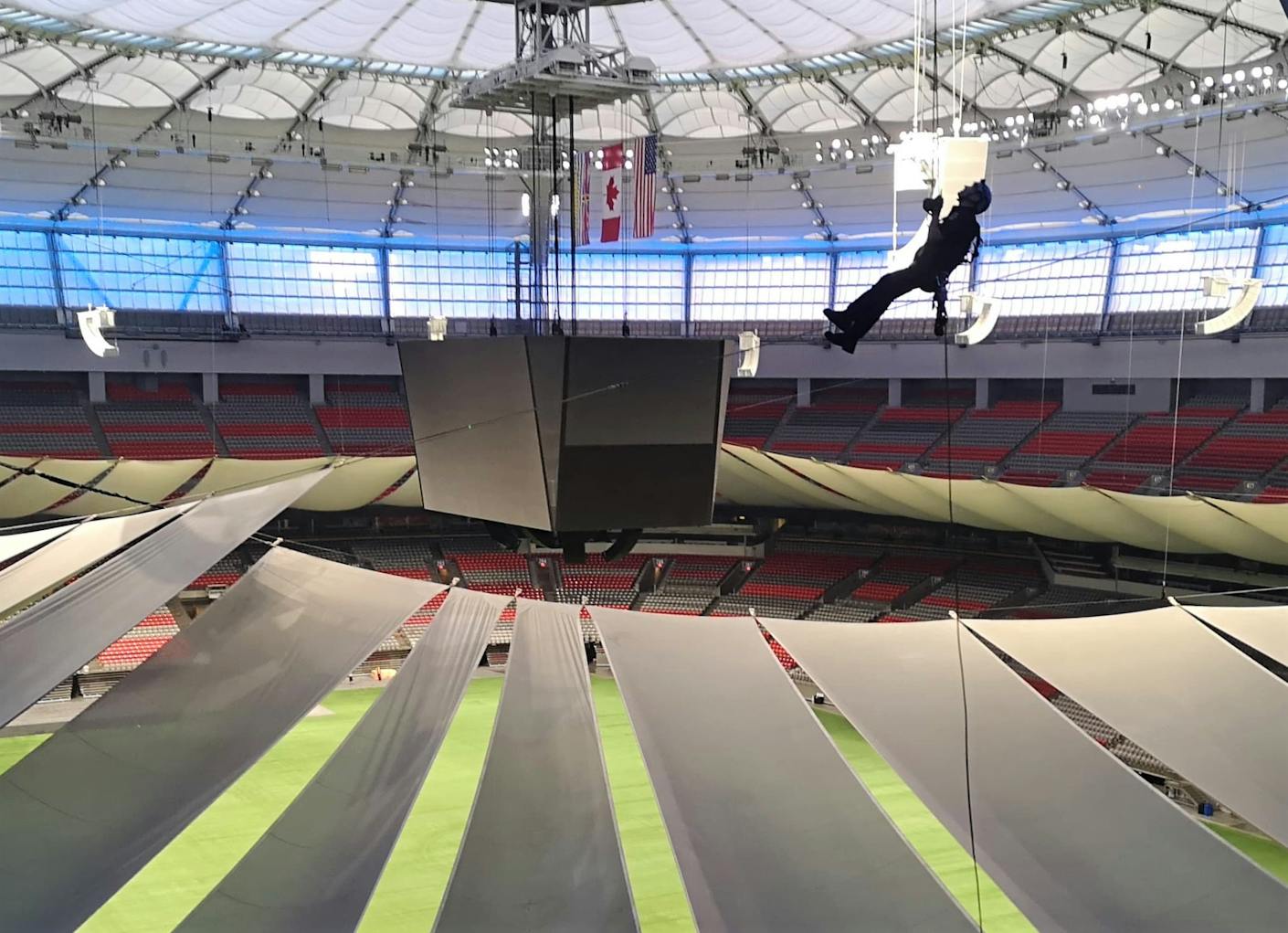 As a public service, Vancouver Fire Rescue Services is committed to the health and safety of their team and the community, while providing world class fire and rescue services. As part of BC Place's commitment to developing and supporting our local communities, the training site is being provided to the Vancouver Fire Rescue Services Technical Rescue Team for no cost. The stadium is proud to support the incredible work the Vancouver Fire Rescue Services Technical Rescue Team, as well as all first responders, do on behalf of all British Columbians.
St. Paul's Hospital Foundation Lights of Hope Testing
In August, dozens of volunteers with St. Paul's Hospital Foundation used the stadium's open space to untangle and test more than 10 kilometres of lights for the upcoming "Lights of Hope" event in December.
The organization effort is a huge undertaking as the massive display features over 100,000 bulbs and other donated materials. BC Place is proud to support this community initiative by donating a space for the campaign volunteers to work on the displays.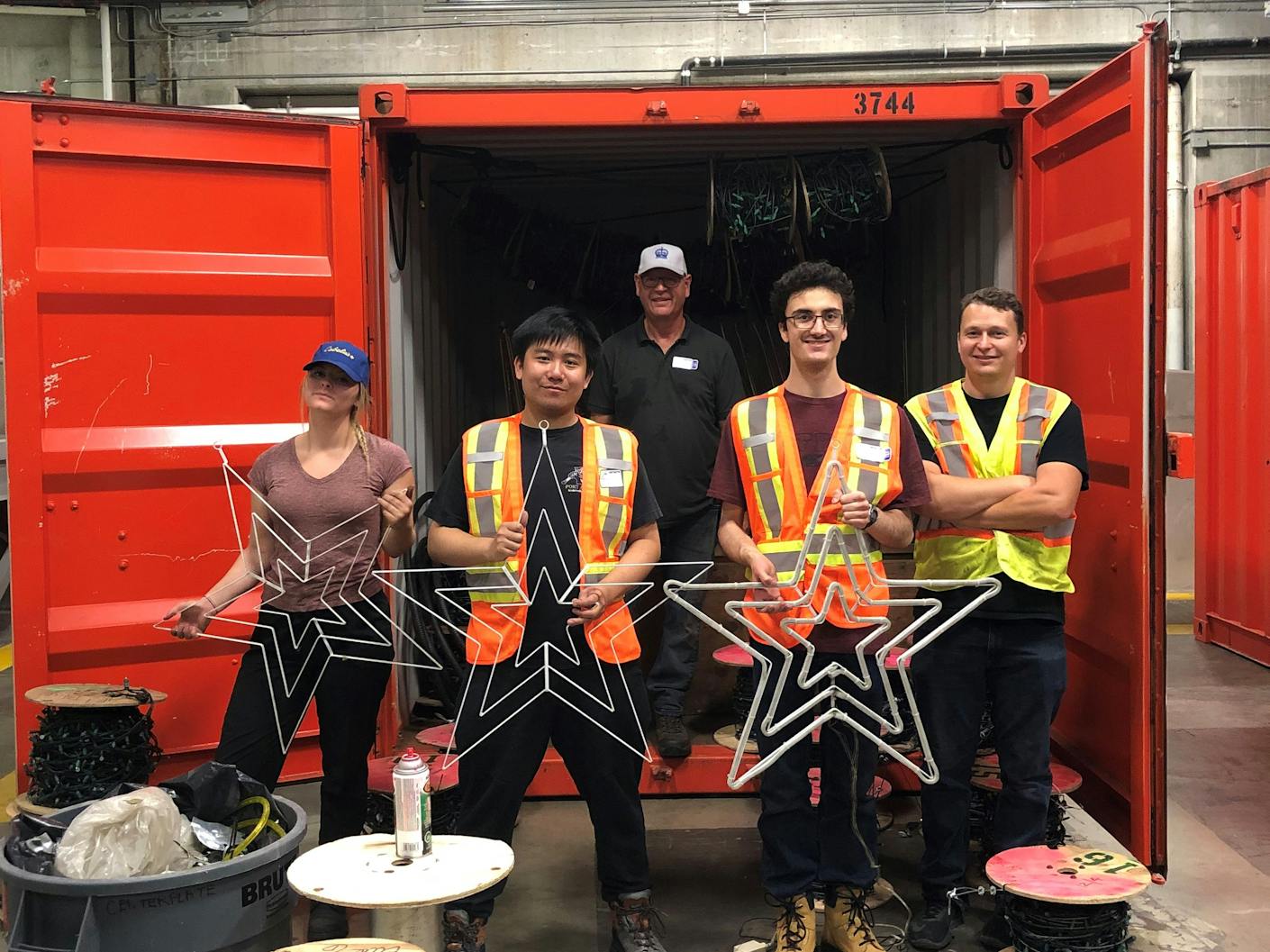 The St. Paul's Hospital Foundation's "Lights of Hope" is an annual fundraising campaign to raise money for patient care, research and equipment at St. Paul's Hospital. The event is a tradition which brings thousands of visitors to downtown Vancouver throughout the holiday season. Last year, "Lights of Hope" raised over $3.2 million.
SEPTEMBER
Transit Police Dog Service Unit Training
BC Place was pleased to welcome members of the Transit Police Dog Service Unit to the stadium from September 9th to 13th for a series of important training exercises. The group was preparing ahead of a trip to New York to instruct and train the team with NYPD's Transit Canine Unit.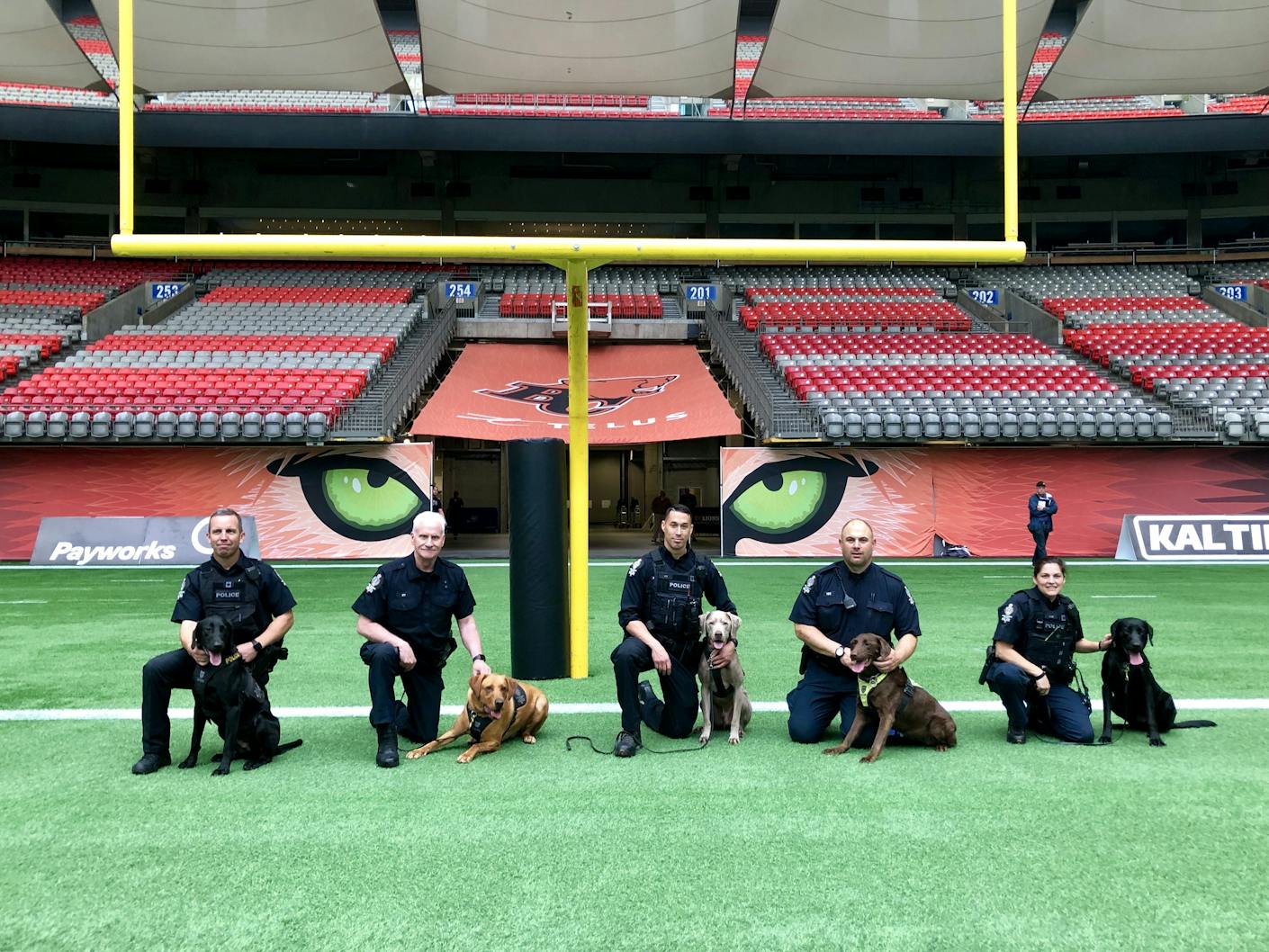 Children's Wish Foundation Heroes Challenge
BC Place was proud to host the annual Children's Wish Foundation's Heroes Challenge on September 27th. Heroes Challenge is an annual event, which pairs corporate and individual teams with a wish child, all with a team goal of raising $10,000 (the average cost of a wish) to grant the child's most heartfelt wish. Teams celebrate their fundraising success with their wish child on challenge day, where participants compete in fun, creative challenges designed to test team spirit, mental agility, and physical ability. Challenges are inclusive of all team members and participating wish children. This year's event surpassed its goal, raising over $205,000 for 20 local wish recipients.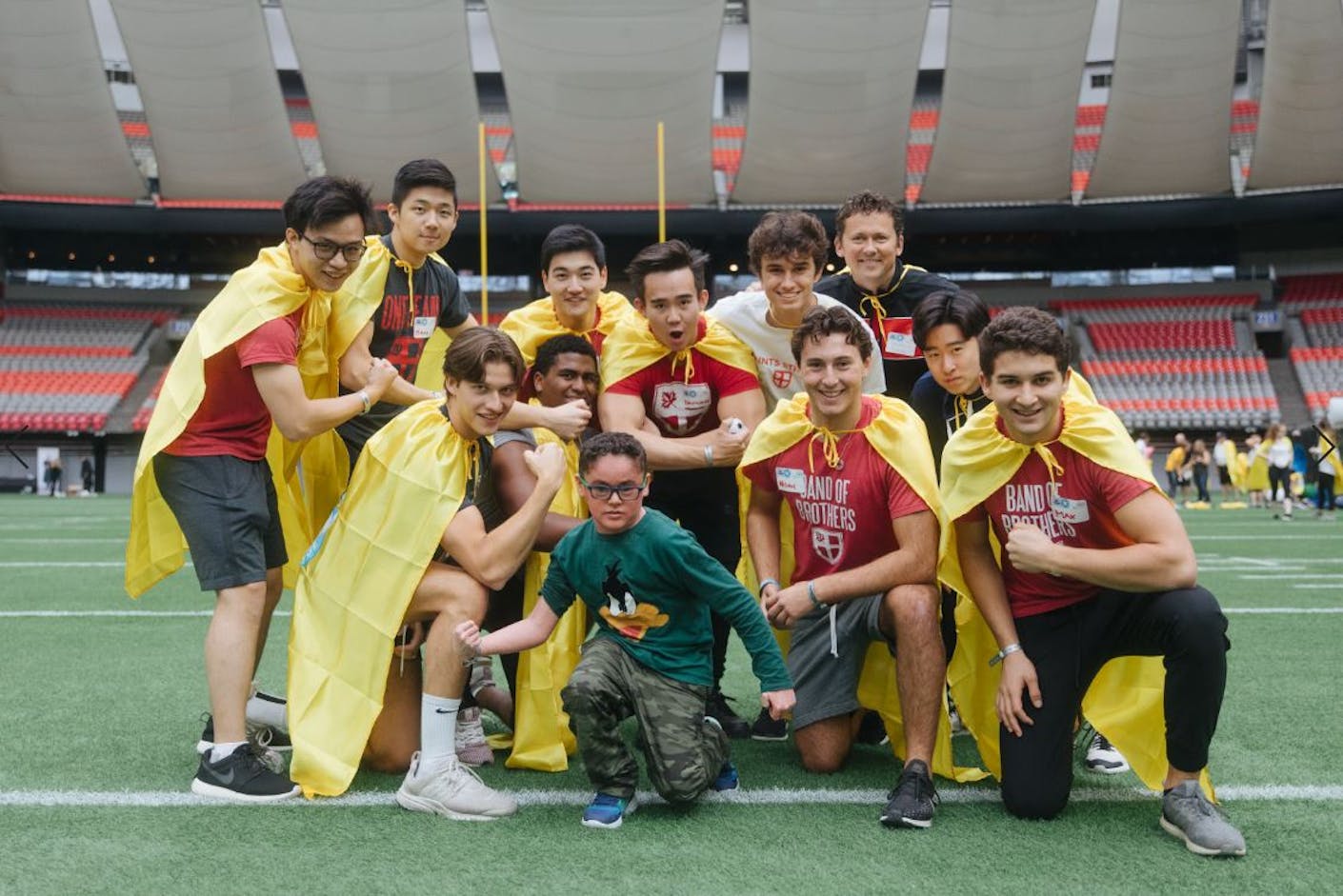 BC Lions Scouts Sleepover
BC Place hosted over 500 deserving Scouts and their families for the once-in-a-lifetime opportunity to sleepover on the field after the BC Lions game on Saturday, September 28th. A portion of every ticket sold for the event went to The No One Left Behind Program, an effort to ensure that every youth is provided with the opportunity to experience new adventures with a local Scouts Canada program. Through No One Left Behind, membership fees and related costs are subsidized for youth from families facing economic barriers.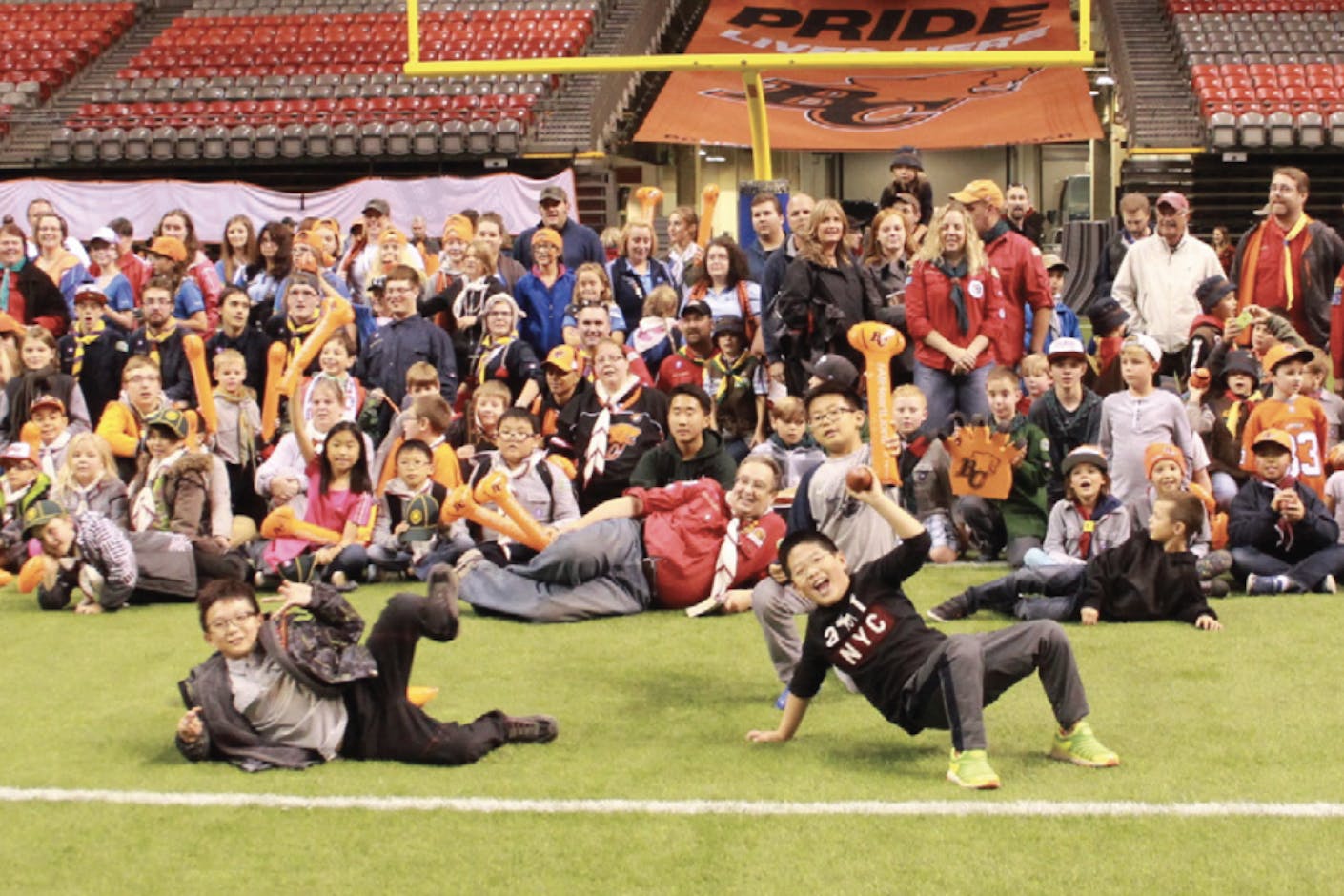 BC Place Friends & Family Fun Day
BC Place was proud to host a Friends & Family Fun Day for staff on Sunday, September 29th. The field was transformed into a fun zone, which included a bouncy castle, dunk tank and a showing of Toy Story 4 on the big screen. The event also featured a 50/50 draw which ended up raising over $1000 for Kids Up Front Vancouver!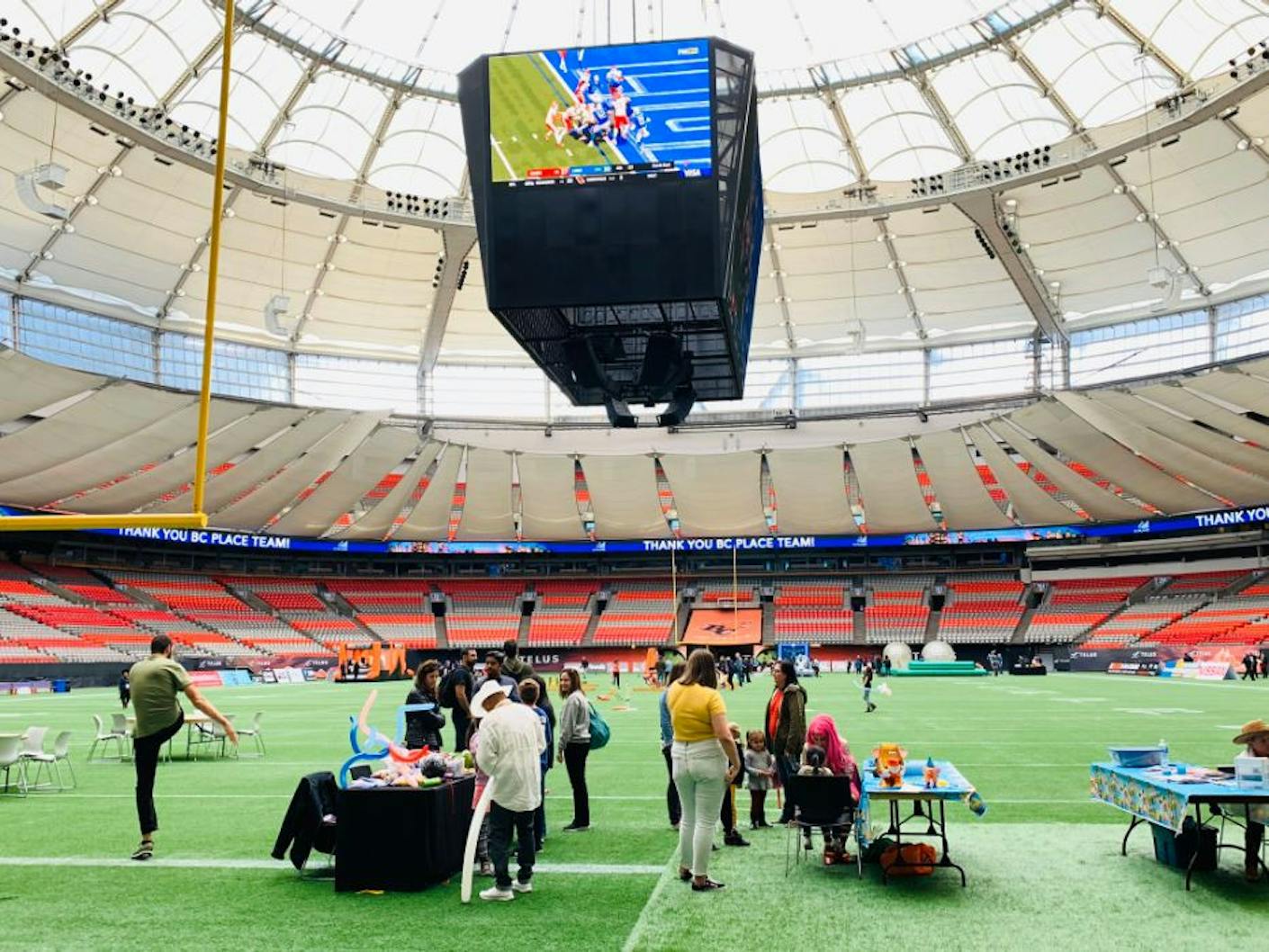 OCTOBER
Purolator Tackle Hunger Program
The annual Purolator Tackle Hunger program raised over 12,000 pounds of food for local food banks at the BC Lions game on Saturday, October 5th. The incredible result was a team effort with fans, BC Lions team members and BC Place and Centerplate staff all contributing to the grand total.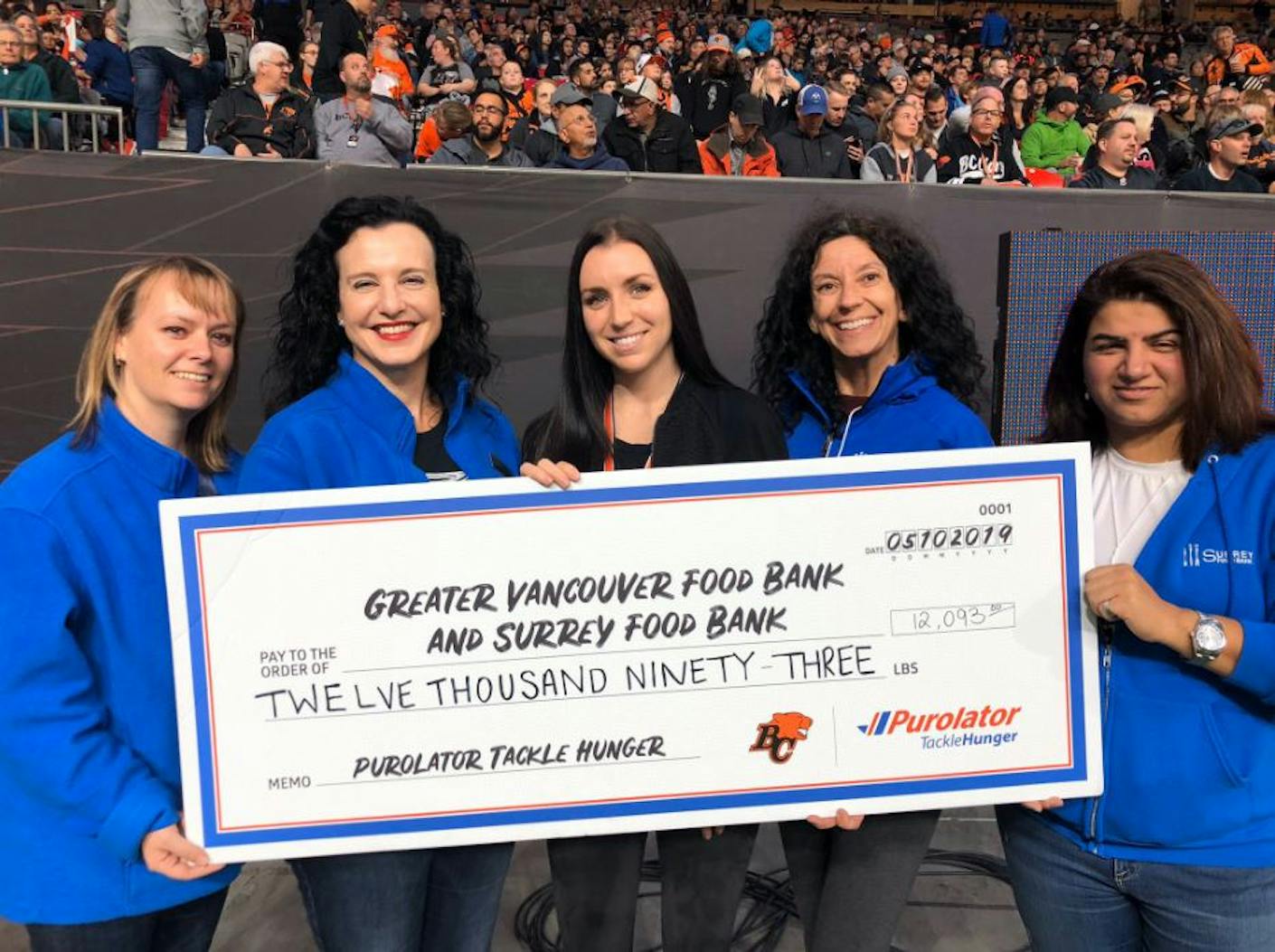 Kids Up Front "More Than A Movie" Night
BC Place partnered with partnered with Kids Up Front Vancouver to host a family movie night viewing of 'Toy Story 4' on Saturday, October 19th.
The "More Than A Movie" event provided attendees the once-in-a-lifetime opportunity to watch Woody, Buzz and the rest of the Toy Story gang on one of the largest centerhung video screens in North America.
For every ticket purchased to the event, Kids Up Front Vancouver sponsored a child and their family to attend as well at no cost.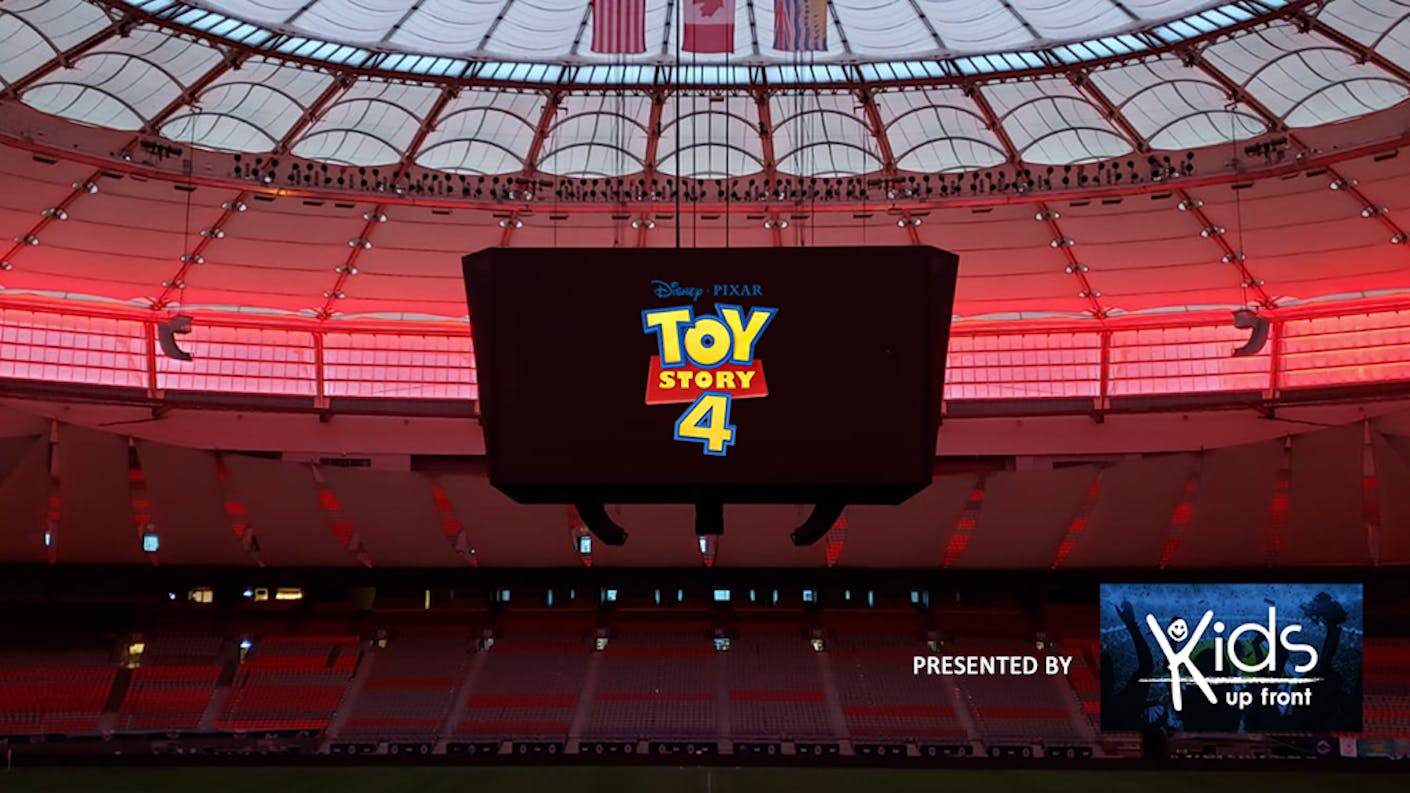 Here is some feedback from some of Kids Up Front's partner agencies about the event:
"Thank you for giving us a chance to have a family day. As immigrants and a low income family, we can't afford these kinds of opportunities. This was great!" – Immigrant Services Society
"This was a very special event, definitely more than a movie! The kids had a great time playing on the field and watching the movie on the big screen and woke up remembering the very special evening. My son with special needs enjoyed every moment of it!" – Dixon Transition Society
"This event made me reminisce about when I used to take my kids to the movies when they were younger and now I was able to provide the same experience with my grandchildren. What a treat the host provided!" – Connections Community Service
"Our family was wow-ed by the full experience, including ice cream, popcorn, hot dogs and the movie! It was one of the best days we've had in a long time." – MOSAIC
"It was a one of a kind experience and we're so grateful!" – Queen Alexandra Family School
"Thank you for giving our family this social opportunity! We had a great time, including our son with autism, who had a blast running around on the field." – Cloverdale Learning Centre
NOVEMBER
BC Lions Skills 4 Life Summit
BC Place was proud to host over 100 students from across the province for the 2019 Skills 4 Life Summit on Saturday, November 2nd.
The student ambassador program, presented by the BC Lions in partnership with the BC government, is intended to give students in grades 7-9 a variety of tools required to be successful in their relationships, school environment, career path and overall life journey.
As part of the summit, students attended the BC Lions game against the Calgary Stampeders at BC Place. Participants got to experience VIP sideline access to watch the teams warm-up, as well as the opportunity to meet Education Minister, Rob Fleming, and Minister of Mental Health and Addictions, Judy Darcy at the event.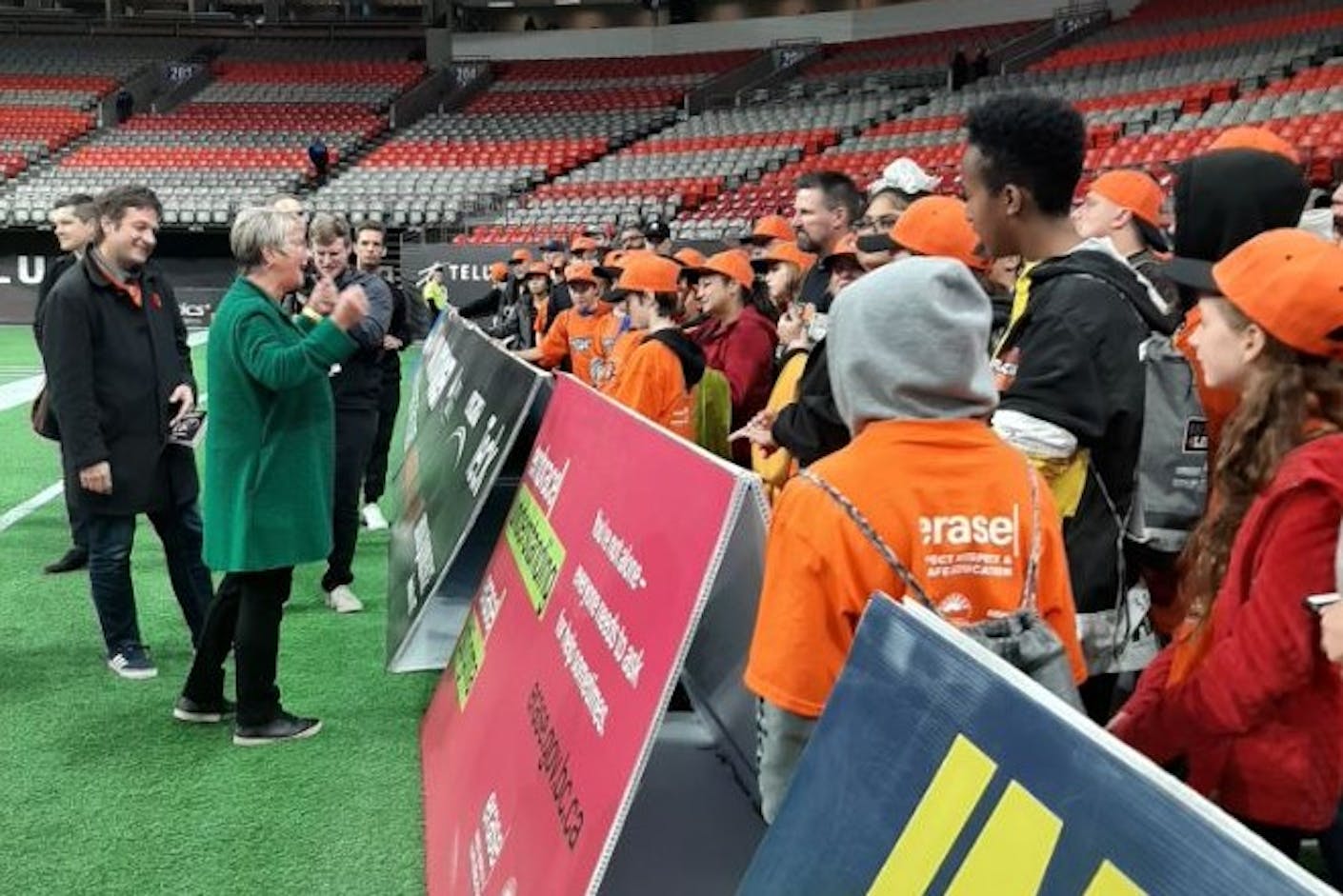 Vancouver Heritage Foundation "Places That Matter" Event
BC Place Stadium was officially recognized by Vancouver Heritage Foundation at a "Places That Matter" plaque presentation on November 8th, celebrating the impact BC Place has made on Vancouver and the province of B.C. since opening on June 19th, 1983.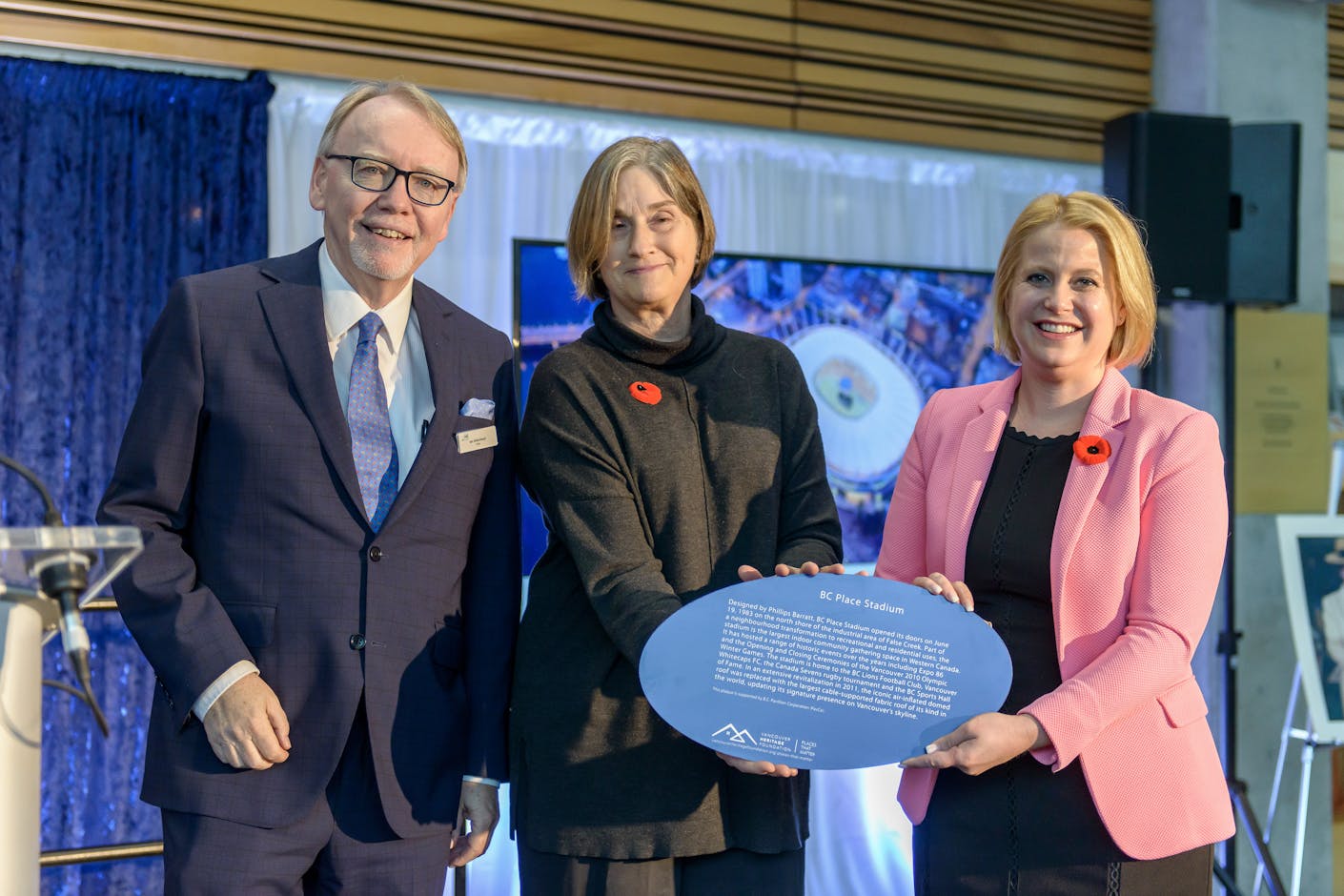 BC Place Stadium was originally envisioned as part of an extensive neighbourhood transformation for North False Creek – the largest urban development in North America at the time. In the ensuing 36 years, BC Place has been home to landmark events and occasions that include the Opening and Closing Ceremonies of the Vancouver 2010 Olympic Winter Games, the FIFA Women's World Cup Championship Final, visits by royalty and world leaders, spectacular sold out concerts headlined by the world's top artists, a myriad of cultural and community gatherings, as well as countless sporting moments featuring the BC Lions Football Club, Vancouver Whitecaps FC and Canada's national teams. BC Place is also the proud home of the BC Sports Hall of Fame, which celebrates extraordinary achievement in B.C. sporting history.
"BC Place Stadium has become an iconic part of British Columbia's landscape," said Lisa Beare, Minister of Tourism, Arts and Culture. "It has been a gathering place for more than 35 million people, each of whom have made memories and shared once in a lifetime experiences. BC Place is a landmark in our province and I look forward to many more exciting and memorable moments in the years to come."
Vancouver Heritage Foundation's Places That Matter plaque project tells the stories of the people, places and events that have shaped Vancouver's history. BC Place is recognized as one of 125 Places That Matter in Vancouver through a public nominations process, followed by an independent evaluation by a committee made up of local historians, artists, students, heritage consultants, writers and educators.
DECEMBER
BC High School Football Championships
BC Place is proud to host the BC High School Football Championships each year! Here's a look at what it means for young athletes from across the province to compete on the same stage as their sporting heroes.
ONGOING YEAR-ROUND INITIATIVES
Partnership with Kids Up Front
Through the stadium's partnership with Kids Up Front Vancouver, BC Place has helped provide more than 10,000 live event experiences to children from across British Columbia so far this year. Many of the experiences at BC Place are a child's first time at a professional sporting event, a concert or even in a stadium.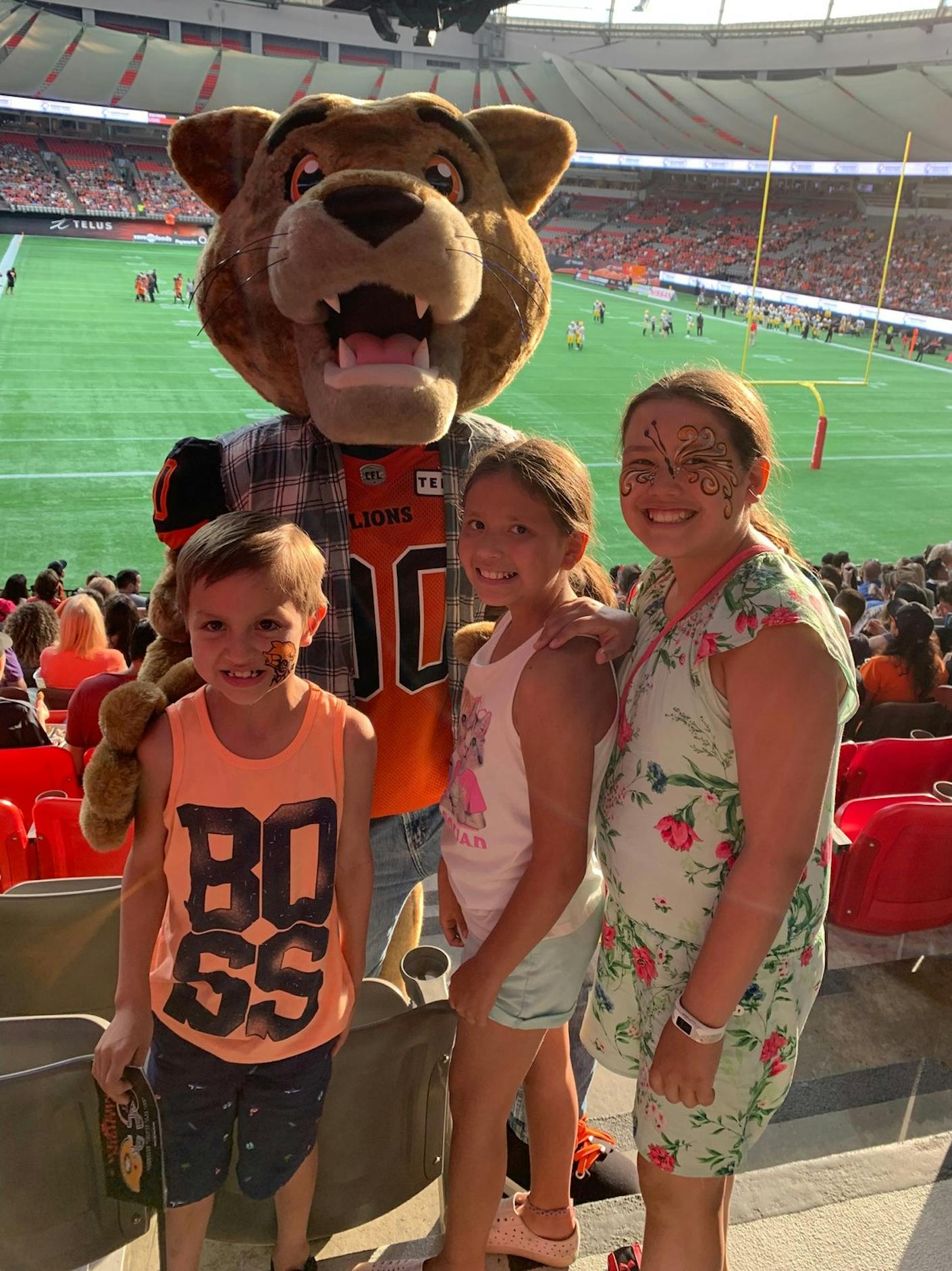 Here is some feedback from some of Kids Up Front's partner agencies about their experiences at BC Place:
"Our list for children and youth that are wanting to attend these events is getting bigger. It's so nice to have tickets so we can get more of them to games. They are all very grateful and are always so excited when they receive tickets! Thank you so much for sending us tickets for the game and we look forward to more in the future." - BC Epilepsy Society
"All of the families that attended had a great time, you can see the joy from the pictures! Thanks again for the great opportunity!" - Katzie First Nations
"To all the AMAZING people who worked so hard to provide a wonderful mother and son bonding opportunity for us, I am eternally grateful. My little boy loves to play soccer but had never had a chance to watch a professional match up close. We watched our beloved Whitecaps team play in BC Place. The seats that you kindly provided for us were very close and it made the experience even more intense. Upon returning home, my son kept playing around the house with his own soccer ball, laughing and talking about the grand time he had. I am forever grateful for this opportunity. As a mother, the best thing in the world is to see your children's happiness. Thank you for providing that happiness for us!" - Westcoast Family Centres
"We had 3 groups go to the game and everyone was so happy to get out of the house and see a live soccer match for the first time!" - Vancouver Coastal Health
"We cannot thank you enough for these opportunities that Kids Up Front offers us! With a large family of 9, events can become expensive. This allows us to experience activities you offer and then we are able to explore other events because of your generosity giving us tickets. The boys that are in our family have had such trauma in their lives, this is a great way for them to escape and enjoy events... Thank you for that and putting smiles on their faces!!" - BC Federation of Foster Parent Association
Field of Dreams Schools Participation Program
BC Place launched the Field of Dreams Schools Participation Program in 2019, a community initiative designed to offer schools an indoor space for physical activities on the stadium's field of play when it is not otherwise being utilized for events or operations. To date, the stadium has welcomed over 500 students and has plans to expand the program in 2020.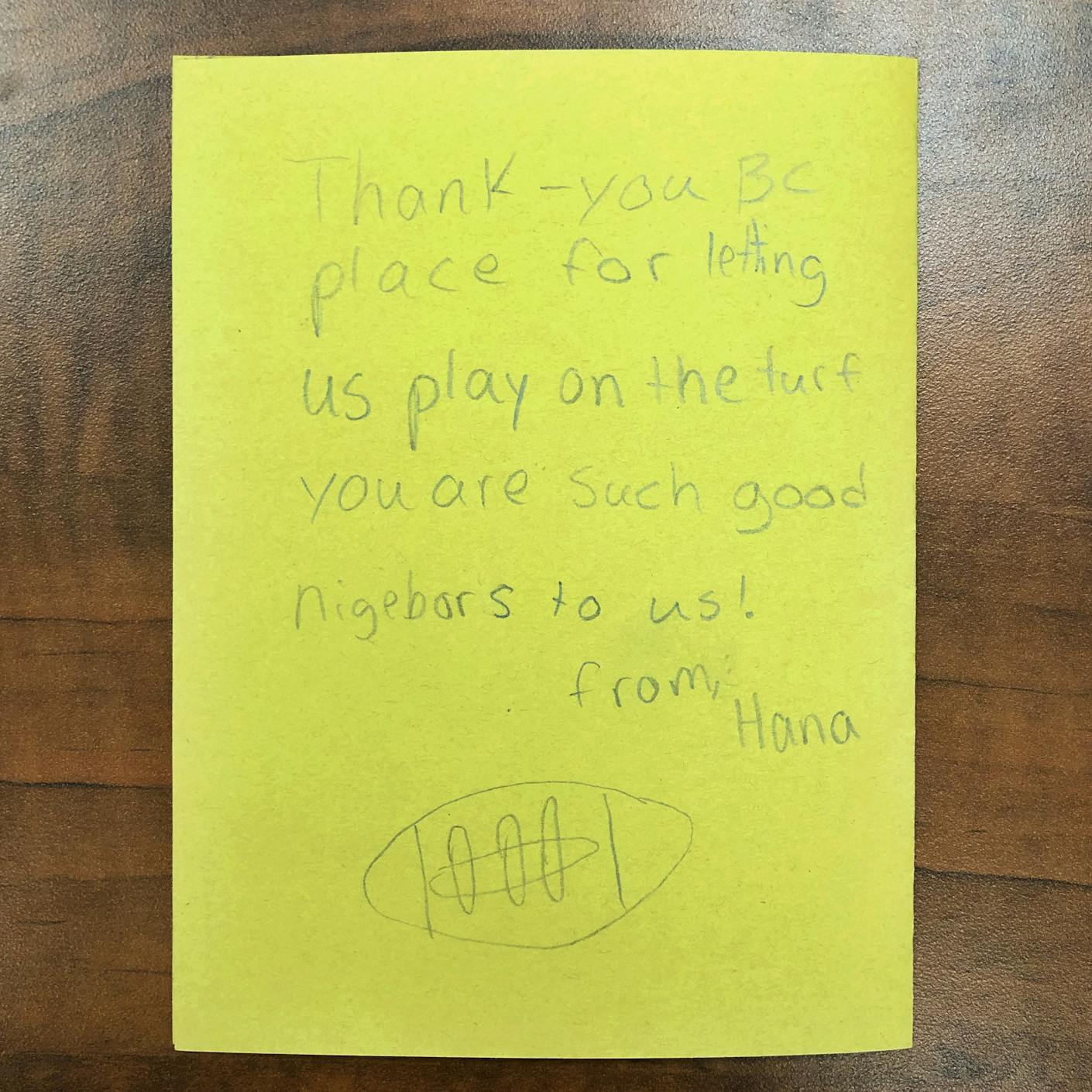 Good Food Recovery Program
As one of the largest food service venues in British Columbia, BC Place is committed to making a positive impact on the environment and in the diverse communities we serve. Through an innovative partnership established in 2019, BC Place and Centerplate have teamed-up with La Tablée des Chefs to ensure surplus food is distributed safely to people in need. As of December 2019, over 7,100 meals have been redistributed to people in Vancouver's Downtown Eastside neighbourhood through the Good Food Recovery Program with Centerplate at the stadium.
Community Ticket Donation Program
As a public facility, BC Place is proud to support a wide range of communities across the province by donating tickets to upcoming events at the stadium. For ticket donation requests, please review the following Eligibility Guidelines & Submission Process here.
Northern Lights Display Illuminations
BC Place has supported over 145 community-based organizations and initiatives with the Northern Lights Display this year. Some highlights for 2019 include: World Cancer Day, World Down Syndrome Day, Autism Awareness Month, Tourism Week, World Refugee Day, Drowning Prevention Week, World Day of Indigenous Peoples, Breast Cancer Awareness, World Diabetes Day and Human Rights Day.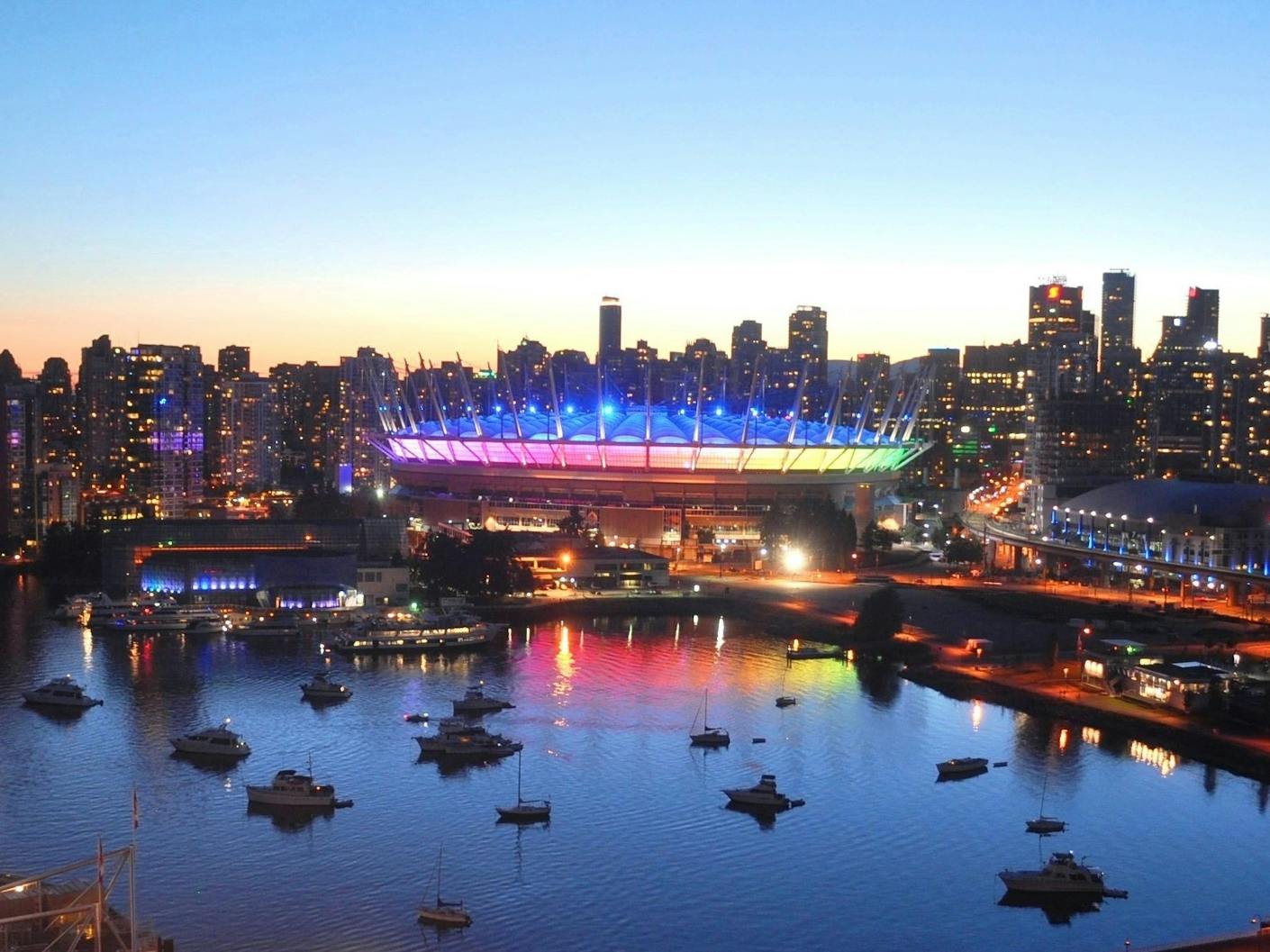 Click here to learn more about the display or submit a lighting request.
BC Place is proud to bring people together to celebrate live entertainment and events, as well as our community. Happy Holidays!