BC Place to host family movie night on the big screen
October 15th, 2019
Enjoy a family movie night out and help kids in need this weekend!
The stadium has partnered with Kids Up Front Vancouver to host a family movie night viewing of 'Toy Story 4' on Saturday, October 19th.
The "More Than A Movie" event gives attendees the once-in-a-lifetime opportunity to watch Woody, Buzz and the rest of the Toy Story gang on one of the largest centerhung video screens in North America.
The special event is raising funds to support Kids Up Front Vancouver's ongoing operations, with every ticket sold directly helping a deserving child in the community.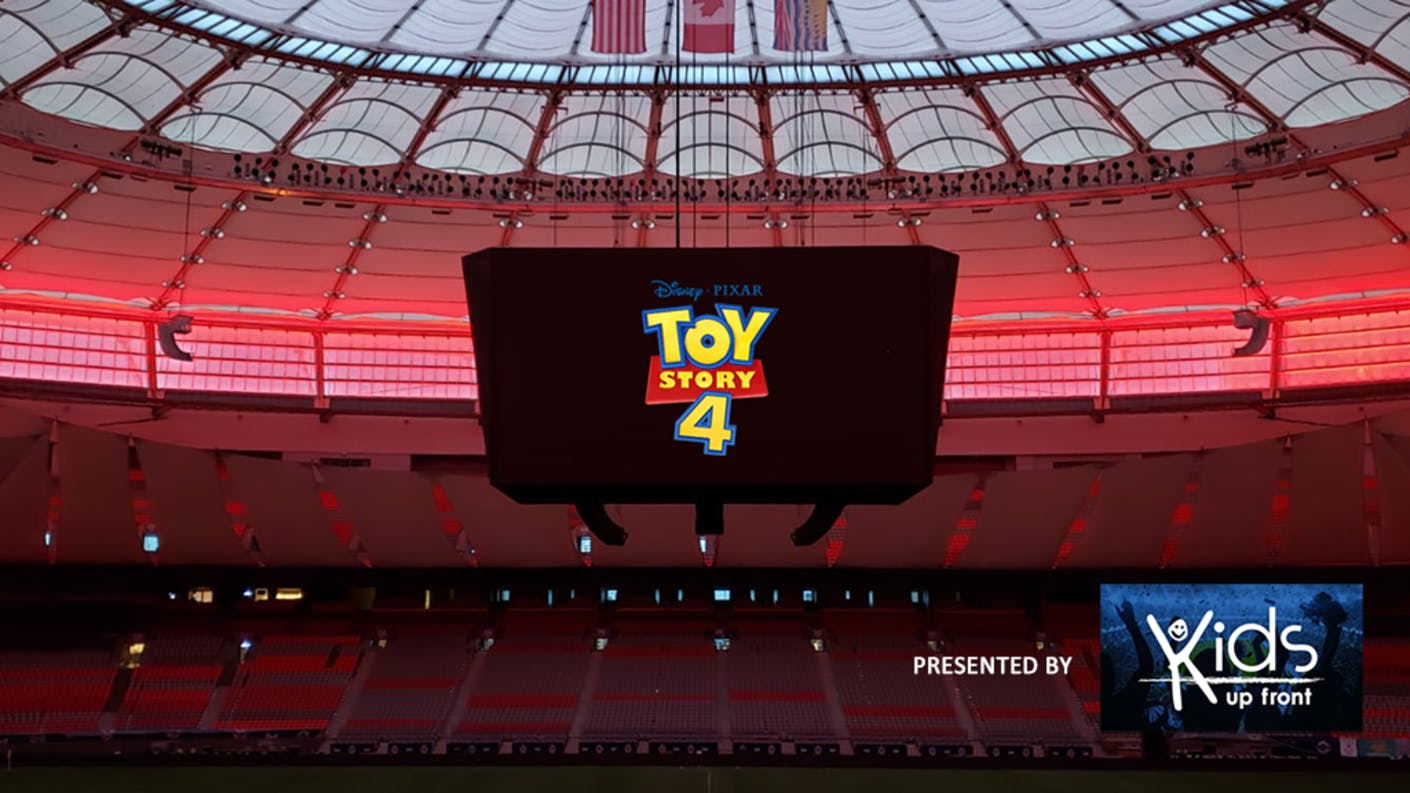 For every ticket purchased to this family movie night, Kids Up Front Vancouver will sponsor a child and their family to attend the event at no cost. These complimentary tickets will be distributed to a number of Kids Up Front Vancouver partner agencies, including The Children's Foundation, Indigenous Family & Child Services and Make-A-Wish.
"More Than A Movie" presented by Kids Up Front Vancouver
When: Saturday, October 19th, 2019 @ 5:00pm
5:00pm - 6:15pm: On-field activities with Whitecaps FC & BC Lions
6:30pm - 8:00pm: Viewing of Toy Story 4 on the big screen
Where: BC Place Stadium
Event Details: Each ticket purchased includes entry to the movie, plus one hotdog, soft drink and popcorn. For every ticket bought, a second ticket will be donated to a Kids Up Front Vancouver partner agency so a child in the community can attend the event as well. Tickets are available through Ticketmaster for $15 each or $50 for a group of 4.
Through the stadium's partnership with Kids Up Front Vancouver, BC Place has helped provide over 8,500 live event experiences to children from across British Columbia so far this year. Many of the experiences at BC Place are a child's first time at a professional sporting event, a concert or even in a stadium.
About Kids Up Front Vancouver
Since 2002, Kids Up Front has transformed more than 2 million unused tickets into incredible experiences for deserving kids across Canada.
Kids Up Front Vancouver partners with over 120 local charities and youth groups to help distribute donated event tickets and programs to marginalized youth and children who would otherwise not be able to access these uplifting opportunities. Over 50% of Kids Up Front Vancouver tickets are for events at BC Place!