BC Place to light in Poppy Show for Remembrance Day
November 1st, 2023
The Northern Lights Display schedule for November includes Movember and Louis Riel Day among others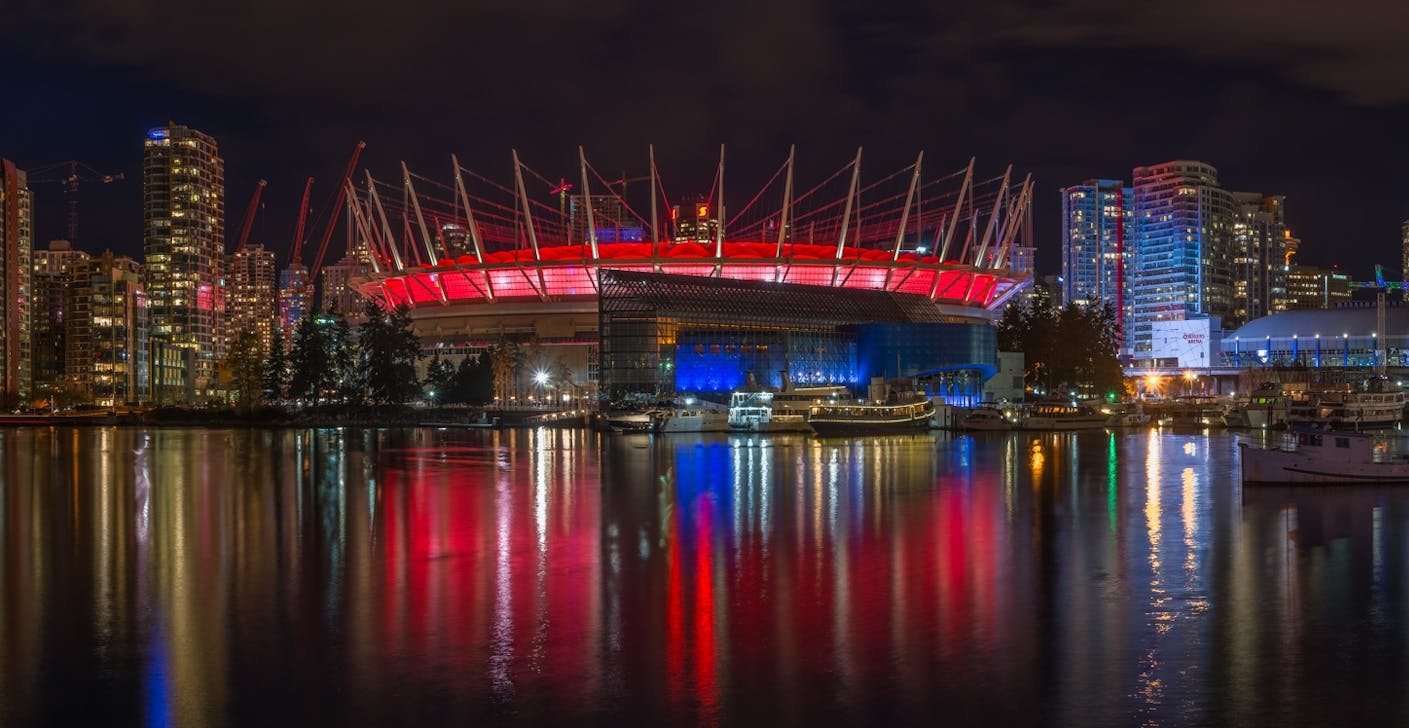 (Image Credit: Robert Henrickson)
VANCOUVER, BC – BC Place will be lit as a giant poppy on November 11 in observance of Remembrance Day, one of 18 community initiatives that the stadium is amplifying with the Northern Lights Display this month.
The schedule begins with a special Moustache Show for November 1 to raise awareness of men's health issues, such as prostate cancer, testicular cancer, and men's suicide. On November 16, BC Place will light in blue and white for Louis Riel Day in recognition of the Métis leader's advocacy for the protection of the rights and culture of the Métis Nation.
Other illuminations for the month include Covenant House Vancouver Sleep Out, St. Paul's Foundation's Lights of Hope, and British Columbia Professional Fire Fighters' Burn Fund Bright Nights, among others.
BC Place is recognized around the world as a landmark of Vancouver's skyline and a place of pride for all British Columbians. Besides enhancing the overall guest experience during events, the stadium's Northern Lights Display is used to amplify important causes upon request from the community.
Below is the complete Northern Lights Display schedule for November (subject to change).
November 1: Movember Show for Men's Health Awareness
November 3: teal for Light the World in Teal
November 6: orange for Color the World Orange (CRPS Awareness)
November 7: red for Crohn's & Colitis Awareness Month
November 8: red for Project Red Ribbon
November 11: Poppy Show for Remembrance Day
November 12: black & white for World NET Cancer Day*
November 13: blue & yellow for Covenant House Vancouver Sleep Out: Executives Edition*
November 15: blue for National Children's Grief Awareness Day*
November 16: blue & white for Louis Riel Day
November 17: red for Christmas Kettle Campaign
November 19: purple for National Enteropathic Arthritis Awareness Day
November 20: blue for National Child Day
November 23: red & teal for St. Paul's Foundation's Lights of Hope
November 24: light blue for World AMR Awareness Week
November 28: green for Growing Chefs Giving Tuesday
November 29: red & white for British Columbia Professional Fire Fighters' Burn Fund Bright Nights
November 30: blue & purple for Stomach Cancer Awareness Day
Follow the stadium's social media accounts on X and Instagram for the latest on the Northern Lights display.