Vancouver resident wins tickets to every event at BC Place in 2024
November 8th, 2023
BC Place selected the entry from 2,000 submissions for it's 40th Anniversary Contest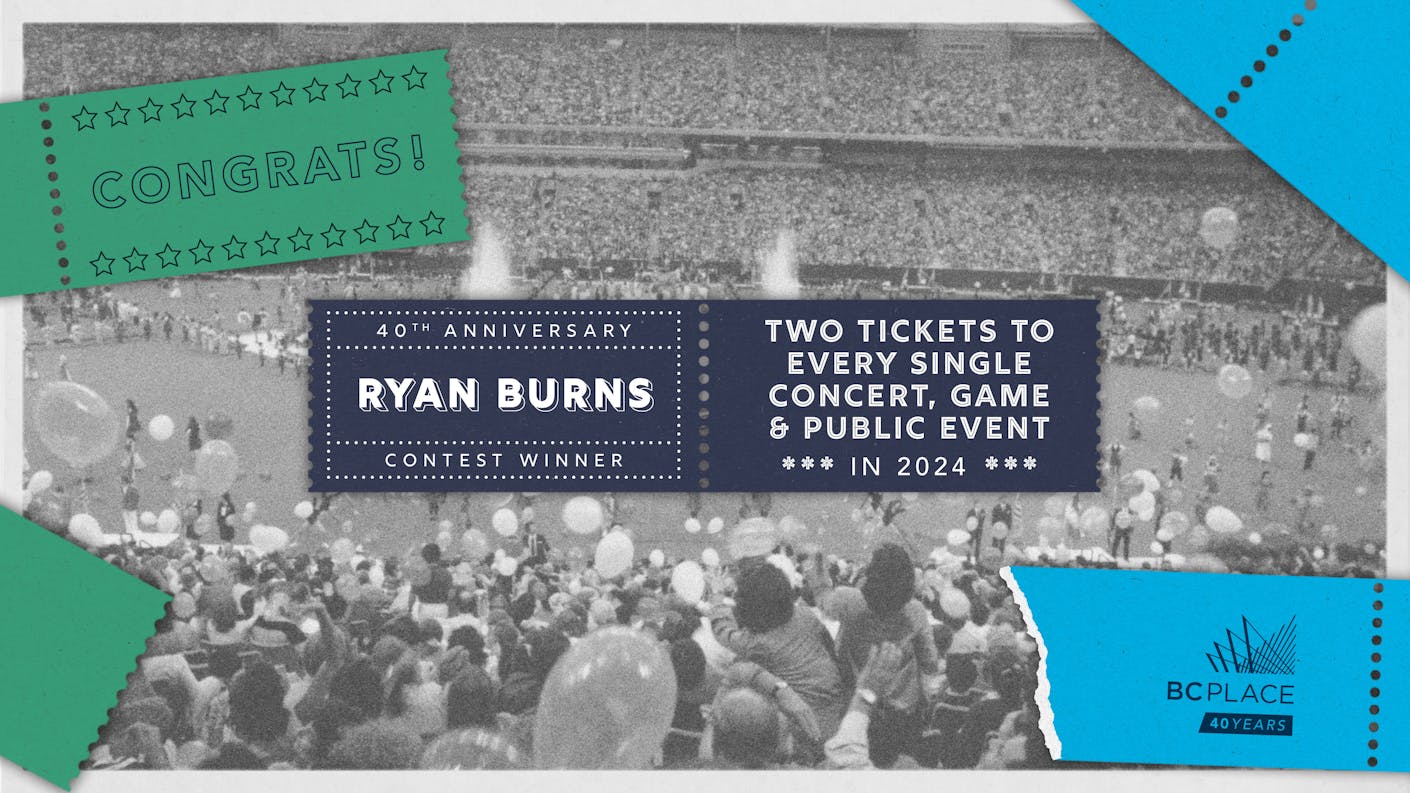 VANCOUVER, BC – BC Place is pleased to announce the winner of its 40th Anniversary Contest, a celebratory giveaway that paid tribute to the fans who have shared incredible experiences during the stadium's four decades of service to British Columbia.
Ryan Burns of Vancouver, British Columbia, was selected from close to 2,000 entries detailing their favourite memories at the stadium. He will be awarded two tickets to every public event at BC Place in 2024 – including every sporting event and concert, as well as Taylor Swift's Eras Tour and the 111th Grey Cup.
"It's been so special to hear about all the incredible moments and lifelong memories made at BC Place over the last 40 years," said Chris May, General Manager at BC Place. "It is a humbling reminder of how many lives this stadium has touched, and how many core memories were formed within its walls. We are excited to continue this legacy in the years to come. Congratulations to Ryan, he has an unforgettable year ahead of him."
In a deeply personal recounting, Ryan expresses the significance of BC Place in his life and its special connection to his father:
My favourite memory of BC Place is related to my dad being a foreman on the original construction of the stadium '81-'83. He was chosen as one of the eight people to push the start button on one of the eight fans that inflated (and kept inflated) the roof in November of '82; my mum took my sister and I to McDonald's on Main St. very early that November morning and we watched the roof inflate from there, proud that my dad was inside the building and part of what is still to me a significant moment in Vancouver history. We were at the opening ceremony in '83, with 60,000 others, and I still remember how loud it was for 9-year-old me and the wonder of it all. Many Whitecaps matches, Lions games, concerts, the '94 Canucks return from the Cup final celebration, and other events. Every time I enter that stadium I think of my dad, his part in its building, and the many memories he and I have of being there. In 2011 after the renovation, he and I went to the first event held with the new roof opening before our eyes at a Lions game. I caught the look on his face as we looked up and watched the roof open, a look that was part pride, and part "wow." I felt the same, all these years after our first visit to BC Place, sharing that moment with him. I feel a part of the stadium, in a sense, and it's a part of our family that I cherish. BC Place is an important part of the fabric of Vancouver. It is a part of the fabric of my relationship with my dad, equally. To this day, I share that he was a part of its building proudly with friends and strangers alike.
The contest is part of the year-long celebration for BC Place, Western Canada's largest multi-purpose event venue. Over the past months, BC Place has introduced the '40 Years of Amazing' Hazy Pale Ale with Granville Island Brewing, as well as special-edition popcorn boxes, and aluminum cups. During this period, the stadium has hosted world-class acts including Ed Sheeran, Beyoncé, and Coldplay, while tenant teams BC Lions and Vancouver Whitecaps FC made their playoff push in their respective CFL and MLS seasons.
Follow BC Place on X/Twitter, Instagram, and Facebook for the latest updates, including announcements for 2024 events.
About BC Place
As the largest multipurpose venue of its kind in Western Canada, BC Place provides a spectacular home for international, professional and amateur sport, entertainment, commerce, cultural experiences and community gatherings for the benefit of all British Columbians.
BC Place is a part of BC Pavilion Corporation (PavCo), a Provincial Crown Corporation of the Ministry of Tourism, Arts, Culture & Sport that owns and operates the Vancouver Convention Centre and BC Place.