Northern Lights Display to feature festive illumination shows for Winter holidays
November 30th, 2022
National Day of Remembrance and Action on Violence Against Women among initiatives to be amplified in December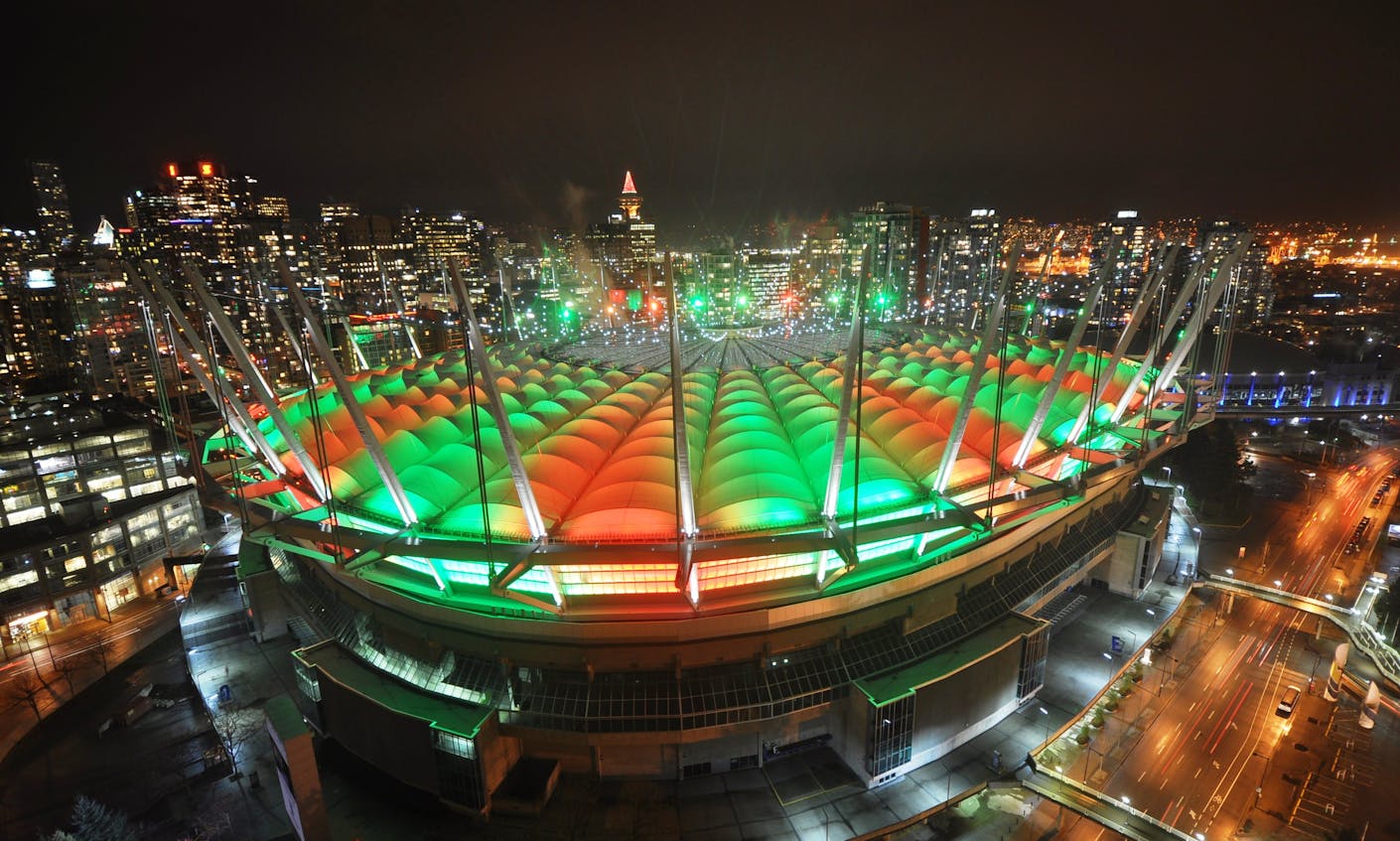 VANCOUVER, BC – BC Place is getting into the holiday spirit this December with a number of festive illumination shows on deck for the iconic Northern Lights Display.
Highlights include: the Salgirah Show on December 13, the Menorah Show for Hanukkah beginning on December 18, the Holiday Show starting on December 22, the Kwanzaa Show on December 26, and the New Year's Show on December 31.
As the temperature drops across the province, the illumination will also feature a number of seasonal animations, including the Snowfall Show on December 7, and the Northern Lights Show for Winter Solstice on December 21.
The stadium illumination will continue to promote community initiatives during the month, beginning with World AIDS Day and Project Red Ribbon, MADD Canada's annual awareness campaign to promote sober driving during the holiday season. On December 6, BC Place will glow in white for National Day of Remembrance and Action on Violence Against Women to remember those who have experienced gender-based violence and those who lost their lives to it.
BC Place is recognized around the world as a landmark of Vancouver's skyline and a place of pride for all British Columbians. Besides enhancing the overall guest experience during events, the stadium's Northern Lights Display is used to amplify important causes that impact our community.
Below is the complete Northern Lights Display schedule for December (subject to change).
December 1: red for Canada MNT World Cup match + World AIDS Day + Project Red Ribbon
December 2: purple for International Day of Persons with Disabilities (December 3)
December 3: yellow & green for Subway Bowl
December 4: red for International Volunteer Day for Economic and Social Development (December 5)
December 6: white for National Day of Remembrance and Action on Violence Against Women
December 7-8: Snowfall Show
December 9: blue for Human Rights Day (December 10)
December 11-12: Winter Show
December 13: Salgirah Show
December 14-17: Northern Lights Show
December 18-20: Menorah Show for Hanukkah
December 21: Northern Lights Show for Winter Solstice
December 22-25: Holiday Show
December 26-27: red, black, & green for Kwanzaa
December 31: New Year's Eve Show