4 pm start Times, Division Rivalries, Sunday home clash highlight 2023 Lions schedule
December 14th, 2022
Lions and Stampeders to open 2023 CFL campaign in Calgary, six of nine Lion home games to kickoff at 4:00 pm.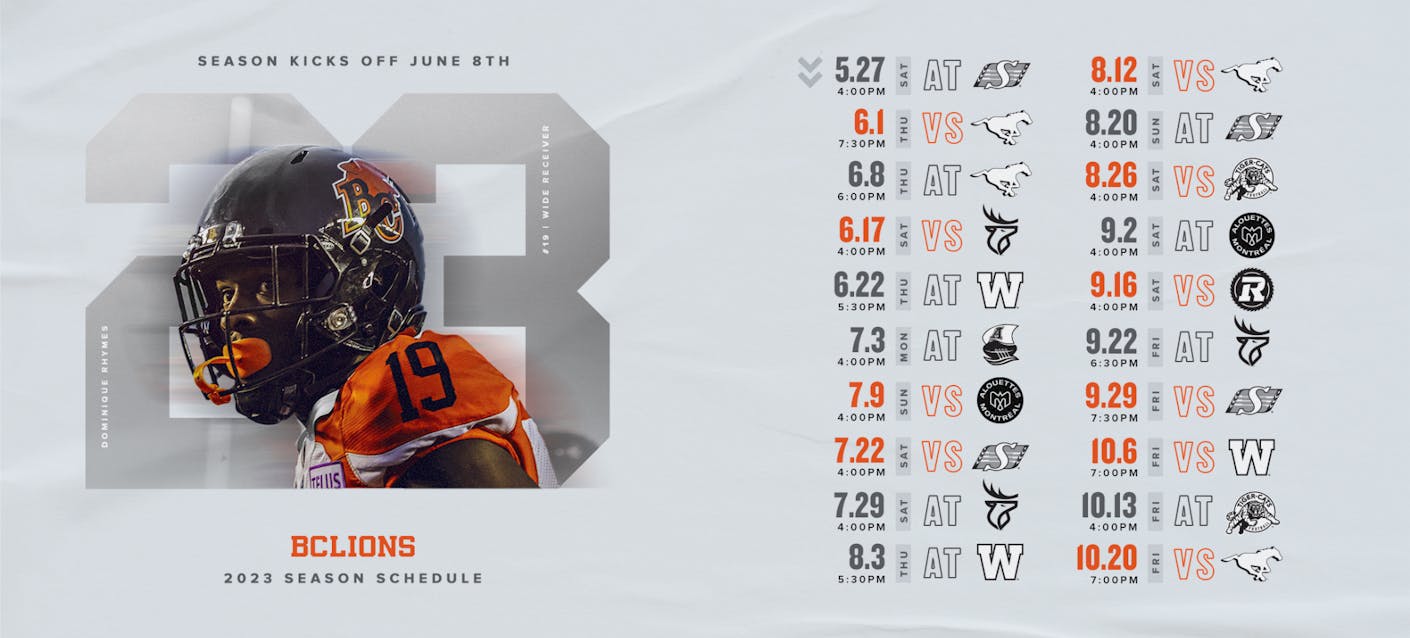 Fans of the BC Lions were served up an early holiday gift on Tuesday as the Canadian Football League announced the entire 2023 regular season schedule.
It all begins with a playoff rematch as the club's 69th regular season opener on Thursday, June 8 at the Calgary Stampeders also serves as the first game on the 2023 CFL slate. Kickoff is 6:00 pm at McMahon Stadium.
Our home opener then takes place on Saturday, June 17 against the Edmonton Elks in the first of six home games that will kick off at 4:00 pm.
"As an organization, we are thrilled with how our 2023 schedule has come together," said COO and incoming president Duane Vienneau.
"We've listened to our fans regarding early kickoffs and having the opportunity to play the majority of our home games at 4:00 will allow us to pick up where we left off in making it easily accessible for fans from all regions of British Columbia to attend. We also can't wait to make our home opener a MAJOR EVENT once again."
Six is also the magic number for home games against Western Division opponents. The Saskatchewan Roughriders and Calgary Stampeders will each make two trips to BC Place.
Saskatchewan comes to town on Saturday, July 22 at 4:00 pm and then again on Friday, September 29 at 7:30 pm when we will once again respect and honour Canada's National Day For Truth and Reconciliation.
The Stampeders' first visit since the 2022 Western Semi-Final goes down on Saturday, August 12 at 4:00 pm before they make their way here again on Friday, October 20 at 7:00 pm in the Lions' regular season finale.
Along with Edmonton, the rival Winnipeg Blue Bombers make just one appearance on the West Coast. That one takes place on Friday, October 6 at 7:00 pm.
For the first time since 2015, the Lions are slated to have a home game on a Sunday. As part of a new CFL-wide routine prior to Labour Day, we will host the Montreal Alouettes on Sunday, July 9 at 4:00 pm.
2023 BC Lions season ticket packages are on sale now! Lock yourself in with a deposit of $50 per seat and get early bird pricing if you purchase by December 16. Click HERE for more info.
Additional Schedule Nuggets:
The day-of-week breakdown for regular season home games is as follows: five Saturdays, three Fridays (all after Labour Day) and the one Sunday afternoon mentioned above.
The Lions will make two trips each to Winnipeg (Thursday, June 22 and Thursday, August 3) and Edmonton (Saturday, July 29 and Friday, September 22).
June 8 will be the Lions' first trip to Calgary for a regular season opener since 2013 and marks the first time since 2011 that the Leos will play in the CFL's season opener. That one took place in Montreal, a 30-26 loss in what would end up being a Grey Cup championship season.
The lone trip to Saskatchewan takes place Sunday, August 20.
Heavier emphasis on divisional play means the Lions will not host the defending Grey Cup Champion Toronto Argonauts or visit the Ottawa REDBLACKS in 2023.
For the first time since 2015, the Lions will play on Labour Day weekend: Saturday, September 2 with a visit to Montreal.
The July 9 visit from the Alouettes marks their first trip to BC Place since 2019.
After not making a trip to Hamilton in 2022, the Lions will play in Steel Town on Friday, October 13 which is their last road game of the regular season.
The club's byes will take place during weeks 6, 14 and 21, the last of which coming on the final week of regular season play.
All roads lead to Hamilton and the 110th Grey Cup on Sunday, November 19 at Tim Hortons Field. Commissioner Randy Ambrosie announced during this year's Grey Cup festivities that the division semi-finals and finals will be moved to Saturday starting in 2023: November 4 and 11.