BC PLACE TO LIGHT IN RCMP COLOURS IN HONOUR OF FALLEN CONSTABLE YANG ON WEDNESDAY
November 1st, 2022
<strong>BC PLACE TO LIGHT IN RCMP COLOURS IN HONOUR OF FALLEN CONSTABLE YANG ON WEDNESDAY</strong>
November Northern Lights Display schedule also includes Louis Riel Day and Remembrance Day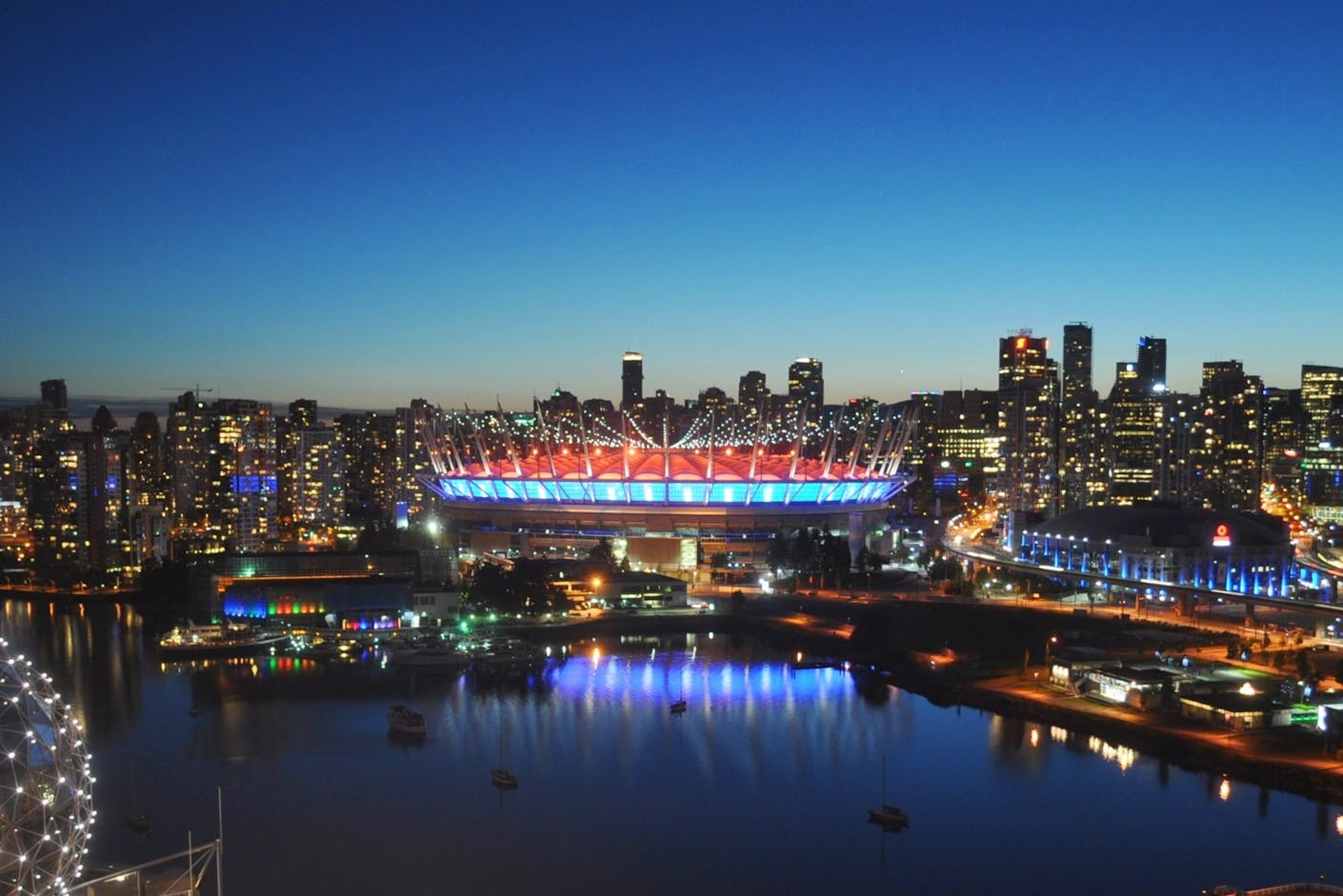 VANCOUVER, BC – BC Place's iconic Northern Lights Display will pay tribute to RCMP Constable Shaelyn Yang by featuring RCMP colours on November 2, the date set for a regimental funeral service for the fallen Mountie.
Constable Yang was killed in the line of duty last October 18, paying the ultimate sacrifice in service to her community.
Also coming this month is a Poppy Show for Remembrance Day on November 11, and blue and white for Louis Riel Day, held on November 16 across the Métis homelands.
Proud host of FIFA World Cup 2026, BC Place will feature a morning Maple Leaf show as British Columbians wake up to support Canada Men's National Team in Qatar on November 23 and 27.
BC Place is recognized around the world as a landmark of Vancouver's skyline and a place of pride for all British Columbians. Besides enhancing the overall guest experience during events, the stadium's Northern Lights Display is used to amplify important causes that impact our community.
Below is the complete Northern Lights Display schedule for November (subject to change).
November 1: Moustache show for Movember
November 2: RCMP colours for Const. Shaelyn Yang
November 3: teal for Light the World in Teal (Alzheimer's Awareness Month
November 4: green for Show Your 4-H Colours Day (November 2)
November 5-6: orange for BC Lions game
November 7: orange for Color the World Orange (Complex Regional Pain Syndrome Awareness)
November 8: red for Crohn's and Colitis Canada Awareness Month
November 10: black & white for World NET Cancer Day
November 11: Poppy show for Remembrance Day
November 12: blue for World Pneumonia Day
November 13: white for Lung Cancer Month (Evening of Hope Event)
November 14: purple for World Pancreatic Cancer Day
November 15: blue for National Children's Grief Awareness Day (November 17)
November 16: blue & white for Louis Riel Day
November 17: red & teal for Lights of Hope
November 18: blue & yellow for Sleep Out: Executive Edition (November 17)
November 19: purple for National Enteropathic Arthritis Awareness Day
November 20: blue for National Child Day
November 22: Fall Show
November 23: Maple Leaf show for Canada MNT World Cup match
November 24: blue for World Antimicrobial Awareness Week
November 25: orange for International Day for the Elimination of Violence against Women (UN 16 Days of Activism Against Gender-Based Violence Campaign to Orange the World)
November 27: Maple Leaf show for Canada MNT World Cup match
November 29: green for Giving Tuesday
November 30: blue for Stomach Cancer Awareness Day