Plaque at BC Place celebrates the Fox family's Métis heritage
April 14th, 2022
Designed in partnership with Canadian artist Douglas Coupland, the display is located in front of stadium's iconic Terry Fox statue
Vancouver, BC – Métis Nation British Columbia (MNBC) and the Fox Family have partnered in the creation of a permanent plaque display celebrating Terry Fox and the Fox Family's Métis heritage. Unveiled on Thursday and located in front of the iconic Terry Fox statue at BC Place, the inscription recognizes the family's Métis identity.
"Creating a permanent display that celebrates this will provide an important educational tool for the public," says Lissa Dawn Smith, MNBC President. "The Fox family has embraced their Métis identity and helped to shine a light on the rich culture our people hold."
"This plaque is a symbol that shines a bright light on the strength, resilience, contributions and accomplishments of all Indigenous people through the power of sport," said Melanie Mark, Minister of Tourism, Arts, Culture and Sport. "Terry Fox is our hero with a rich cultural legacy. As a proud member of the Métis community, he relentlessly pushed past the boundaries of what was possible, and inspired the world with his courage and hope. I know this plaque will, as Terry Fox did, motivate others to walk the walk and to stand proud of who they are."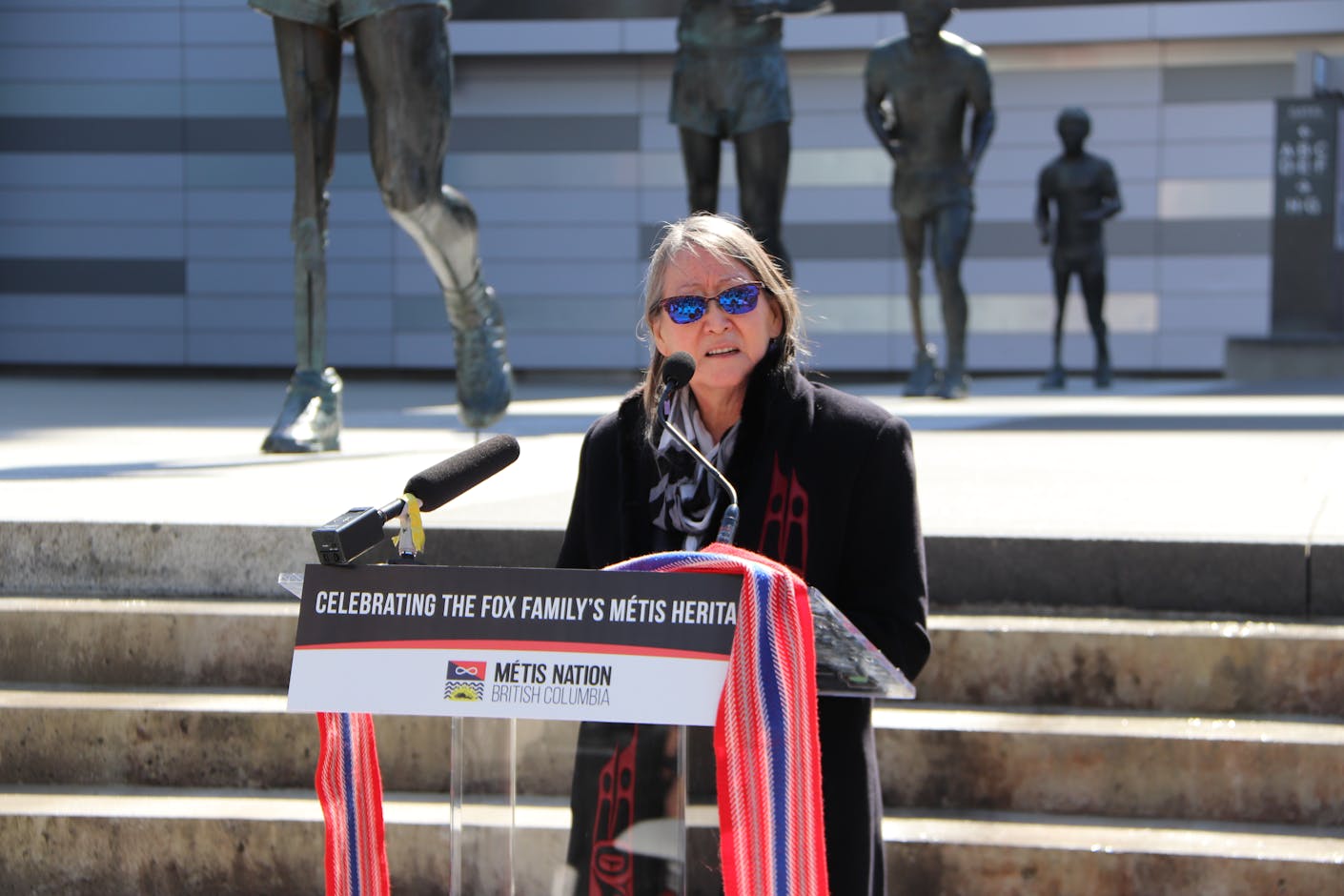 "PavCo is proud to work with Métis Nation British Columbia to host this installation at BC Place recognizing the Métis heritage of Terry Fox and the Fox family," said Dr. Gwendolyn Point, Chair, BC Pavilion Corporation. "Terry will forever remain one of Canada's most inspiring individuals and a true champion of sport, and this plaque will serve to more fully reflect who he was through the celebration of his Métis roots."
The plaque, designed in partnership with Canadian artist Douglas Coupland, builds on the relationship that MNBC and the Fox Family have built over the last number of years, including the creation of a commemorative sash, and the design of the 2021 Terry Fox Run t-shirt. The shirt and its unique artistic design was a success not only in the Métis community, but around the country, and was one of the best-selling shirts in the run's history. The Fox Family, MNBC, Indigenous Sport, Physical Activity and Recreation Council (I·SPARC), the Coquitlam School District (SD43) and the BC Sports Hall of Fame all partnered on the creation of the Terry Fox: Inspiration in Action Lesson Plans for elementary schools. Through the Inspiration in Action Lesson Plans, students will explore Terry's life story through a new lens, examining his family's discovery of their Métis ancestry – while further exploring what it means to be Métis.