Creative Industries Week headlines busy May calendar for Northern Lights
May 3rd, 2022
Iconic illumination at BC Place sheds light on 29 different community initiatives for the month
VANCOUVER, BC – BC Place's iconic Northern Lights display will continue to amplify important community initiatives this May, headlined by Creative Industries Week among the 29 different causes for the coming month.
BC Place is lighting in pink at the top of each hour to kick off Creative Industries Week, which is held from May 16-21 this year. Creative Industries Week celebrates and recognizes British Columbia's thriving creative industries, including book and magazine publishing, motion picture production, interactive and digital media, and music and sound recording.
The busiest month so far this year for community initiatives, the May schedule also includes lighting in red for Asian Heritage Month, green for Edi al-Fitr, orange for Moose Hide Day, red for National AccessAbility Week, and concluding with blue and green for Tourism Week in Canada.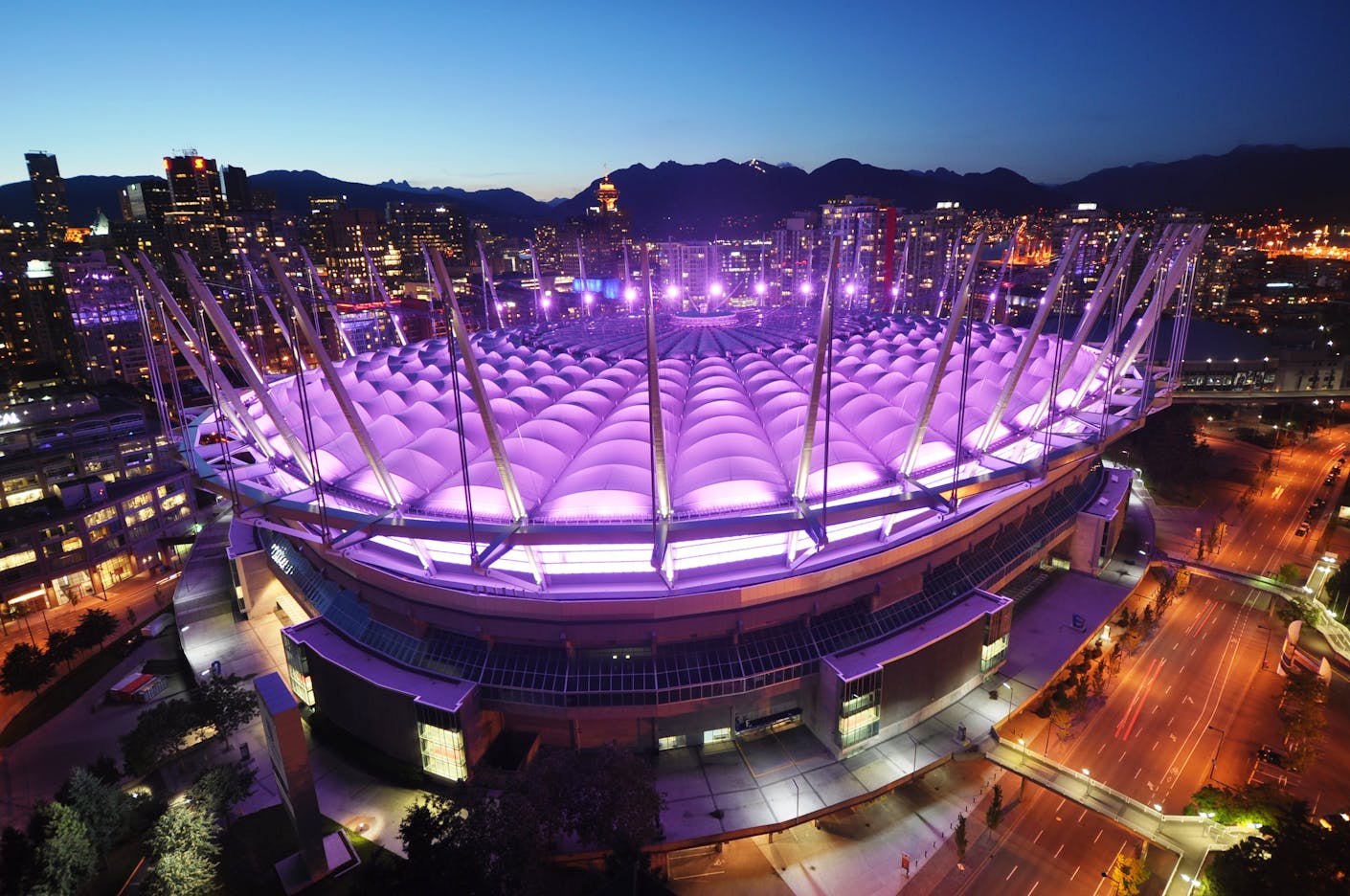 Below is the complete Northern Lights Display schedule for May (subject to change).
Sunday, May 1 - red for Asian Heritage Month
Monday, May 2 - green for Eid al-Fitr & yellow for Melanoma Monday
Tuesday, May 3 - green for Lyme Disease Awareness Month
Wednesday, May 4 - teal for Food Allergy Awareness Month
Thursday, May 5 - red for Red Dress Day + World Red Cross & Red Crescent Day (May 8)
Friday, May 6 - purple for World PH Day (May 5)
Saturday, May 7 - yellow for Darkness into Light
Monday, May 9 - teal for World Ovarian Cancer Day (May 8)
Tuesday, May 10 - purple for World Lupus Day
Thursday, May 12 - orange for Moose Hide Day
Friday, May 13 - blue & yellow for International MPS Awareness Day (May 15)
Saturday, May 14 - blue for The Courage To Come Back Awards (Whitecaps FC match)
Sunday, May 15 - blue & purple for Huntington's Disease
May 16, 17, 19 - pink for Creative Industries Week (top of each hour)
Monday, May 16 - green for Celiac Awareness Month
Tuesday, May 17 - blue & green for World Neurofibromatosis Awareness Day
Thursday, May 19 - purple for World IBD Day
May 22 to 23 - orange in honour of 215 children whose remains were discovered a year ago in a mass grave at the site of the former Kamloops Indian Residential School
Tuesday, May 24 - purple for World Schizophrenia and Psychosis Awareness Day
Wednesday, May 25 - yellow for Bladder Cancer Awareness Month
Thursday, May 26 - teal for International Tourette Syndrome Awareness Month
Friday, May 27 - light blue & green for Cystic Fibrosis Awareness Month
Saturday, May 28 - red for Menstrual Health Day
Sunday, May 29 - blue for Bereavement Day
Monday, May 30 - red for National AccessAbility week + World MS Day
Tuesday, May 31 - blue & green for Tourism Week in Canada