Special flag show for World Rugby Sevens highlights April Northern Lights schedule
April 1st, 2022
Flags include top-ranked Australia, Fiji, New Zealand, and South Africa who return to BC Place on April 16-17
VANCOUVER, BC – BC Place's Northern Lights display will feature a special illumination showcasing the flags of the participating international teams at the HSBC Canada Sevens on the weekend of April 16-17, 2022.
Among the flags to be featured are Australia, Fiji, New Zealand, and South Africa – four top-ranked teams that are making their highly-anticipated return to BC Place. For event information, including complete team list, schedule, and single-day tickets, visit canadasevens.com.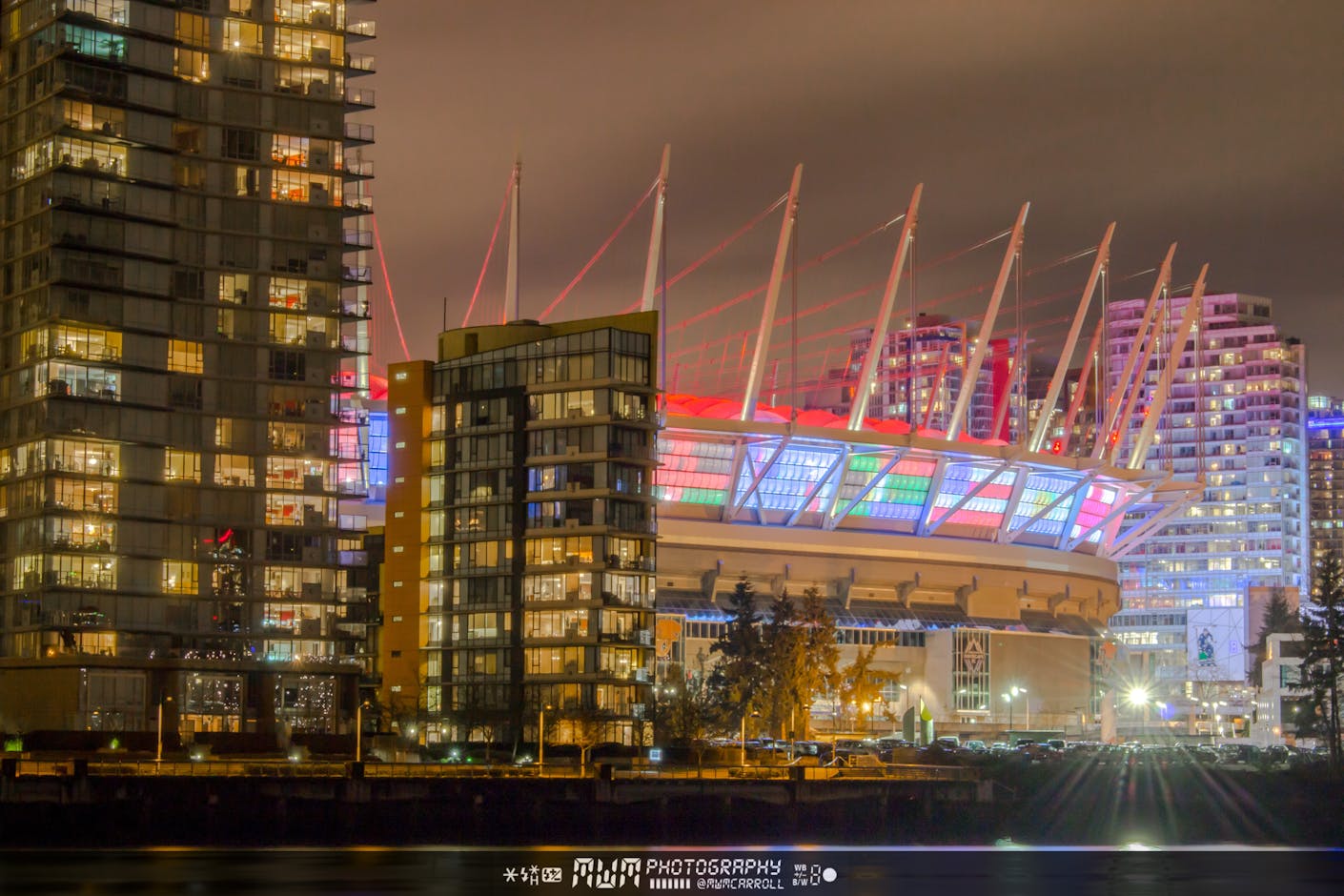 BC Place showcases special flag show for Canada Sevens (Credit: Michael Carroll - @mwmcarroll on IG).
Outside of Canada Sevens weekend, the Northern Lights will feature a Spring illumination every Sunday evening in April. The dynamic and vibrant display will showcase BC's seasonal colours, including cyan, green, pink, and yellow.
In addition, the stadium will continue to glow in blue and yellow at the top of each hour as a symbolic initiative in solidarity with the Ukrainian community in British Columbia and around the world.
BC Place will light up in rainbow colours on April 5 for Sikh Heritage Month, and will go dark on April 22 in observance of Earth Day.
Follow the stadium's social media accounts on Twitter and Instagram for the latest on the Northern Lights display.
Below is the complete Northern Lights Display schedule for April (subject to change).
Top of each hour: blue & yellow for Ukraine
Friday, April 1: yellow for Daffodil Month for Cancer Awareness
Saturday, April 2: blue for World Autism Day & Whitecaps FC match
Sunday, April 3: Spring show for Spring Sundays
Monday, April 4: purple for Oral Health Month/National Dental Hygienists Week
Tuesday, April 5: rainbow for Sikh Heritage Month
Thursday, April 7: green for Green Shirt Day for Organ Donor Awareness & Registration
Sunday, April 10: Spring show for Spring Sundays
Monday, April 11: teal & magenta for World Parkinson's Day
Tuesday, April 12: pink for International Day of Pink
Thursday, April 14: red & blue for Emergency Service Dispatchers' & 9-1-1 Awareness Week
Friday, April 15: red for World Hemophilia Day (April 17)
Saturday, April 16: Flag show for Canada Sevens
Sunday, April 17: Flag show for Canada Sevens
Tuesday, April 19: light blue, pink, & yellow for International Day of Congenital Diaphragmatic Hernia Awareness
Thursday, April 21: periwinkle for IBS Awareness Month
Friday, April 22: lights off for Earth Day
Sunday, April 24: Spring show for Spring Sundays
Tuesday, April 26: teal for Premenstrual Disorders Awareness Month
Thursday, April 28: orange for National Day of Mourning
Friday, April 29: blue for World Wish Day & Covenant House Sleep Out (Home edition)
Saturday, April 30: blue for essential services workers (International Workers Day on May 1)