Ed Sheeran Breaks Attendance Record at BC Place
September 2nd, 2023
65,061 fans attended Ed Sheeran's concert at BC Place on September 2nd, 2023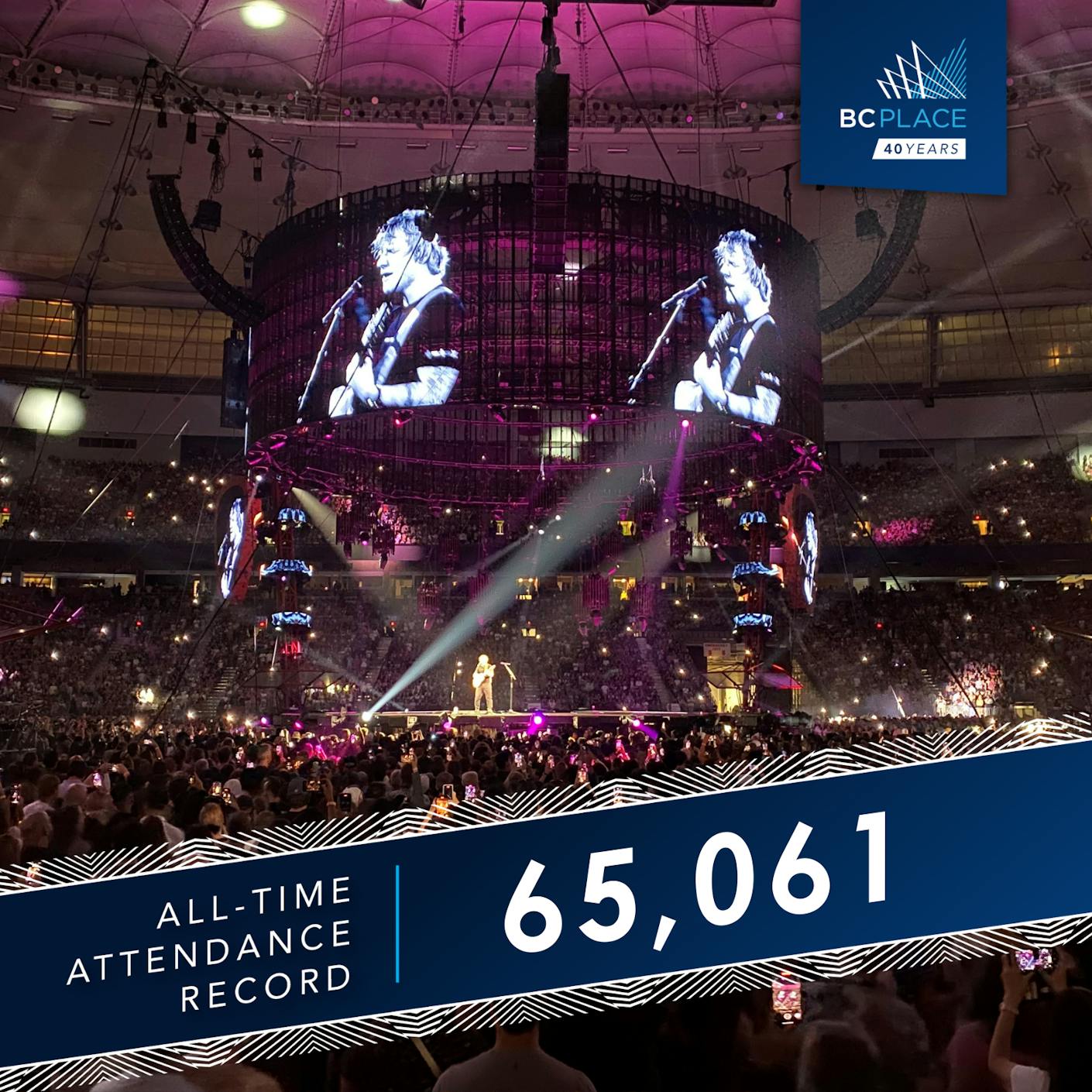 VANCOUVER, BC – On Saturday, September 2nd, BC Place was transformed into a sea of ecstatic fans, eager to witness Ed Sheeran's captivation performance for his 2023 +–=÷x Tour. The monumental evening welcomed an unprecedented amount of fans to the stadium, setting a new attendance record at BC Place with 65,061 fans.
"Congratulations to Ed Sheeran on his remarkable achievement of breaking the attendance record at BC Place Stadium," said Chris May, General Manager at BC Place. "The energy and excitement radiating from the crowd were nothing short of electric. It's our mission at the stadium to bring people together for unforgettable moments, and on this particular occasion, over 65,000 individuals came together to etch their mark in BC Place history. To meet this milestone in BC Place's 40th anniversary year is both humbling and inspiring".
The last time Sheeran toured in Vancouver was in 2017. BC Place's attendance record was last set in 2009 by U2, who attracted 63,802 fans for their 360° tour. Sheeran surpassed the record by 1,259.
"Ed Sheeran's historic performance not only brought joy to thousands of fans but also showcased Vancouver's welcoming spirit," said Lana Popham, British Columbia's Minister of Tourism, Arts, Culture and Sport. "We're grateful for artists like Ed Sheeran who contribute to our city's vibrant cultural landscape and create memorable experiences for both locals and visitors. Congratulations to both Ed Sheeran and BC Place for an incredible achievement".
BC Place will welcome four more concert nights to the stadium this year, with Beyoncé on September 11th, Coldplay on September 22nd and 23rd, and Guns N' Roses on October 16th. For more information BC Place's upcoming events, visit bcplace.com.
About BC Place
As the largest multipurpose venue of its kind in Western Canada, BC Place provides a spectacular home for international, professional and amateur sport, entertainment, commerce, cultural experiences and community gatherings for the benefit of all British Columbians.
BC Place is a part of BC Pavilion Corporation (PavCo), a Provincial Crown Corporation of the Ministry of Tourism, Arts, Culture & Sport that owns and operates the Vancouver Convention Centre and BC Place.
Media Contact
Jenny McKenzie
Sr. Manager, Marketing & Communications
BC Place
jmckenzie@bcpavco.com
604-908-4146