BC Place's Northern Lights to feature Musqueam artwork this February
February 2nd, 2023
The Indigenous light display is part of VMF Winter Fest: Blanketing the City
VANCOUVER, BC – BC Place's iconic Northern Lights Display is once again featuring a special design by xʷməθkʷəy̓əm (Musqueam) weaver Debra Sparrow this February, headlining the stadium's illumination schedule for the month.
Part of the VMF Winter Arts festival's Blanketing the City series for the second consecutive year, the stadium will be illuminated with large-scale animated light displays featuring transformed Coast Salish weaving patterns, colours and stories from February 16-26.
In addition to the Indigenous artwork display, the Northern Lights Display schedule features special themed animations for the return of the Vancouver International Boat Show on February 1-5, and Valentine's Day on February 14.
Community initiatives that will be amplified with the light show include World Cancer Day, Black History Month, World Thinking Day, and Pink Shirt Day.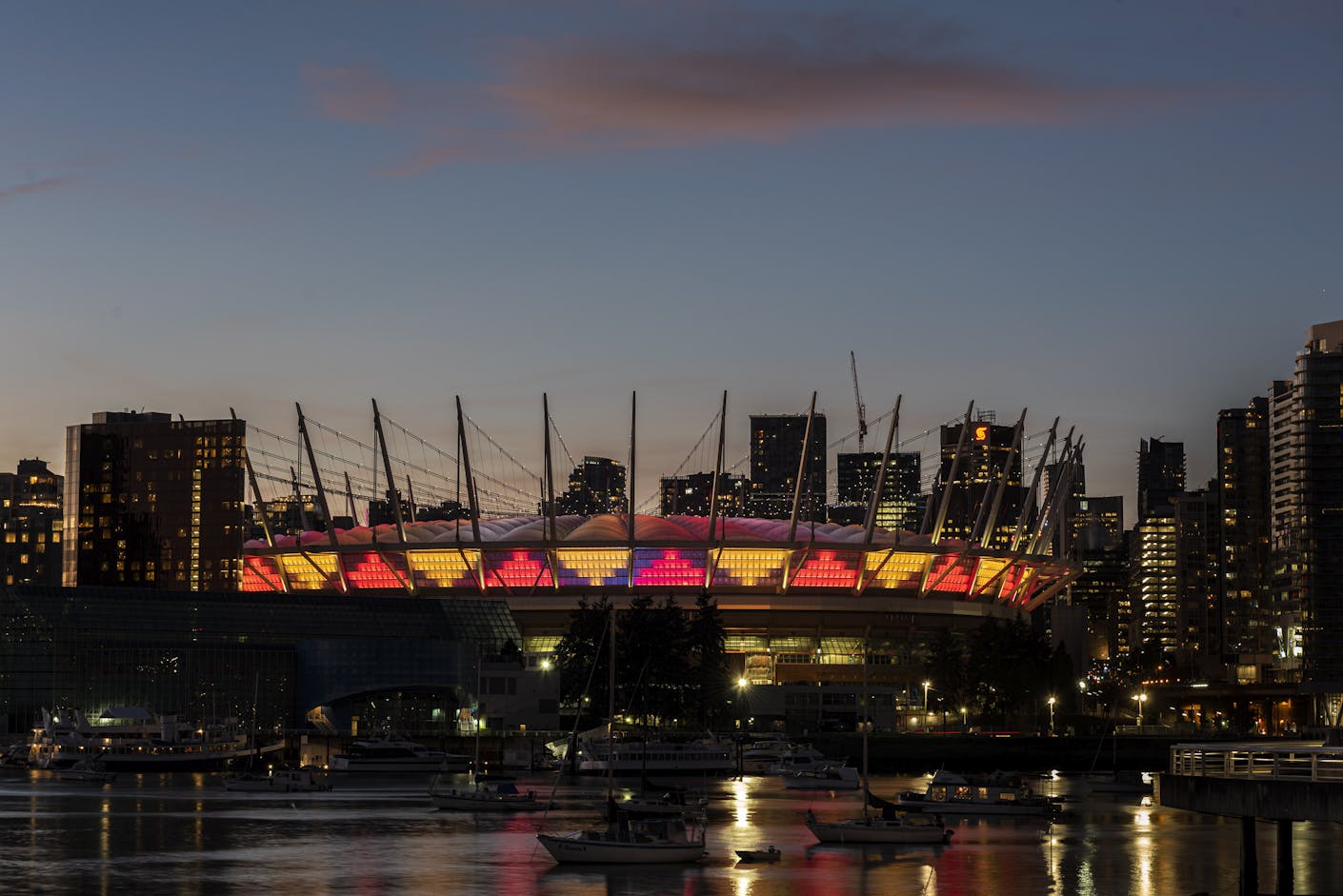 BC Place is recognized around the world as a landmark of Vancouver's skyline and a place of pride for all British Columbians. Besides enhancing the overall guest experience during events, the stadium's Northern Lights Display is used to amplify important causes that impact our community.
Below is the complete Northern Lights Display schedule for February (subject to change).
Feb. 1 to 5: Vancouver International Boat Show
Feb. 4: Red for World Cancer Day
Feb. 6: Purple for Provincial Eating Disorders Awareness Week
Feb. 7: Red for Congenital Heart Disease Awareness Week
Feb. 8: Red & green for Black History Month
Feb. 11: Red for 211 Day
Feb. 13: Red for Wear Red Canada Day for Women's Heart Health
Feb. 14: Purple & yellow for Women's Memorial March
Feb. 14: Hearts Show for Valentine's Day
Feb. 15: Green for Sexual and Reproductive Health Awareness Week
Feb. 16 to 26: VMF Winter Arts: Blanketing the City: Lighting The Way
Feb. 20: Blue for World Thinking Day (Girl Guides)*
Feb. 22: Pink for Pink Shirt Day
Feb. 26: Red for Variety Show of Hearts Telethon
Feb. 28: Pink, green, & blue for Rare Disease Day
*in advance
Follow the stadium's social media accounts on Twitter and Instagram for the latest on the Northern Lights display.
(Photo credit: VMF/Gabriel Martins)