Revitalized artificial turf playing surface coming to BC Place Stadium
December 15th, 2021
PavCo donates used BC Place turf to the Abbotsford Cardinals, helping rebuild the community baseball facility devastated by flooding in the Fraser Valley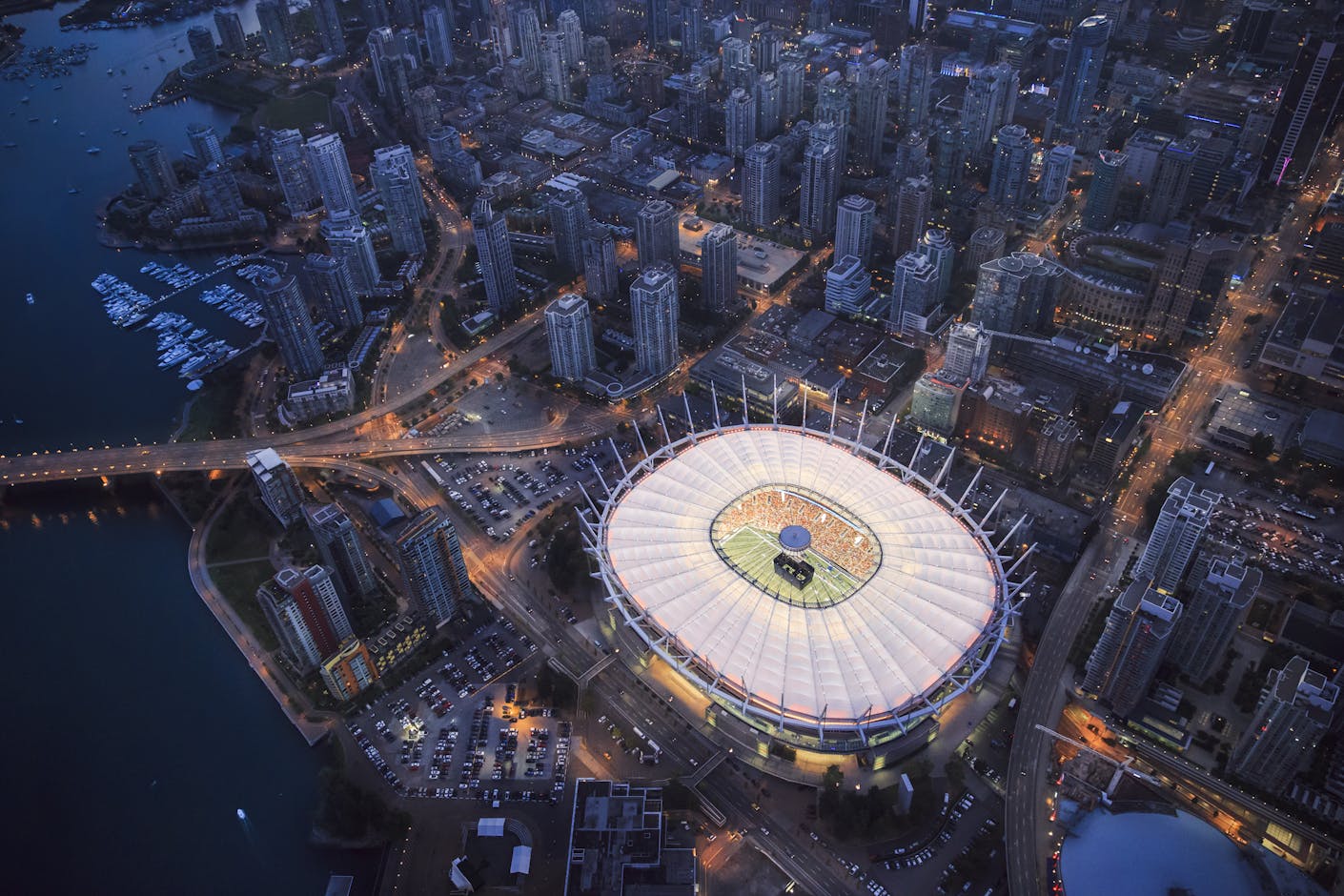 Following a formal Request for Proposals (RFP) process, B.C. Pavilion Corporation (PavCo) has selected FieldTurf, a world leader in artificial turf, to revitalize the field of play area and install a FieldTurf 'Vertex CORE' playing surface at BC Place.
Often referred to as "Canada's Home Stadium", BC Place has an ambitious calendar of major events on the horizon. The new multi-purpose FieldTurf installation at BC Place will provide a world class playing surface for the highest levels of international sporting competition including the annual HSBC Canada Sevens, for the home teams the BC Lions Football Club and Vancouver Whitecaps FC, as well as other professional and community sports at BC Place.
The artificial turf system at BC Place is a key feature of the venue, supporting the stadium's year-round calendar of diversified business opportunities, which includes international and professional sport, major concerts, consumer shows, special events and community activities.
The revitalization of the playing surface will include substantial upgrades to the sub-structure of the stadium floor prior to the installation of the artificial turf. Work to complete the revitalization is scheduled to take place during the months of December 2021 and January 2022.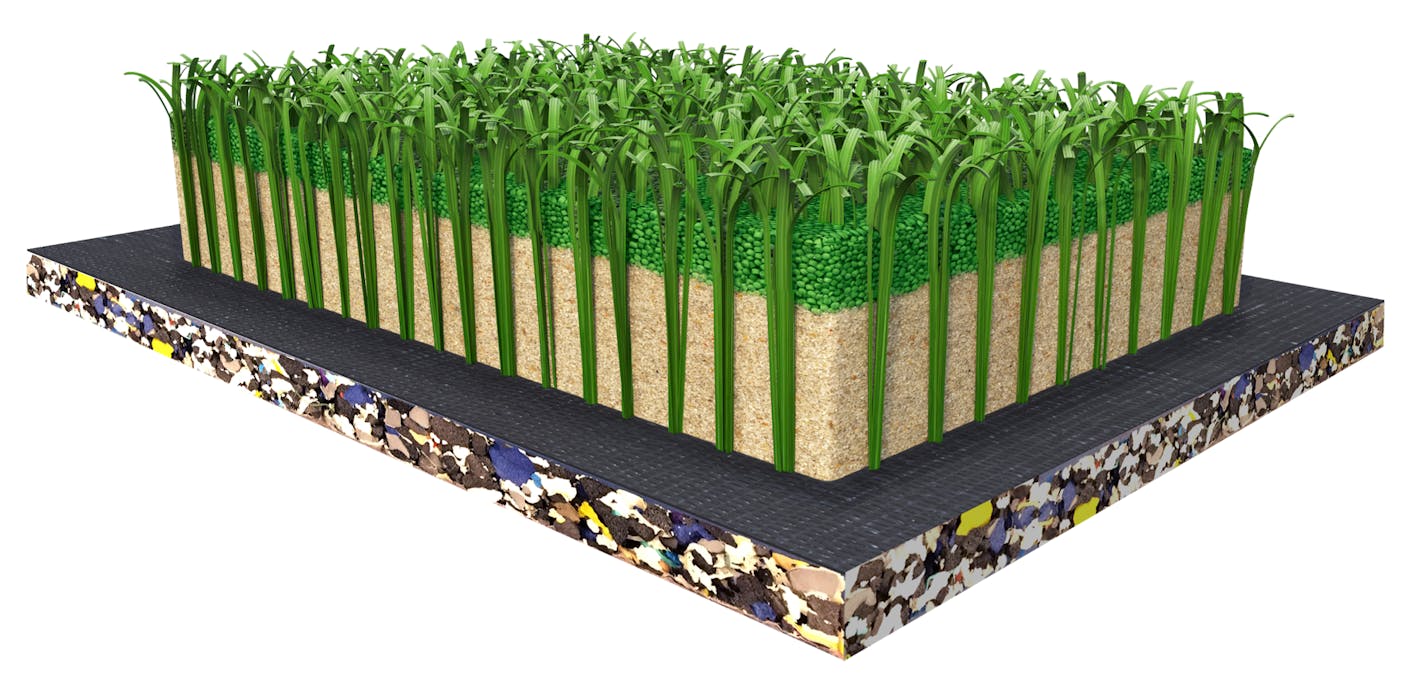 The previous artificial turf at BC Place was installed in early 2015 and no longer meets the certifications required for top level international sport. PavCo has donated a portion of the used artificial turf to the Abbotsford Cardinals baseball team located in the Fraser Valley, whose facilities and turf were lost to the recent flooding that severely impacted many communities across British Columbia. Partners FieldTurf, Beyond The Turf and Binnie have generously donated their labour and expertise to ensure the artificial turf is professionally installed for the Cardinals at no cost to the baseball community.
Key facts: Turf revitalization for BC Place Stadium
BC Place is a world class multipurpose stadium like no other venue in North America, hosting a year-round calendar of major events and community activities.
The turf revitalization project was tendered through a fair and transparent procurement process with BC Bid. Three compliant proposals were received in response to PavCo's detailed Request for Proposals (RFP).
Following a detailed evaluation process, FieldTurf was selected to complete the turf revitalization, which will include the removal of the used artificial turf system, upgrades to the sub-structure, as well as the installation of FieldTurf's leading Vertex CORE system with EcoMax infill, for the total cost of $2,776,000 +GST.
The FieldTurf proposal was selected in part for its international certifications for world class sport, playability and performance, player safety and health, safety and environmental standards, as well as overall value.
Once the new surface is installed, FieldTurf will provide maintenance and operational support through their local B.C.-based team Beyond The Turf, as well as an industry-leading warranty.
The new FieldTurf Vertex CORE playing surface is designed to meet the highest international certifications for sporting competition on artificial turf, as installed on the unique sub-structure at BC Place - for a minimum of five years from installation.
The new FieldTurf surface will also serve as 'home turf' for Team Canada at the annual Canada Sevens, the BC Lions of the CFL, the Vancouver Whitecaps FC of MLS, as well as other international, professional and community sporting events at BC Place.
Key facts: BC Place turf donation to Abbotsford Cardinals baseball facility
PavCo is donating a portion of the used artificial turf from BC Place to completely replace the flood damaged turf surface at the Abbotsford Cardinals baseball facility.
Re-using the turf at a community baseball facility is not only a win for the environment, but a win for a B.C. community that has been devastated by recent flooding.
The Abbotsford Cardinals are a not-for-profit member of the British Columbia Premier Baseball League, a high performance league for 14-18U baseball.
The community-based facility is owned by the Cardinals on land leased to them by the City of Abbotsford. The facility serves as home field for the Abbotsford Cardinals, is the home for the Yale Baseball Academy (a high school training program), as well as 9 Innings Baseball (a local business providing lessons to the youth baseball).
With the recent flooding, the Cardinals have experienced significant damage to their facility, turf, cages & equipment, and they have no flood insurance to cover these losses.
FieldTurf and Beyond The Turf are providing skilled turf installers, equipment and materials, and Binnie is providing engineering services, project coordination, and labour, to complete the professional installation of the turf.
The artificial turf installation at the Abbotsford Cardinals baseball facility is scheduled to begin late January 2022.
Quotes:
"Sending the turf to the Abbotsford Cardinals' facility is another amazing example of how British Columbians have worked together to support each other through the recent floods. I commend BC Place for their leadership in finding an environmentally-friendly and community supporting solution as part of the turf upgrade at the stadium," said Melanie Mark, Minister of Tourism, Arts, Culture and Sport. "The turf replacement is a key piece to future activities that support the recovery of our province's tourism and events sector. I know we're all looking forward to games, concerts, trade shows and more at this iconic venue."
"BC Place is a one of only a few world class stadiums in North America to host such a diverse range of activities on a year-round calendar of events. From hosting international sporting championships to community-based activities, this revitalized playing surface will help ensure BC Place is set to play a major part in B.C.'s Restart plan, and the growth of our business over the coming years," said Ken Cretney, President & CEO of PavCo. "We are also very pleased to know the used artificial turf will have a second life at the Abbotsford Cardinals baseball facility, helping this community get back on its feet after it was devastated by recent flooding."
"This one is special," said Eric Daliere, President of Tarkett North America & Tarkett Sports (FieldTurf). "To be selected by BC Pavilion Corporation for BC Place is a tremendous validation of our efforts and desire to offer an improved solution for our customers. Our entire team is excited to start on the project and deliver a truly premier system."
"With great gratitude the Abbotsford Cardinals want to thank PavCo, Binnie, Beyond The Turf, FieldTurf, and all those that reached out to our organization to initiate this opportunity to be the recipients of the turf from BC Place. We feel very fortunate to receive this donation as it is a key component for the rebuild of our facility," said Shawn Besse, General Manager of the Abbotsford Cardinals. "The Abbotsford Cardinals facility is crucial across our entire baseball community as it is utilized for various events from BC Summer Games, Blue Jay training Camps, Summer Camps, PBL Provincial Playoffs and much more. We are grateful that our student athletes are getting such support as this will allow our current grade twelves to get back to their home field and focusing on their University/College Baseball scholarship portfolios and applications, as this is our major goal and with great success, for our baseball community. PavCo, Binnie, Beyond The Turf and FieldTurf are a part of this rebuild, and we are proud and grateful to be the recipients of this donation."
"The City of Abbotsford needs some good news right now and this donation not only benefits the Cardinals players and organization, but the Yale Secondary Baseball Academy and the many community members from across the city that use this facility throughout the year," said City of Abbotsford Mayor, Henry Braun. "We are very grateful to have been selected, and thank PavCo, FieldTurf, Binnie and Beyond The Turf for their generosity."
About PavCo
B.C. Pavilion Corporation (PavCo) is a Provincial Crown Corporation of the Ministry of Tourism, Arts, Culture & Sport, Minister Melanie Mark responsible. From hosting global summit meetings to world class sporting and entertainment events, PavCo performs on its mandate of generating economic and community benefit for the people of BC through the prudent management of its public facilities. PavCo continuously strives to optimize the performance of its facilities, which generate significant economic and community benefit for the Province of British Columbia.
About BC Place
BC Place is owned and operated by PavCo. As the largest multipurpose venue of its kind in Western Canada, BC Place provides a spectacular home for international, professional and amateur sport, entertainment, commerce, cultural experiences and community gatherings for the benefit of all British Columbians.
About FieldTurf
FieldTurf is a world leader in artificial turf with over 25,000 installations and a part of Tarkett Sports, a global leader in athletic surfacing, offering a comprehensive portfolio of sports flooring solutions through its brands: FieldTurf, FieldTurf Landscape, Beynon Sports, Renner Sports, GrassMaster and Tarkett Sports Indoor. With a wide range of products including artificial, hybrid and residential turf, running tracks, tennis courts and indoor athletic surfaces, the Tarkett Sports family offers the ultimate surface experience.
About Beyond The Turf
Based in Delta British Columbia, Beyond The Turf is an industry leader in the removal, installation and maintenance of synthetic sports surface systems. Beyond the Turf has successfully installed 100's of soccer, football and baseball fields throughout North America which are used by communities and leading sports organizations such as the current CPL Champions Pacific FC, Calgary Stampeders, Saskatchewan Roughriders and the current CFL Champions, Winnipeg Blue Bombers.
About Binnie
Binnie is a multi-disciplinary consulting firm with over 300 professional and technical staff, including engineers, landscape architects and project managers. Established in 1969 as a consulting civil engineering and surveying firm, Binnie is a leading designer of synthetic turf fields, running tracks and other sports and recreation work for communities across Western Canada.