Whitecaps FC reveal 2022 MLS regular season schedule
December 15th, 2021
Vancouver will kick off the season against the past two MLS Cup champions, host 100th all-time match against Portland Timbers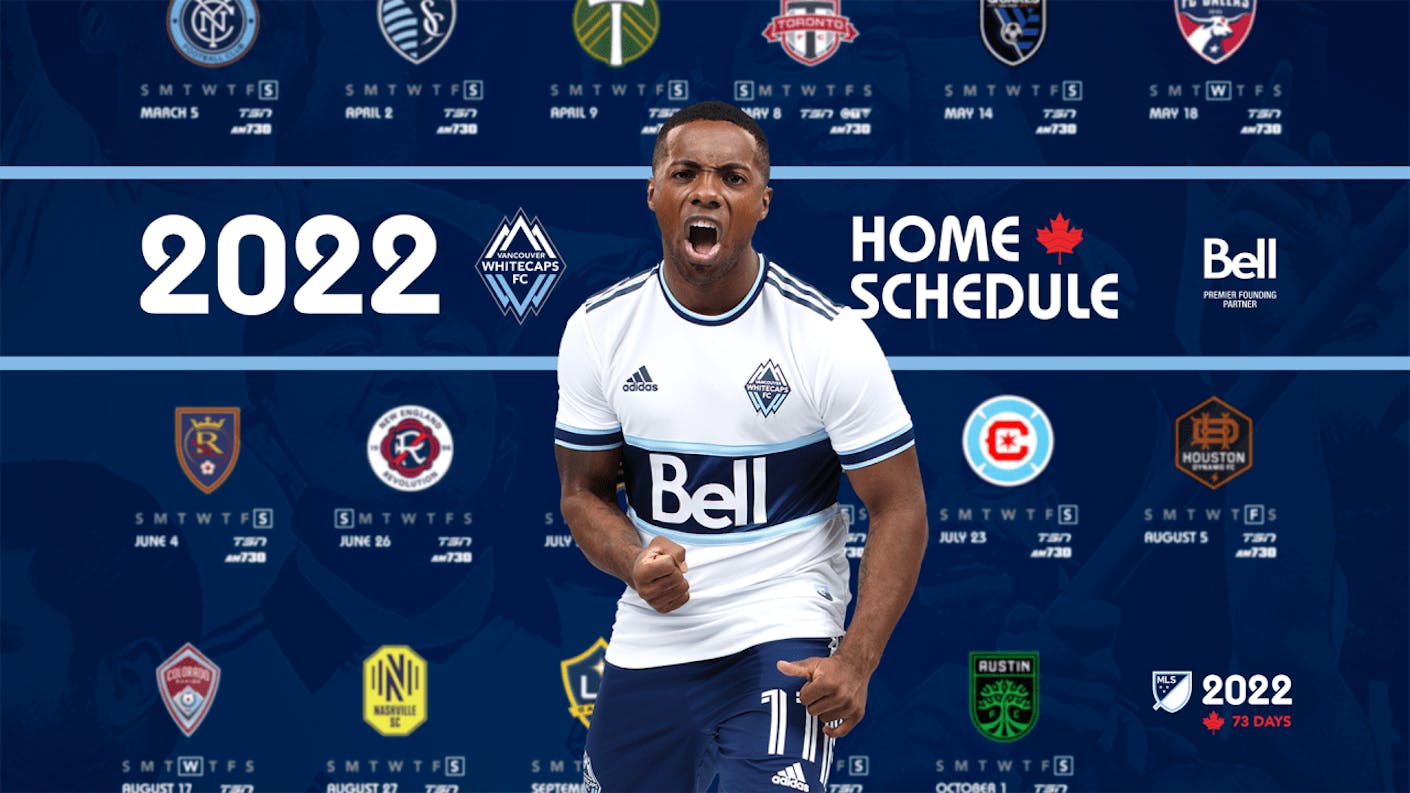 VANCOUVER, BC – Major League Soccer revealed the 2022 MLS regular season schedule on Wednesday, as Vancouver Whitecaps FC get set to host all 17 home matches at BC Place for the first time since 2019.
All 'Caps MLS matches will again be broadcast live on TSN and TSN Direct, while both of the club's Canadian match-ups against CF Montreal at Stade Saputo on Saturday April 16 and Toronto FC at BC Place on Sunday, May 8 will also be aired nationally on CTV. Vancouver's AM 730 will broadcast all the games live on radio for the second consecutive season.
"The anticipation for 2022 is feeling very real as we now know our entire MLS regular season schedule," said Axel Schuster, Whitecaps FC CEO & sporting director. "We had the best home winning percentage in the league during our return to BC Place last season, and we became a difficult team to play on the road. Now we need to continue to build on that form. We have lots to look forward to, including an incredible home opener, a historic milestone against our Cascadia rivals from Portland, first ever matches against Charlotte and Nashville, and a few others against teams who we haven't seen in Vancouver for some time. We're already looking forward to getting going."
FLEX PASS
Newly available this season is a Whitecaps FC Flex Pass, offering fans the opportunity to pick their own matches, enjoy savings, and unlock upgrades and benefits. For more information visit whitecapsfc.com/flex.
"We're proud to offer our fans a new flexible and economic option to cheer on the 'Caps in 2022," said Josh Nanavaty, Whitecaps FC vice president of ticket sales & service. "As we enter our first full season since 2019 with home games back at BC Place, we needed to continue to adapt our product offerings to what our fans are telling us they want. We can't wait to welcome everyone back to BC Place on Saturday, March 5 in a great match-up versus NYCFC."
CHALLENGING THE CHAMPIONS
As previously announced, the 'Caps kick off the season against the two most recent MLS Cup champions.
The season begins with an away tilt at 2020 MLS Cup champions Columbus Crew SC on Saturday, February 26.
The next weekend Vancouver hosts their first home match at BC Place against 2021 MLS Cup Champions New York City FC on Saturday, March 5.
RIVALRIES RENEWED
Following road matches at Houston Dynamo FC on Saturday, March 12 and Los Angeles FC on Sunday, March 20, the 'Caps return home for two big-time battles.
On Saturday, April 2, Whitecaps FC will seek redemption when 2021 playoff opponents Sporting Kansas City arrive at BC Place.
The following Saturday, April 9 will mark a special match in the storied history between two Pacific Northwest clubs, as the 'Caps host Portland Timbers in the 100th all-time meeting between the long-time rivals. Whitecaps FC hold the edge in the all-time record with 42W-39L-18D.
CASCADIA CUP
Speaking of Cascadia, Whitecaps FC play Portland and Seattle Sounders FC two times each. After their 100th all-time meeting, the 'Caps visit Portland on Sunday, July 17.
Seattle play host to the Blue and White on Saturday, April 30, before the two clubs meet again at BC Place in Vancouver's penultimate home match of the regular season on Saturday, September 17.
FIRST TIME FOES
Whitecaps FC will play two clubs for the first time in 2022.
On Sunday, May 22 Vancouver will visit expansion side Charlotte FC at Bank of America Stadium in Charlotte, North Carolina.
After playing their first two seasons in MLS in the Eastern Conference, 2020 expansion side Nashville SC will compete in the Western Conference in 2022. The 'Caps will play their first-ever match against Nashville on Saturday, July 30 at the new 30,000 seat Nashville SC Stadium in Nashville, Tennessee. The 'Caps will then host the second meeting on Saturday, August 27 at BC Place.
LONG TIME NO SEE
For the first time since 2019, the 'Caps will be hosting Western Conference sides Colorado Rapids, Houston Dynamo FC, and LA Galaxy.
NYCFC will be in Vancouver for the first time since August 2019, and fellow Eastern Conference side and 2021 MLS Supporters' Shield winners New England Revolution visit BC Place on Sunday, June 26 for the first time since May 2018. Chicago Fire FC come to town on Saturday, July 23 for the first time since July 2018.
TRIPS OUT EAST
As highlighted previously, Vancouver will open the season on Saturday, February 26 at Columbus Crew SC, marking the first time the 'Caps travel to Columbus since March 2018. The match will also mark the first time the 'Caps play at the Crew's new Lower.com Field.
In addition to their match at Charlotte, the Blue and White will also travel east to face Canadian rivals CF Montreal on the road on Saturday, April 16 and travel to TQL Stadium for the first time to face FC Cincinnati on Wednesday, July 13. The last time Cincinnati hosted the 'Caps was back in August 2019.
THE FINAL COUNTDOWN – SETS THE STAGE FOR AUDI 2022 MLS CUP PLAYOFFS
The 'Caps will play their final regular season home match at BC Place on Saturday, October 1 against Austin FC.
For the first time since 2017 the 'Caps will be the road team for Decision Day, taking on Minnesota United FC at Allianz Field. In a culminating day of action on Sunday, October 9, all 28 teams will face intra-conference opponents on Decision Day in a battle for playoff spots and seeding.
SCHEDULE BREAKDOWN
The 2022 season will have all teams play a 34-game regular season – 17 home matches, 17 road matches – facing each of their conference opponents two times and playing eight non-conference opponents once.
The 'Caps will play 21 matches on Saturdays (10 at home, 11 away), seven matches on Sundays (two at home, five away), four matches on Wednesdays (three at home, one away), and two home matches on Fridays.
As previously announced, to best align with the 2022 international soccer calendar, the MLS regular season will begin earlier than ever before, kicking off on Saturday, February 26 and running through Decision Day, the regular season finale, on Sunday, October 9. The Audi 2022 MLS Cup Playoffs directly follow the regular season, with three consecutive weeks of action leading up to the 2022 MLS Cup on Saturday, November 5, more than two weeks prior to the start of the 2022 FIFA World Cup in Qatar on November 21.
WEEKEND BREAKS
The 2022 schedule includes three weekends where Vancouver will not have a match. These dates come in conjunction with the international soccer calendar:
March 25 - 27 (FIFA International Window March 21 - 30)
June 10 - 12 (FIFA International Window May 30 - June 14)
September 23 - 25 (FIFA International Window September 19 - 27)
CANADIAN CHAMPIONSHIP
Details for the 2022 Canadian Championship will be announced by Canada Soccer at a later date.