READY TO RETURN: LATEST UPDATES TO KEEP GUESTS SAFE AT BC PLACE
September 22nd, 2021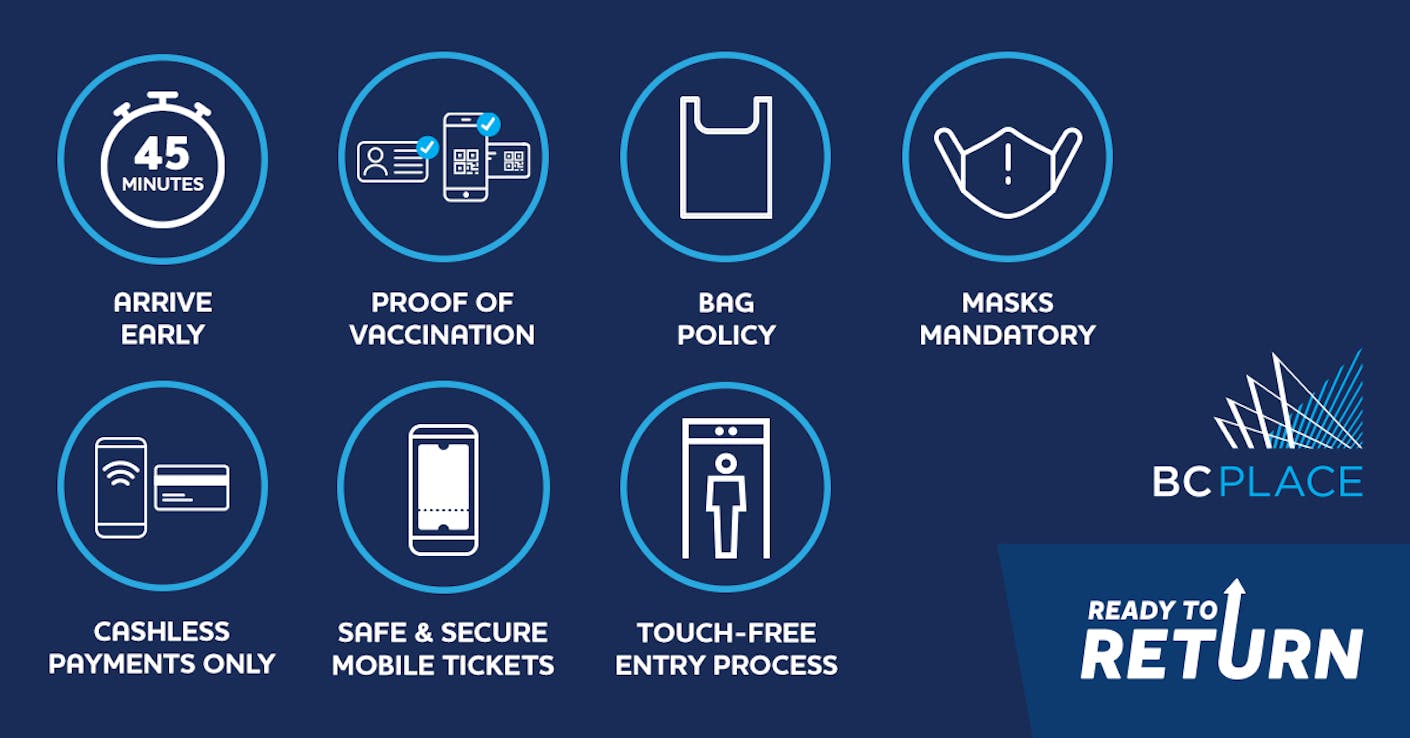 Heading to BC Place to cheer on the Lions and the 'Caps?
Time to get yourself updated on the latest guidelines and protocol at BC Place to ensure the health and safety of our team members, guests, and community.
Arrive early
So you don't miss any of the action, please arrive 45 minutes prior to the start of the event to allow for the vaccine verification and other health and safety protocol upon entry.
Updated Face Masks Policy as of October 12
In accordance with current provincial health orders, masks are required for guests who are five and older at BC Place. Face masks, covering the nose and mouth, must be worn at all times except when eating or drinking in your assigned seat.
Vaccination verification as of September 27
In accordance with a recent Provincial Health Order, BC Place requires a proof of vaccination for access to events for all guests aged 12 years and older.
Guests must have a minimum of one dose of a COVID-19 vaccine to attend events at BC Place until October 23. From October 24 onwards, guests must be fully vaccinated.
Guests aged 19 and older will also be required to show a valid government ID.
As of September 27, only the BC Vaccine Card will be accepted for people living in BC.
To learn about the BC Vaccine Card and accepted proofs of vaccination for out-of-province guests, as well as other important information, click here.
Bag Policy
BC Place has introduced a Bag Policy to make entry to the Stadium faster, safer, and easier.
For ease of entry, guests are encouraged not to bring bags to the stadium.
In necessary, guests may enter with one clear plastic bag that is no larger than 12" x 12" x 6".
Guests may also carry one wallet no larger than 4.5" x 6.5" which will be searched.
Exceptions may be made for diaper bags and for medically necessary items that cannot fit into a clear bag.
All bags are subject to search, including enhanced screening, if required.
A bag check service will be available at Gates C and H. Bags may be checked here for the duration of your event at a cost of $10 per bag.
Ticketmaster SafeTix
BC Place is proud to use Ticketmaster SafeTix, an all-digital ticketing platform.
What does this mean for you? Your phone is your ticket and it can be accessed in three easy steps:
Step 1: Download the Ticketmaster app and sign into your account.
Step 2: Tap 'My Events' to locate your order.
Step 3: Tap your order to view your tickets. At entry, show your ticket on your phone to be scanned.
Concerned about cell phone service at venues? Once you view it in the Ticketmaster app, your ticket is automatically saved so it's always ready.
For more information, visit www.ticketmaster.com/safetix.
Touch-Free Entry Process
BC Place is committed to providing a safe, contactless guest experience beginning when you arrive at the Stadium. Here is how you can prepare for touch-free entry as you approach the Gate:
Have your phone ready with the BC Vaccine Card opened for verification, and your digital ticket ready to be scanned. Your digital ticket, found on the Ticketmaster app, includes a unique encrypted barcode for quick, simple entry and a 100% safe and secure ticket experience.
Prepare your approved clear bag for inspection and place it on the table on either side of the metal detectors.
Keep items such as mobile phones, keys, watches, jewelry, and coins with you as you proceed through the metal detectors. Our security team will signal you to proceed when they are ready.
Once inside, reclaim your approved clear bag from the table and proceed to your seats.
Cashless Venue
All purchases at BC Place are now cashless transactions. All major digital forms of payment are accepted, including Tap to Pay, Mobile, Debit Cards, Visa, MasterCard, American Express, Google Pay and Apple Pay. Cash payments will not be accepted.
A cash-to-card system is available to accommodate guests who may only have cash and no digital forms of payment. The cash-to-card system allows guests to purchase a gift voucher with a unique QR code that can be used for purchases at all concessions at BC Place. For cash-to-card conversions, please visit the kiosk on the concourse at Section 235.
Communicable Disease Prevention
As a condition of entry, all guests must comply with relevant public health orders and guidelines at the time of the event. Please act responsibly and be respectful of one another. Guests must observe all stadium signage and always follow the instructions given by BC Place team members.
To learn more about our comprehensive safety measures and Communicable Disease Prevention Plan, please visit www.bcplace.com/communicable-disease-prevention.
In addition to these enhanced safety protocols, BC Place is proud to be the first stadium in Canada to earn the Global Biorisk Advisory Council® (GBAC) STAR™ accreditation for outbreak prevention, response, and recovery. GBAC STAR™ is the gold standard of prepared facilities and provides third-party validation that facilities have rigorous protocols in place for thorough response to biorisk situations.
Guest Code of Conduct
BC Place is committed to providing a safe, comfortable and enjoyable experience for everyone. We invite you to help make events at BC Place an experience that is welcoming and respectful for all guests, as well as those working during events, regardless of race, gender, age, sexual orientation, ability, physical appearance, body size, national origin, ethnicity or religion. To learn more, please review the BC Place Guest Code of Conduct.
Questions?
If you have any questions or concerns in advance of your Event, please contact BC Place at 604-669-2300 or guestservices@bcplace.com for assistance.