BC VACCINE CARD REQUIRED AS OF SEPTEMBER 27
September 27th, 2021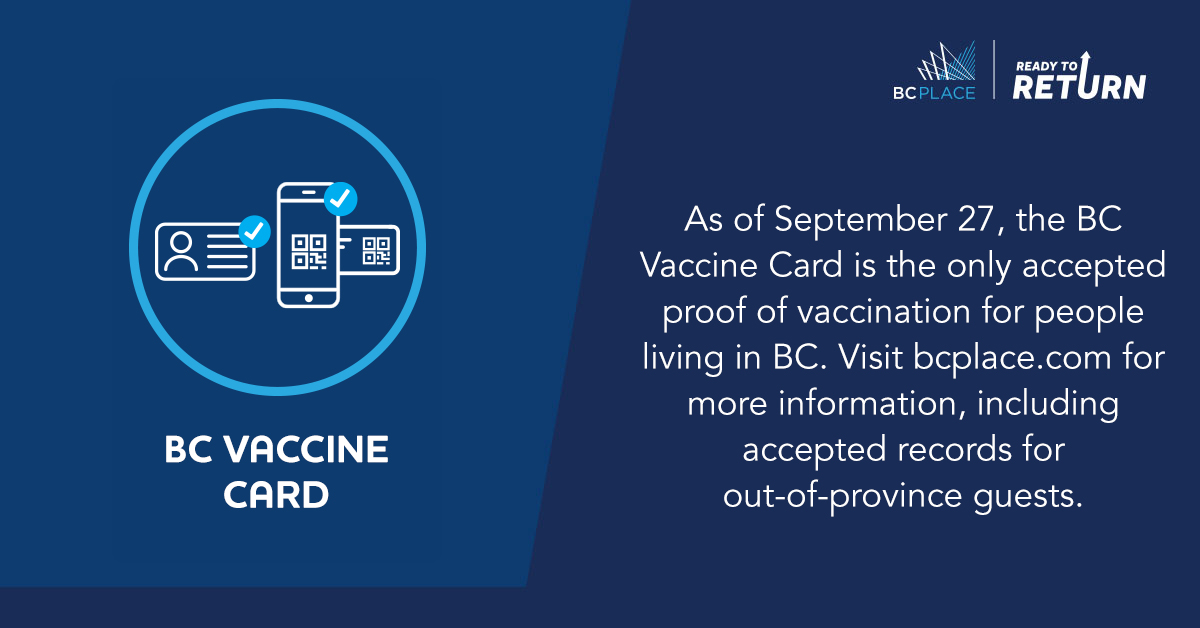 Last month marked the long-awaited return of guests to BC Place, as the BC Lions and Vancouver Whitecaps FC played in front of their home fans for the first time in over a year.
The health and safety of our team members, guests, and community remains our highest priority at the Stadium, and in accordance with a recent the Provincial Health Order, BC Place requires a proof of vaccination for access to events for all guests aged 12 years and older, starting last September 13.
To ensure you don't miss any of the action, please arrive 45 minutes prior to the start of the event to allow for the vaccine verification and other health and safety protocol upon entry.
Vaccination verification
As of September 13, guests aged 12 years and older must have one dose of a COVID-19 vaccine to attend events at BC Place. Beginning on October 24, guests must be fully vaccinated.
BC Vaccine Card required
As of September 27, only the BC Vaccine Card will be accepted for people living in BC.
The Province launched the BC Vaccine Card, a digital or printed document that shows the stage cardholders are at in their COVID-19 vaccine progress. The BC Vaccine Card allows vaccinated people to conveniently and securely show their proof of vaccination at higher-risk social and recreational events.
Guests can find information on downloading their BC Vaccine card here.
Out-of-province guests
Guests from outside BC must show officially recognized vaccine records from their province or territory. Visitors from outside Canada are required to show the proof of vaccination they used to enter Canada, as well as their passport.
Government-issued photo ID
In addition, all guests aged 19 and older will be asked to show a valid government photo ID such as driver's license, BC Service Card, passport or photo ID from another province or territory. Guests aged 12 to 18 are not required to produce photo ID.
For everything you need to know prior to coming to an event at BC Place, please visit the Ready to Return FAQs page.