BC Sports Hall of Fame: Inspiring the Future Series | Asian Heritage Month
May 19th, 2021
The BC Sports Hall of Fame has announced a third installment of the popular "Inspiring the Future" series, celebrating Asian Heritage Month on Wednesday, May 26th at 6pm.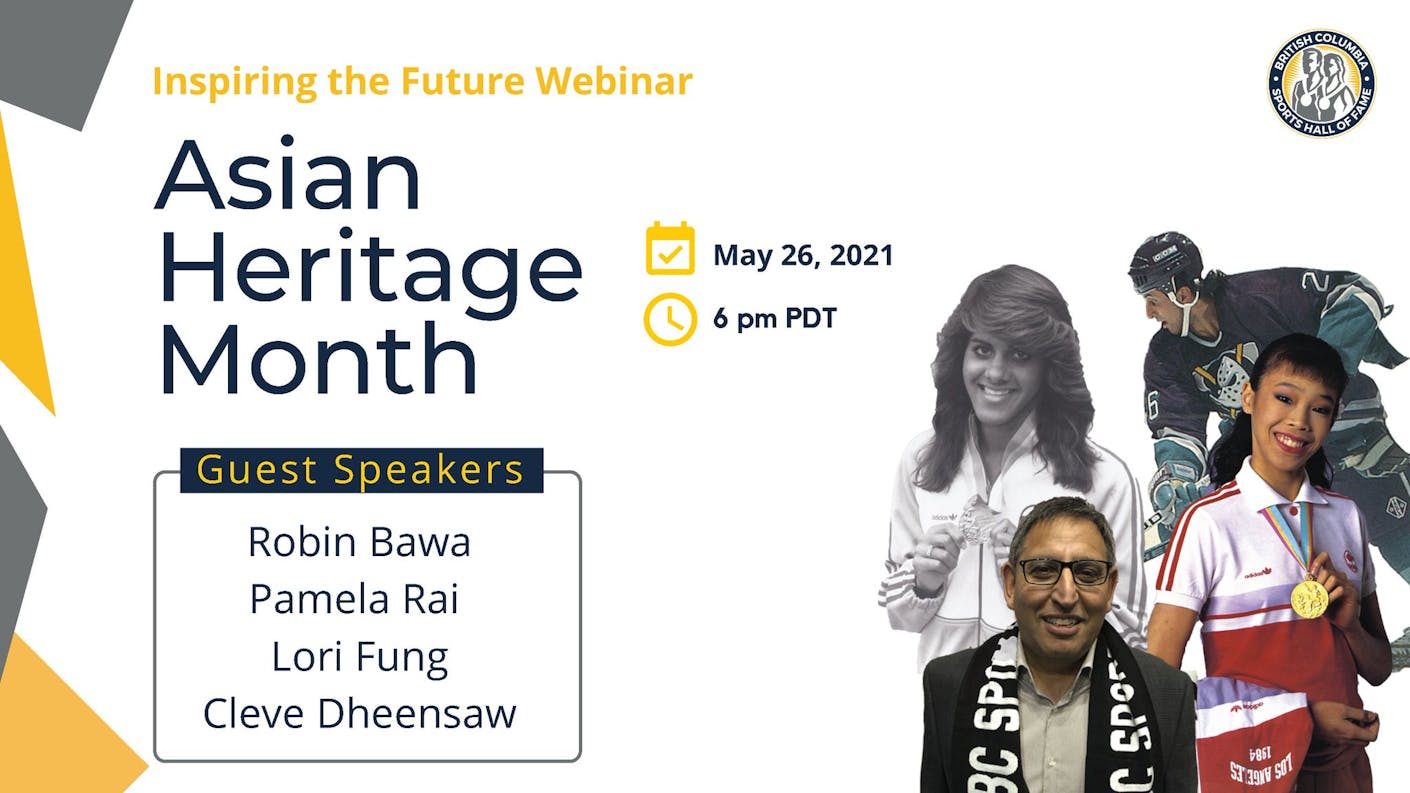 The conversation will include honoured members Pamela Rai and Lori Fung, as well as incoming Class of 2020 inductees Robin Bawa and Cleve Dheensaw. The open discussion, moderated by Cleve Dheensaw, will focus on overcoming challenges in the face of adversity and the importance of Asian Heritage Month across Canada.
This virtual event is FREE but registration is required. To learn more and to register, visit www.bcsportshall.com/asianheritage
About the Guest Speakers
Pamela Rai - Inducted: 1993 - Athlete - Swimming
Pamela Rai represented Canada at the 1984 Los Angeles Olympic Games and captured bronze in the 4x100m medley relay, and set a Canadian record. Rai has competed seven years with the Canadian Swimming program and won six medals at the 1981 Canada Games.
Cleve Dheensaw - Inductee: 2020 - Media
Cleve Dheensaw has been a sportswriter covering Vancouver Island sports at the Times Colonist since 1981. Throughout his career, he has covered three Olympic games, six Commonwealth Games, and the 2015 Pan American Games in Toronto.
Lori Fung - Inducted: 1985 - Athlete - Gymnastics
Lori Fung took up rhythmic gymnastics in the 1970s and soon became a Canadian champion in 1982, at the age of 19. Fung took her place in Olympic history when she became the first gold medalist in rhythmic gymnastics at the 1984 Los Angeles Summer Olympics.
Robin Bawa - Inductee: 2020 - Pioneer
Robin Bawa became the first player of South Asian descent to play in the NHL. He played over 12 seasons in the NHL and IHL and accumulated 180 goals, 221 assists, and 401 points in 724 career minor league games.
About BC Sports Hall of Fame
The BC Sports Hall of Fame celebrates extraordinary achievement in BC sport history and inspires future generations to make their dreams come true. Each year, a diverse audience of over 35,000 visitors from around the globe are educated and enthralled by the collection of 27,000 artifacts representing 150-years of sporting accomplishments in British Columbia. We take pride in the responsibility we have to tell engaging stories of the individuals, teams and organizations who have made sport achievement such an important part of the fabric of life, culture and history in the province of BC.