Legends and Stars charity soccer match returns to BC Place
September 10th, 2019
It's back! Vancouver Whitecaps FC's third annual Legends & Stars charity soccer match, presented by Daily Hive Vancouver, returns to BC Place on Saturday, September 14th.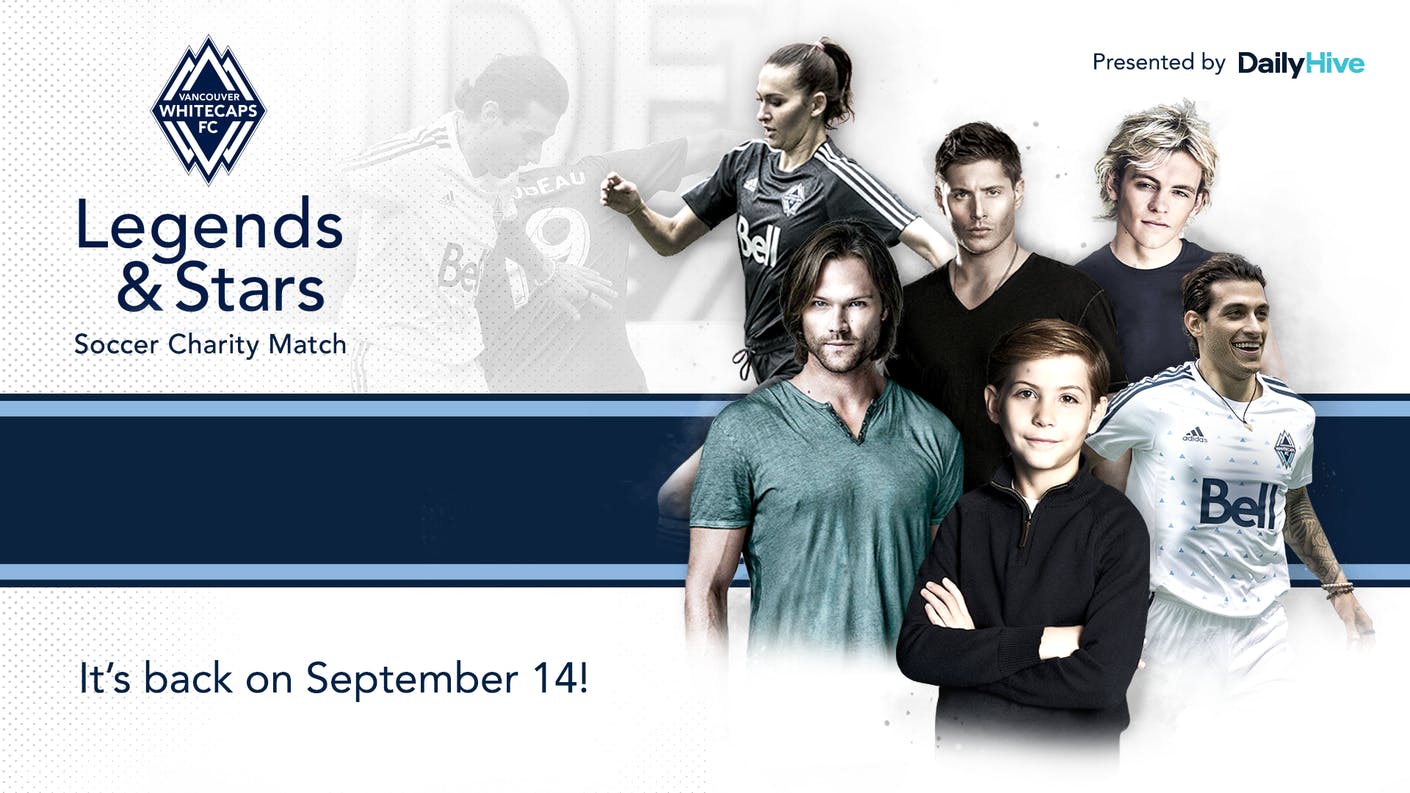 This year's match will feature celebrities from The 100, Siren, A Million Little Things, Once Upon a Time, The Descendants, Riverdale, DC's Legends of Tomorrow, and many more!
Tickets for the Legends & Stars match are on sale now for just $10 here. All proceeds will be donated to Whitecaps FC community partners.
IMPORTANT INFORMATION:
The Legends & Stars match will take place on Saturday, September 14th from 4:45pm to 5:45pm at BC Place, ahead of the 7pm MLS match between Vancouver Whitecaps FC and Houston Dynamo. Fans can enter BC Place through Gate A, beginning at 4:15pm.
To purchase a ticket for the Legends & Stars match, fans must also have or purchase a ticket for the MLS match. No in-and-outs will be permitted during or between matches.
LEGENDS & STARS CHARITY SOCCER MATCH ROSTER:
Singer
Tyler Shaw (will sing Canadian national anthem at Legends & Stars and MLS match)
Good Boys
Jacob Tremblay
Chilling Adventures of Sabrina
Ross Lynch
Riverdale
Eli Goree
Jordan Connor
Martin Cummins
Rob Raco
Drew Ray Tanner
The 100
Marie Avgeropoulos
Jarod Joseph
Sachin Sahel
Tasya Teles
Richard Harmon
Lee Majdoub
Supernatural
Jared Padalecki
Jensen Ackles
Siren
Alex Roe
Curtis Lum
A Million Little Things
Chance Hurstfield
Lizzy Greene
Descendants
Dan Payne
Code Black
Ben Hollingsworth
A Series of Unfortunate Events
Chris Gauthier
The Good Doctor
Colin Lawrence
Tin Star
Dean Redman
Carol's Second Act
Jean-Luc Bilodeau
Taken
Tahmoh Penikett
Pure
Ryan Robbins
DC's Legends of Tomorrow
Nick Zano
Adam Tsekhman
Van Helsing
Jonathan Lloyd Walker
Aleks Paunovic
Vancouver Canucks Alumni
Cliff Ronning
Pitch Perfect
Skylar Astin
American Princess
Kapil Talkwalker
What/If
Jane Levy
It Chapter 2
Teach Grant
When Calls the Heart
Kayla Wallace
Vancouver Whitecaps FC Alumni
John Catliff
Davide Chiumiento
Jeff Clarke
Erin McNutly
Guido Titotto
Rob Merkl
Johnny Sulentic
Note: This roster is subject to change.