Food Feature: The Kicker Grilled Cheese
July 10th, 2019
Everyone loves a grilled cheese sandwich and everyone loves a burger, so why not combine the two? That's the thought the culinary team at Centerplate had when they came up with "The Kicker" as part of BC Place's new menu items for 2019.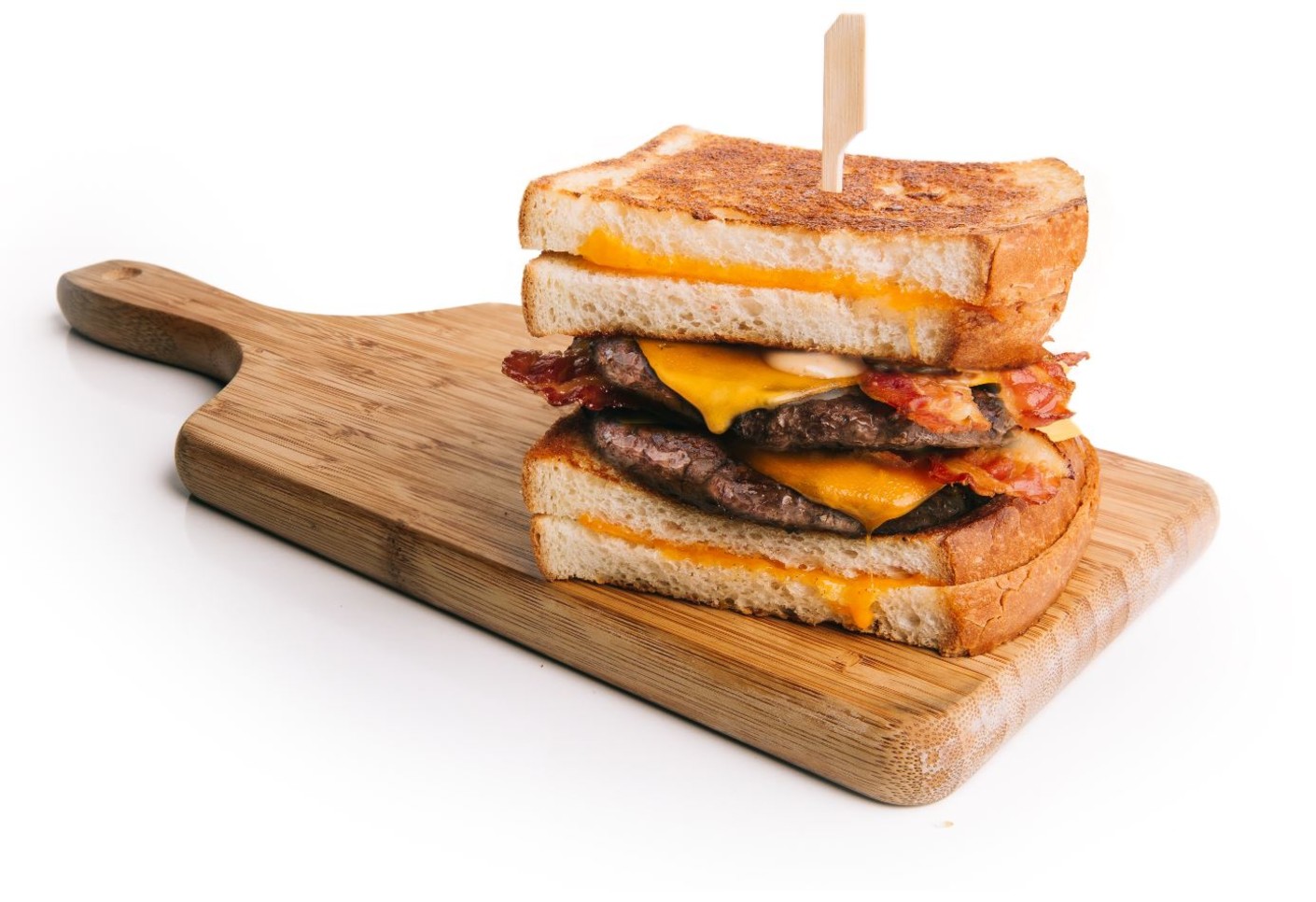 "The Kicker brings together the best of both worlds: a grilled cheese sandwich and a burger. We start building the dish with two grilled cheese sandwiches, rich in texture and flavour. We use mild, aged cheddar for both the grilled cheese and the burger portion of the sandwich. Guests get the toasted outside of each sandwich with a gooey center, paired with two all-beef patties, seasoned with our house-blend of spices. The flavours and textures marry well together," says Chef Will Tse from Centerplate.
"It's a sandwich that delivers to all of your taste buds. The Kicker has crunch from the toasted grilled cheese sandwich, softness from the melted cheese, tang from the sauce, richness from the flavour of the all-beef patties and crispiness from the bacon to round out the sandwich with a bit of salt."
Much of the inspiration for the dish came from Chef Will's childhood.
"I remember having macaroni and cheese with sautéed ground beef as a child, and when done right, it was a delicious dish. Thinking about it brings back fond memories of being a young boy. I wanted to reproduce that feeling in a dish; something you could eat with your hands and still fits into the food journey we are on here at BC Place," he explains.
"We already do macaroni and cheese, but I have always loved the feeling when you eat a grilled cheese sandwich. The gooey center, paired with soft bread on the inside and a toasted exterior. The Kicker doesn't have pasta, but the flavours of the grilled cheese mimics the flavour profile of macaroni and cheese, while the burger portion pays tribute to the ground beef in my favourite childhood dish."
Chef Will believes the new menu item offers guests a taste of nostalgia, while satisfying their grown-up cravings.
"Being an adult and a chef now, I needed to take it to the next level. On top of the grilled cheese sandwiches and house-made burger patties, I added Applewood-smoked bacon, extra cheese and a house-made sauce. The Kicker offers the same flavours from when I was young boy that are now sophisticated enough to live in the present."
The Kicker Grilled Cheese is available at Boom Kitchen - sections 210 & 244.
Click here to view a full list of BC Place food and beverage options.