Whitecaps FC Legends & Stars charity match returns to BC Place
September 10th, 2018
Whitecaps FC Legends & Stars charity soccer match in support of BC Children's Hospital takes place this Saturday, September 15th at BC Place. The star-studded roster for the event includes Vancouver Canucks legends Daniel and Henrik Sedin, as well as cast members from hit shows like Riverdale and The 100. See below for full roster details.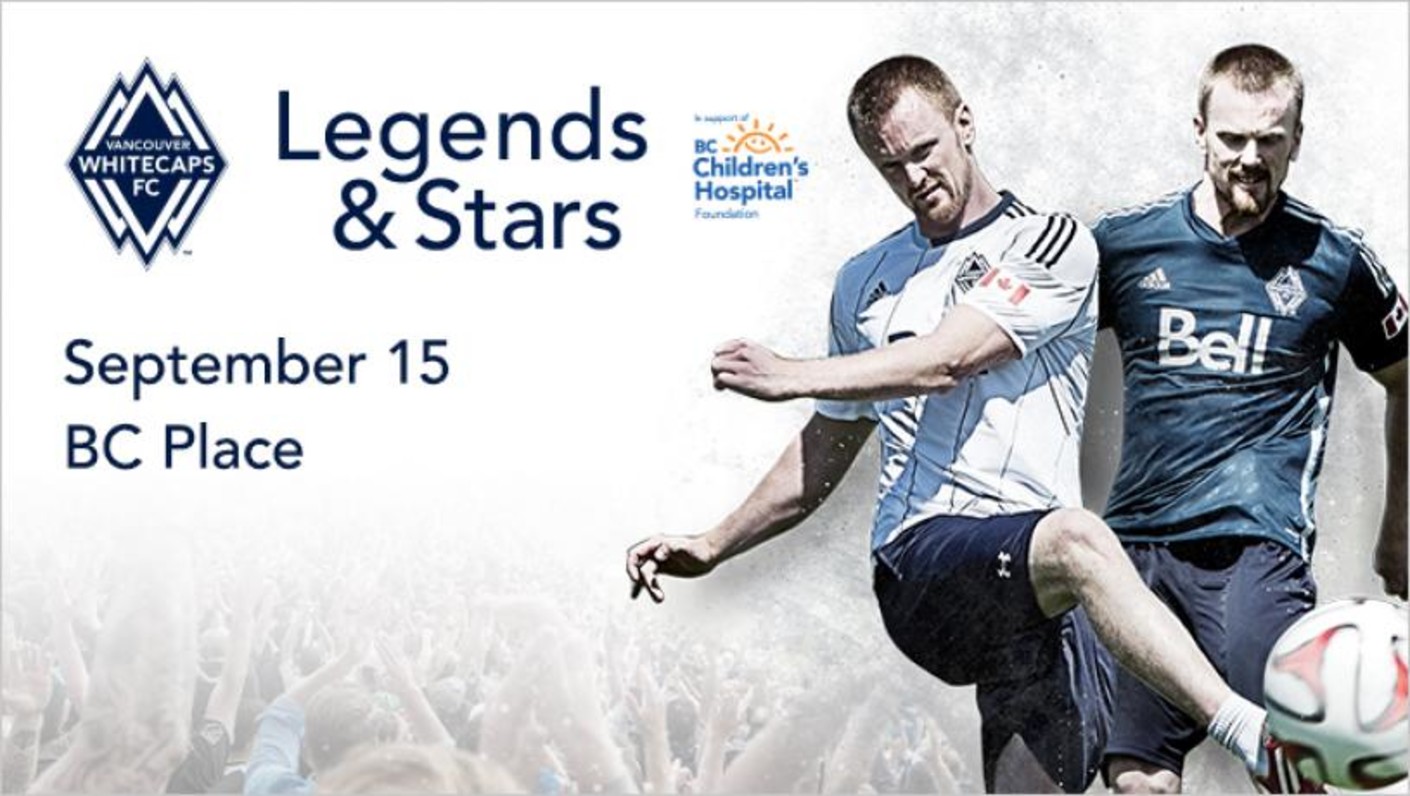 Tickets for the Legends & Stars match are on sale now for just $5. An online auction, featuring signed and game-worn celebrity jerseys and memorabilia, has also been launched. All proceeds from ticket sales and the online auction will be donated to BC Children's Hospital.
IMPORTANT INFORMATION:
The Legends & Stars match will take place on Saturday, September 15 from 4:45PM to 5:45PM PT at BC Place, ahead of the 7PM MLS match between Vancouver and Seattle. Fans can enter BC Place through Gate A, beginning at 4:15PM PT.
To purchase a ticket for the Legends & Stars match, fans must also have or purchase a ticket for the MLS match. No in-and-outs will be permitted between matches.
LEGENDS & STARS ROSTER (SUBJECT TO CHANGE)
Riverdale
Casey Cott (Kevin Keller)
Jordan Connor (Sweet Pea)
Mark Consuelos (Hiram Lodge – also Matteo on All My Children)
Martin Cummins (Sheriff Tom Keller)
Charles Melton (Reggie Mantle)
Rob Raco (Joaquin DeSantos)
Tiera Skovbye (Polly Cooper)
Drew Ray Tanner (Fangs Fogarty)
The 100
Marie Avgeropoulos (Octavia)
Henry Ian Cusick (Marcus Kane – also Desmond Hume on Lost)
Jessica Harmon (Niylah)
Richard Harmon (John Murphy)
Jarod Joseph (Nathan Miller)
Bob Morley (Bellamy Blake)
Tasya Teles (Echo)
Once Upon A Time
Colin O'Donoghue (Captain Hook)
Chris Gauthier (William Smee)
iZombie
David Anders (Blaine DeBeers)
Robert Buckley (Major Lilywhite)
Malcolm Goodwin (Clive Babineaux)
Jessica Harmon (Dale Bozzio)
Bryce Hodgson (Don E/Scott E)
Rahul Kohli (Ravi Chakrabarti)
Letterkenny
Andrew Herr (Jonesy)
Tyler Johnston (Stewart)
Other
Jean-Luc Bilodeau (Ben/Baby Daddy)
Alexander Calvert (Jack/Supernatural)
Patrick Chan (Three-time Olympic medalist and figure skating world champion)
Craig McMorris (Red Bull/Canadian snowboarder)
Dan Payne (Beast/Descendants)
Ryan Robbins (Samuel Bly/Sacred Lies, Noah Funk/Pure)
Daniel Sedin (Vancouver Canucks)
Henrik Sedin (Vancouver Canucks)
Emma Tremblay (Ruby Arias/Supergirl)
Erica Tremblay (Bunny/Imaginary Mary)
Adam Tsekhman (Gary Green/Legends of Tomorrow)
Alumni
John Catliff (striker)
Davide Chiumiento (midfielder)
Jeff Clarke (midfielder)
Jay DeMerit (defender)
Paul Dolan (forward)
Nick Dasovic (defender)
Ivor Evans (midfielder)
Steve Macdonald (defender)
Erin McNulty (goalkeeper)
Rob Merkl (goalkeeper)
Jay Nolly (goalkeeper)
Guido Titotto (midfielder)
Alfredo Valente (midfielder)
Coaches: Alan Errington, Gerry Heaney
Honourary Coach/Ambassador: Carl Valentine