Celebrate Canada Day with the 'Caps!
June 28th, 2018
Whitecaps FC will play their first-ever Canada Day match at BC Place. It will be a celebration of Canada and soccer when the high-scoring 'Caps host Western Conference side Colorado Rapids on Sunday, July 1 at 4PM.
All fans are encouraged to wear red and white as Whitecaps FC keepers will be dressed in red and the outfield players will be in the all-white Rain Kit. Fans are also encouraged to bring their Canadian flags to the match (4' x 8' or smaller are permitted without pre-approval). Anyone with a flag must enter through Gate G. Find more information on visual displays here.
The best patio party in Vancouver kicks off at 2PM on Terry Fox Plaza (weather permitting) where we will be serving $6.25 house-made all beef burgers and Stanley Park Trail Hopper IPA 12oz can for just $5.00.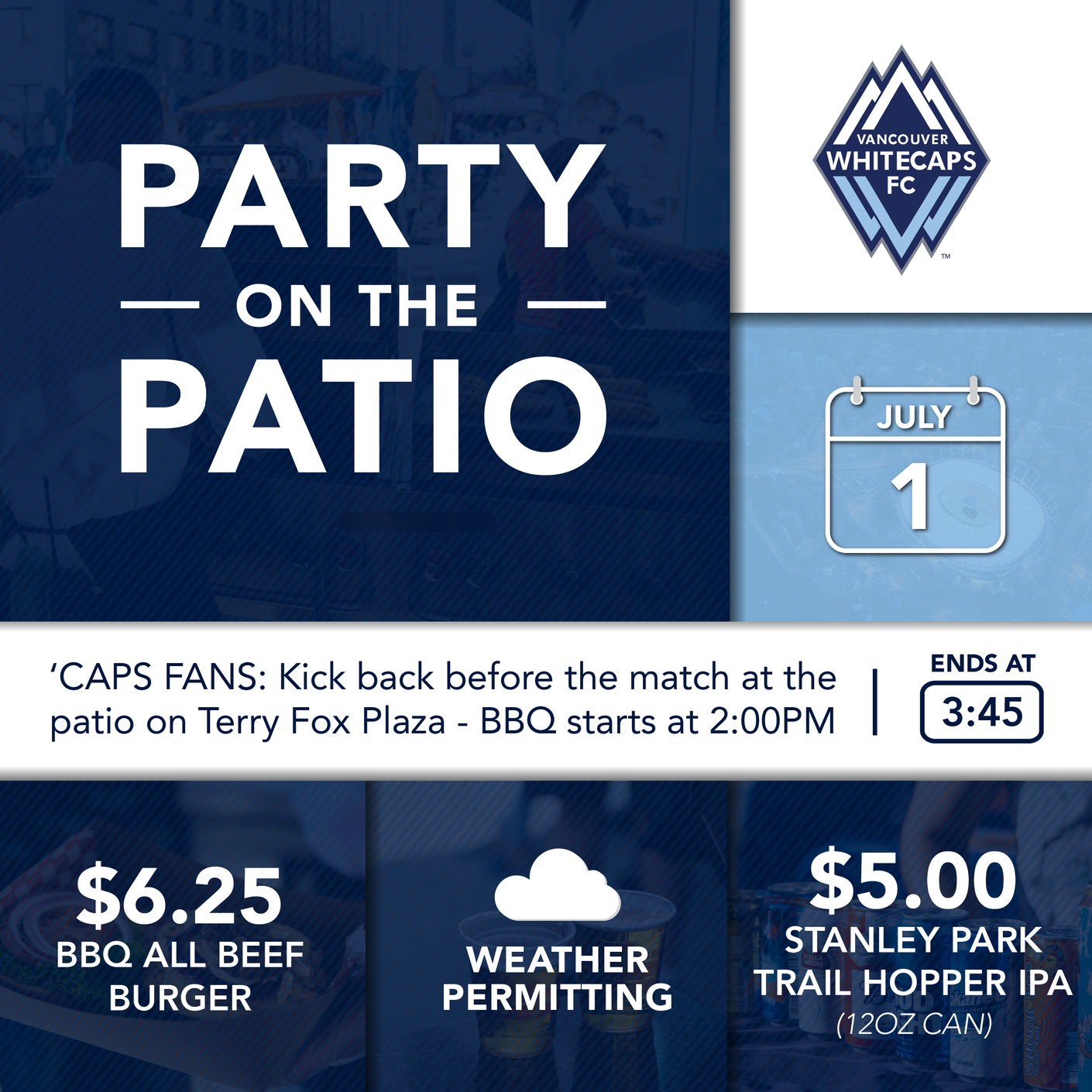 After the Party on the Patio, head inside BC Place for some delicious food and drink specials – served until 3:30PM.
We hope to see you there!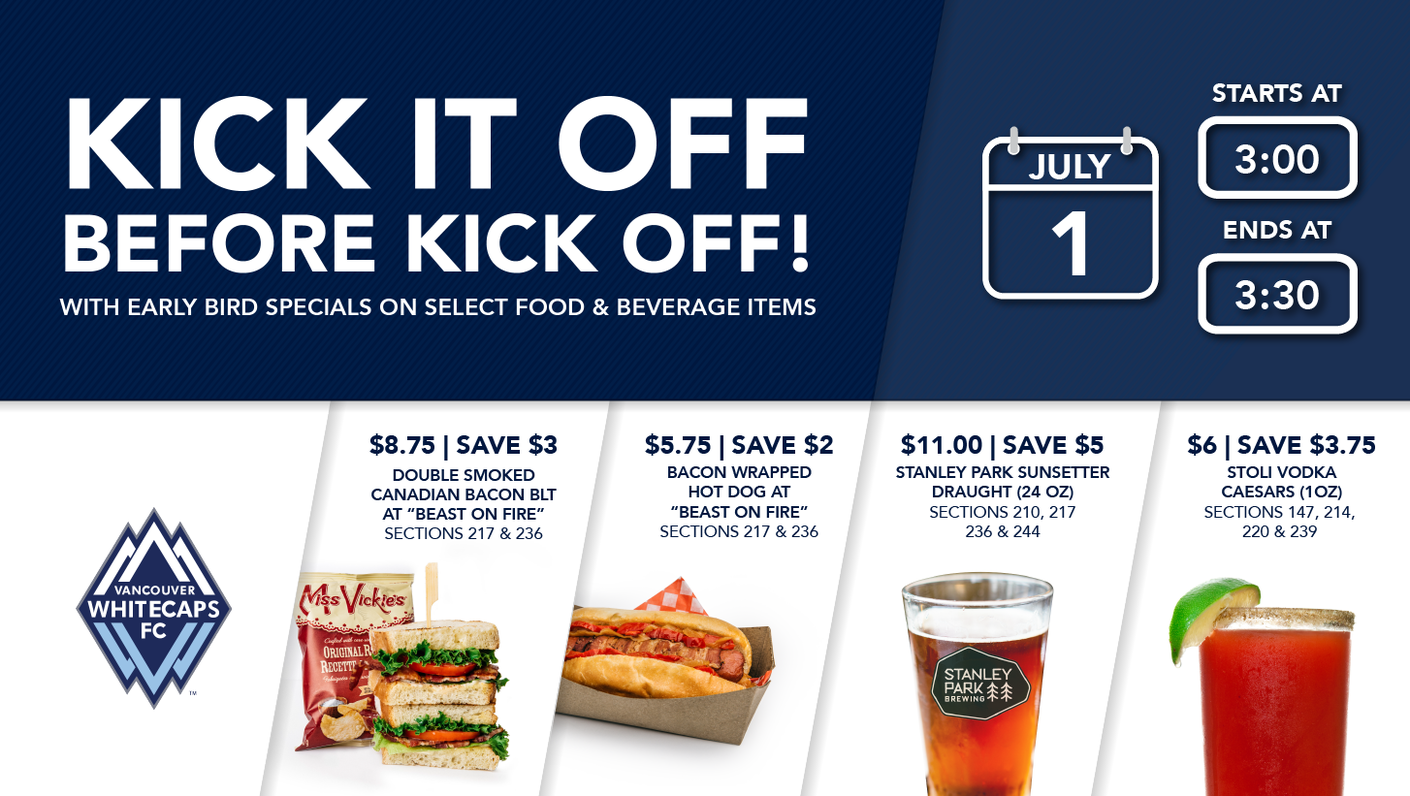 Vancouver Whitecaps Early Bird Specials - Sunday July 1, 2018 3:00PM - 3:30PM
$3 OFF DOUBLE SMOKED CANADIAN BACON BLT!
Kick Off Special $8.75 | reg. $11.75
Smoked in house thick cut bacon, sliced tomato, toasted sourdough, roasted garlic aioli, served with kettle chips.
Available at Beast on Fire, sections 217 and 236
$2 OFF BACON WRAPPED HOT DOG!
Kick Off Special $5.75 | reg. $7.75
Double smoked bacon, all beef hot dog, caramelized onion and pepper, served on a pretzel bun.
Available at Beast on Fire, sections 217 and 236
$3 OFF CANADIAN BACON GRILLED CHEESE!
Kick Off Special $6.00 | reg. $9.00
Canadian Back bacon, smoke cheddar, aged cheddar, provolone, French loaf.
Available at BOOM! Kitchen, sections 210 and 244
$3 OFF CANADIAN ORIGINAL POUTINE!
Kick Off Special $5.00 | reg. $8.00
Fries, cheese curds, and red wine gravy.
Available at The Poutinerie, sections 212 and 239
$5 OFF STANLEY PARK SUNSETTER 24 oz DRAUGHT!
Kick Off Special $11.00 | reg. $16.00
Available in Concessions at Beast on Fire and BOOM! Kitchen locations sections 210, 217, 236 & 244
$3.75 OFF 1 oz STOLI VODKA CAESARS!
Kick Off Special $6.00 | reg. $9.75
Available at Stoli Bars 220, 214, 239 & Food Court, Southeast, Southwest Lounges and 147 Lounge
$4 OFF CANADIAN BACON, BACON AND MORE BACON MAC AND CHEESE!
Kick Off Special $10.00 | reg. $14.00
House made 3 cheese sauce, Canadian back bacon, double smoked bacon, finished with toasted panko and crisp maple bacon.
Available exclusively in the Club Lounges and 147 Lounge
$4 OFF DOUBLE BACON NACHOS!
Kick Off Special $13.00 | reg. $17.00
Sriracha-maple infused 3 cheese sauce, Canadian back bacon, crisp maple bacon, green onions, jalapenos, sour cream & salsa fresca
Available exclusively in the Club Lounges and 147 Lounge