THE LIONS RETURN TO THEIR DEN FOR THE 2018 CFL PRE-SEASON GAME AT BC PLACE!
June 7th, 2018
The BC Lions are back at home this Friday for the 2018 CFL pre-season game and we've got some hot new items on the menu!
Kick-off is scheduled for 7:30pm Friday, June 8 when the Lions take on the Winnipeg Blue Bombers ahead of their 65th CFL Season.
Fans are reminded to arrive early to take advantage of the full game day experience including the Tailgate Party on Terry Fox Plaza (from 5.30pm) and our Warm Up Specials inside the stadium! All gates will be open from 6.30pm.
Remember, our Warm Up Specials only run for 30 mins. so don't miss out!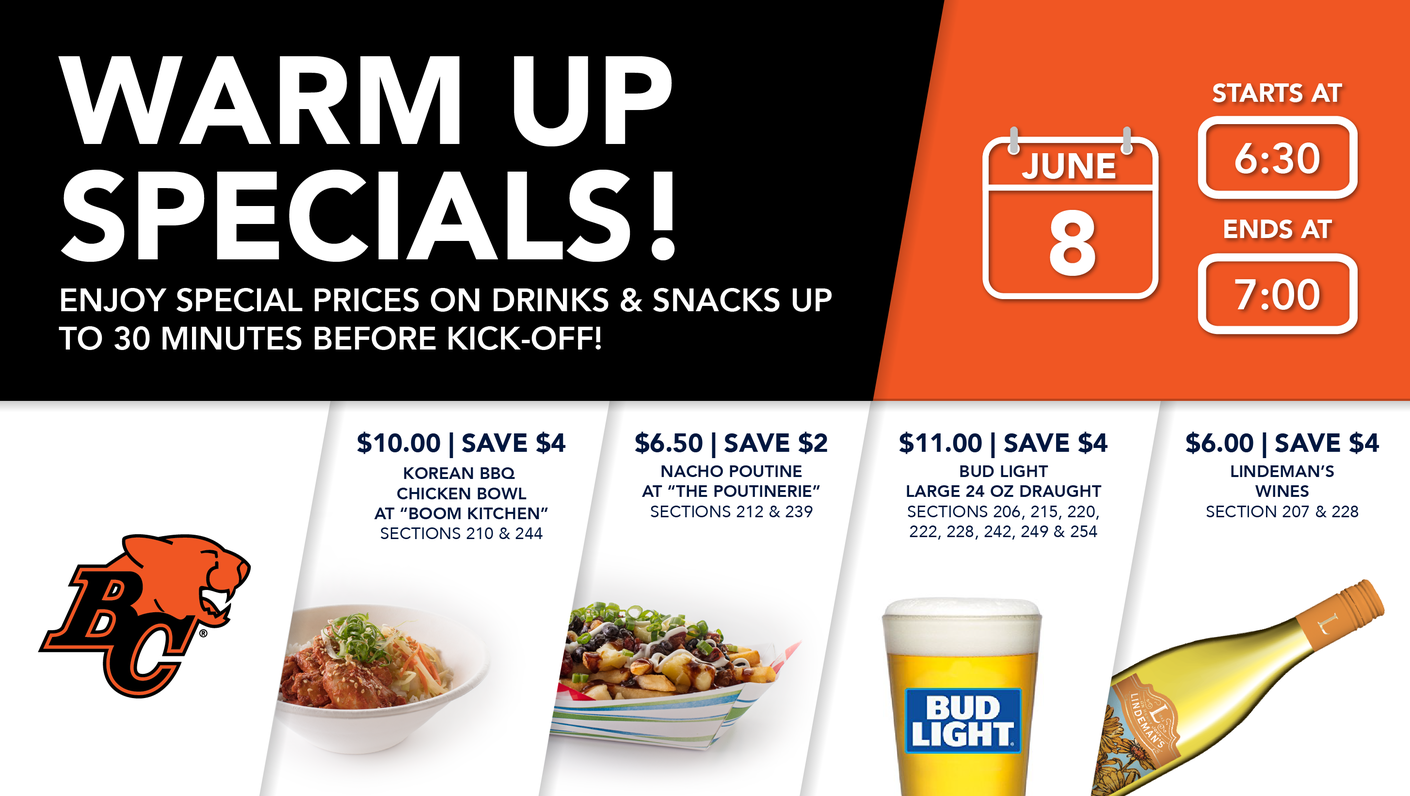 BC Lions Warm Up Specials Friday June 8, 2018: 6.30pm – 7.00pm

$4 OFF KOREAN BBQ CHICKEN BOWL!
Warm Up Special $10.00 | reg. $14.00
Seared chicken thigh, Asian slaw, soy ginger garlic sauce, toasted sesame served on jasmine rice.
Available at BOOM Kitchen, sections 210 and 244
$3 OFF HOUSE MADE CHICKEN, CHEDDAR AND BEER SAUSAGE!
Warm Up Special $8.75 | reg. $11.75
Chicken, aged cheddar and Goose Island IPA in a natural casing. Served with stone ground mustard aioli in a soft bite bun. Served with kettle chips.
Available at Beast on Fire, sections 217 and 236
$2 OFF NACHO POUTINE!
Warm Up Special $6.50 | reg. $8.50
Poutine with black beans, salsa fresca, cheese curds and sour cream.
Available at The Poutinerie, sections 212 and 239
$4 OFF BUD LIGHT 24 oz DRAUGHT!
Warm Up Special $11 | reg. $15.00
Available from Lions Gate Grill, Commercial Drive Pizza, Vijs, Southeast, Southwest and 147 Lounges.
$4 OFF LINDEMAN'S WINES
Warm Up Special $6 | reg. $10.00
Available at Oak and Vine concession @ section 229 and Lindeman's Cart @ section 207
$2 OFF PRIME RIB BEEF DIP
Warm Up Special - $12.75 | reg. $14.75
French roll, thin shaved prime rib, caramelized onions, Swiss cheese, au jus, served with fries.

Available exclusively in the Club Lounges and 147 Lounge.