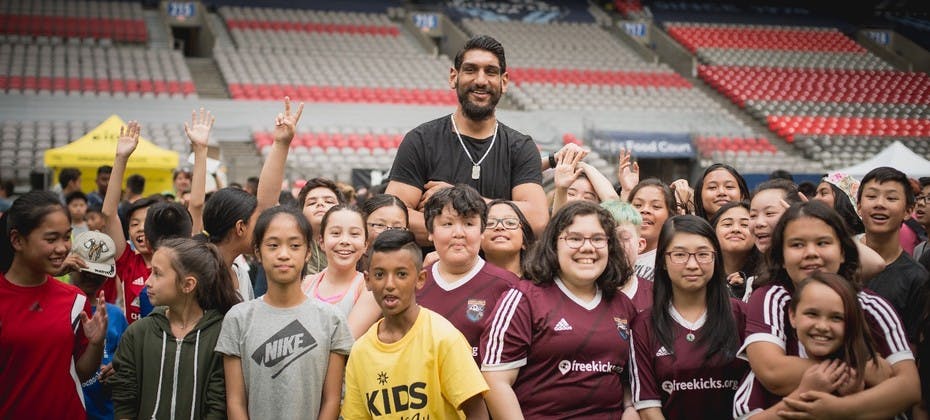 Hundreds of Kids visit BC Place for the Annual KIDS Play Foundation Super Soccer Tournament!
May 29th, 2018
This past Monday, May 28th, BC Place hosted one of the most important events of the year as hundreds of Vancouver school kids participated in the KIDS Play Foundation Soccer Tournament.
KIDS Play is a non-profit organization that works towards keeping kids away from a lifestyle of drugs, gangs, and violence. The Super Soccer Tournament is KIDS Play's flagship event, and attracted hundreds of local youth and dozens of volunteers to the same pitch where the Vancouver Whitecaps and BC Lions play. The goal of the non-competitive Super Soccer Tournament is to engage inner-city youth by providing a unique experience, which in turn leads to developing a connection with youth at an early age and encourage positive mentorship.
The first Super Soccer Tournament was held at Strathcona Park, but has grown to become another highly anticipated annual community event at BC Place Stadium. The success of this event is a result of the hard work and dedication of hundreds of volunteers, partners including the Whitecaps FC, and generous sponsors.
Working with community-focused partners and sponsors, the KIDS Play Foundation hosts sports tournaments, conferences, and other projects for young people to learn about the opportunities they can seize within life. BC Place is proud to host the KIDS Play Foundation's Super Soccer Tournament – an annual community event that is focused on making a difference in the lives of young British Columbians. We look forward to welcoming KIDS Play back in 2019!