Whitecaps FC host FC Dallas for Pride match
May 22nd, 2019
Join us as Vancouver Whitecaps FC welcome FC Dallas to BC Place this Saturday, May 25th at 4:00pm!
The best patio party in Vancouver kicks off at 12:00pm on Terry Fox Plaza (weather permitting) where we will be serving $6.25 house-made all beef burgers and Stanley Park Trail Hopper IPA 12oz cans for just $5.00.
After the Party on the Patio, head inside BC Place for some delicious food and drink specials – served until 3:30pm.
We hope to see you there!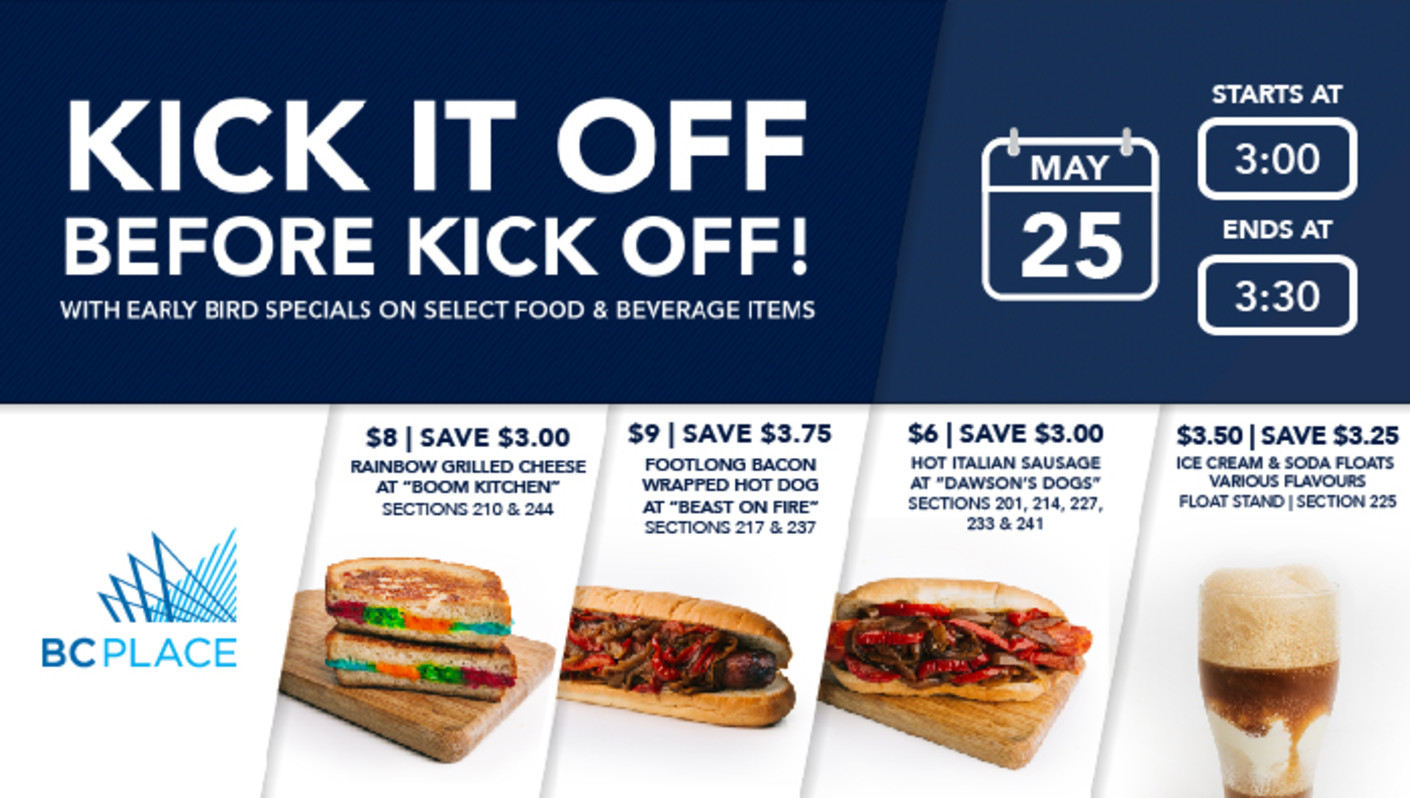 BC Place Early Bird Specials - Saturday, May 25th, 2019 from 3:00pm - 3:30pm
NEW! $3 OFF RAINBOW GRILLED CHEESE!
Kick Off Special $8.00 | reg. $11.00
Available at Boom Kitchen, sections 210 and 244
$3.75 OFF FOOTLONG BACON WRAPPED HOT DOG!
Kick Off Special $9.00 | reg. $12.75
Footlong hot dog wrapped and cooked in bacon.
Available at Beast On Fire, sections 217 and 237
$3.00 OFF HOT ITALIAN SAUSAGE!
Kick Off Special $6.00 | reg. $9.00
Sauteed pepper & onion and a soft-bite bun.
Available at sections 201, 214, 227, 233, 241
$3.50 OFF MIKE'S HARD LEMONADE OR OKANAGAN APPLE CIDER 12oz CAN!
Kick Off Special $5.50 | reg. $9.00
Available at section 114 Food Court and Okanagan Cart, Oak and Vine - section 207, Taps Beer Express - sections 208, 213, 219, 240, Thirsty Pigeon - sections 234 and 248, Bombay South Asian Kitchen - section 220
Available in Premium Service areas at Southeast and Southwest Lounges, as well as Pitchside Lounge
$3.25 OFF ICE CREAM & SODA FLOATS!
Kick Off Special $3.50 | reg. $6.75
Available at Float Stand, section 225
NEW! $3.25 OFF BLACK BEAR BURGER!
Kick Off Special $12.50 | reg. $15.75
All beef patty, cheddar cheese, Sriracha pulled pork, onion ring and double smoked bacon, served with fries.
Available exclusively in the Club Lounges and 147 Lounge
Click here for more match day and spectator information.